This Vietnamese dipping sauce (known as Nước Chấm) is the delicious sauce that is served with so many classic Vietnamese dishes from Vietnamese vermicelli noodles to crispy fried eggrolls.
Prep Time:
10 mins
Cook Time:
0 mins
Total Time:
10 mins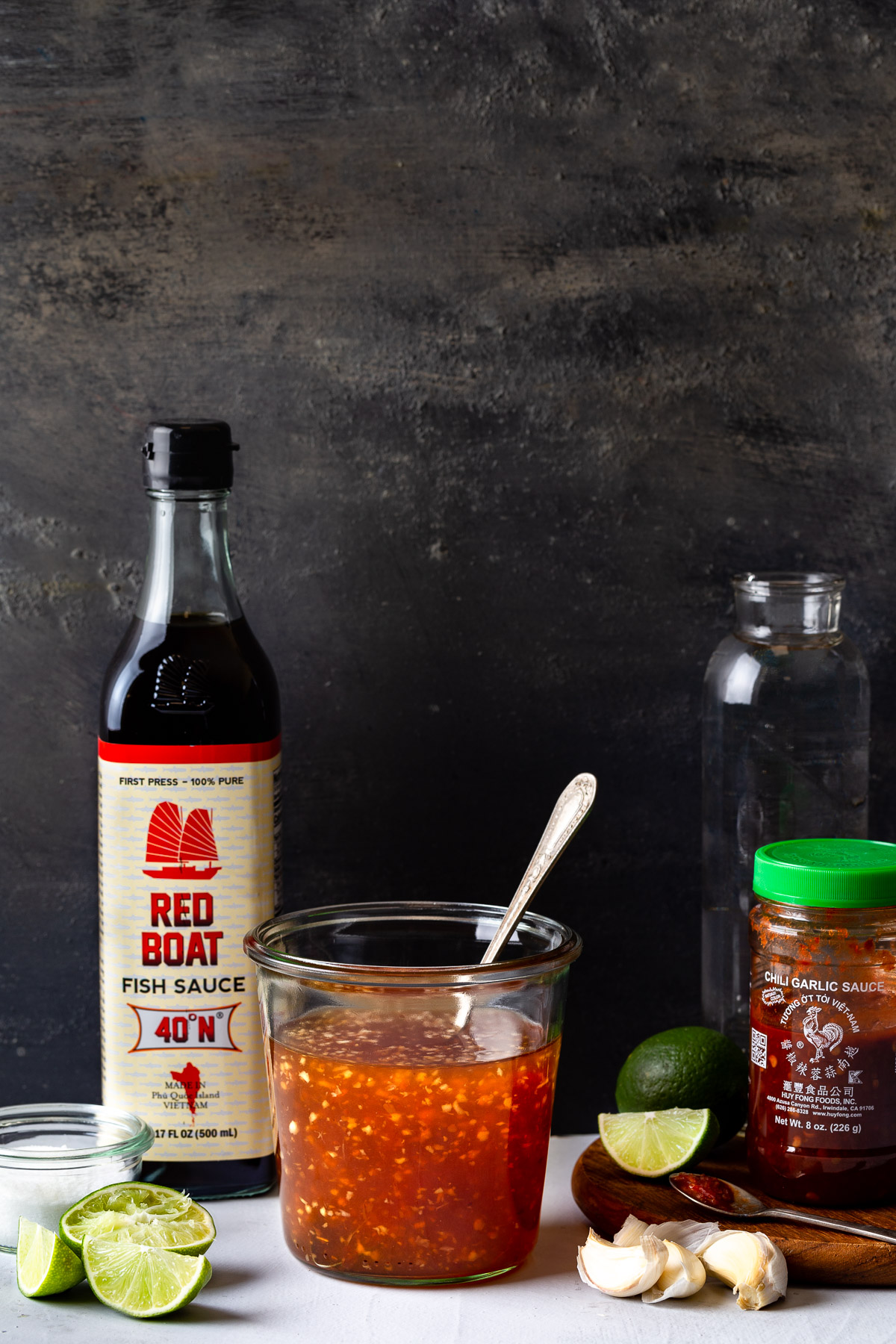 If you have ever wondered what the magical sauce is that gets poured over noodle bowls at your favorite Vietnamese restaurant, this blog post is for you. I am going to explain the ingredients, clarify some of the terminology, and tell you how the sauce can be used.
Vietnamese Fish Sauce vs Dipping Sauce
The name, fish sauce, can be confusing because it is used for both the concentrated sauce in the bottles as well as the prepared sauce that uses the bottled concentrate as an ingredient. And to confuse things further the prepared sauce is often called "dipping sauce" even when the sauce is poured over something (such as for these grilled pork & rice vermicelli noodles).
In Vietnamese, we generally refer to the bottled concentrate as nước mắm (pronounced like "nook mum") and the prepared sauce as nước chấm (pronounced like "nook djum") or nước mắm pha which translates to "mixed fish sauce".
In my family growing up, we often referred to both forms of fish sauce as nước mắm and we figured out what was being referenced by context. You just learned that you would use the unmixed fish sauce to season a bowl of pho but would use the mixed fish sauce to pour over a noodle bowl with chargrilled chicken.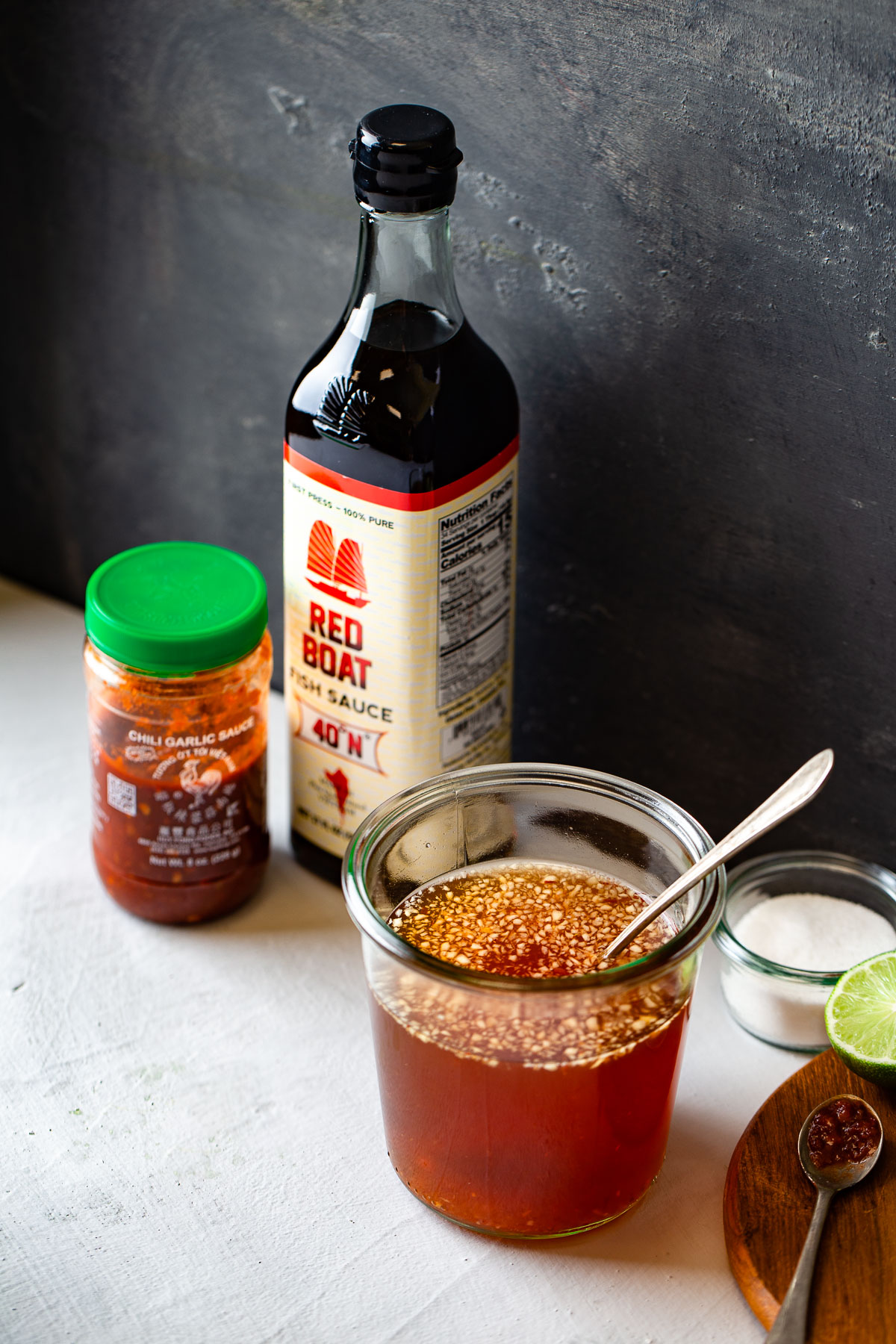 Ingredients in Nước Chấm
Nước Chấm is a balance of salty, sour, sweet and a little bit of spice.
Fish Sauce (nước mắm). Fish sauce has a multi-layered taste that is very salty on the surface but has a certain sweet-savory quality underneath. It is strong smelling straight out of the bottle but mellows when mixed with other ingredients.

There is no good substitute for fish sauce. Trying to replace fish sauce with soy sauce, ponzu, hoisin sauce or anything else will result in something that is not nước chấm.

My favorite brand of fish sauce is Red Boat Fish Sauce which is available at most Asian grocery stores and on Amazon.
Vinegar. Vinegar provides a sour note. I usually use white vinegar but have also used unseasoned rice vinegar when that was all I had on hand.
Lime Juice. Fresh lime juice adds a bright freshness to the finished sauce. It just brings all the flavors together. You can substitute lemon juice for lime juice if necessary. Just make sure that whether you are using lime or lemon juice that it is fresh squeezed.
Sugar. Granulated sugar provides the sweetness. The degree of sweetness varies widely from family to family and restaurant to restaurant. The recipe I provide below has a hint of sweetness but you can always add more sugar if you want something sweeter.
Chili Garlic Sauce. Nước chấm needs some heat. My mom used to grow and dry her own peppers for her fish sauce but I use a jarred chili garlic sauce for convenience. It is similar to sambal oelek chili paste but has the addition of garlic in it. Some people like to use Thai chili peppers but they are so hot that I don't use them.

My favorite brand of chili garlic sauce is Huy Fong. They also make the popular sriracha and sambal oelek hot sauces.
Garlic. Minced garlic isn't always used but it adds another layer of flavor and I grew up having it in nước chấm so I include it. Admittedly, I do sometimes skip the garlic if I'm in a hurry but nước chấm always looks a little naked to me without it. Since the chili garlic sauce does have some garlic in it, the flavor of the nước chấm isn't too compromised if you omit the garlic.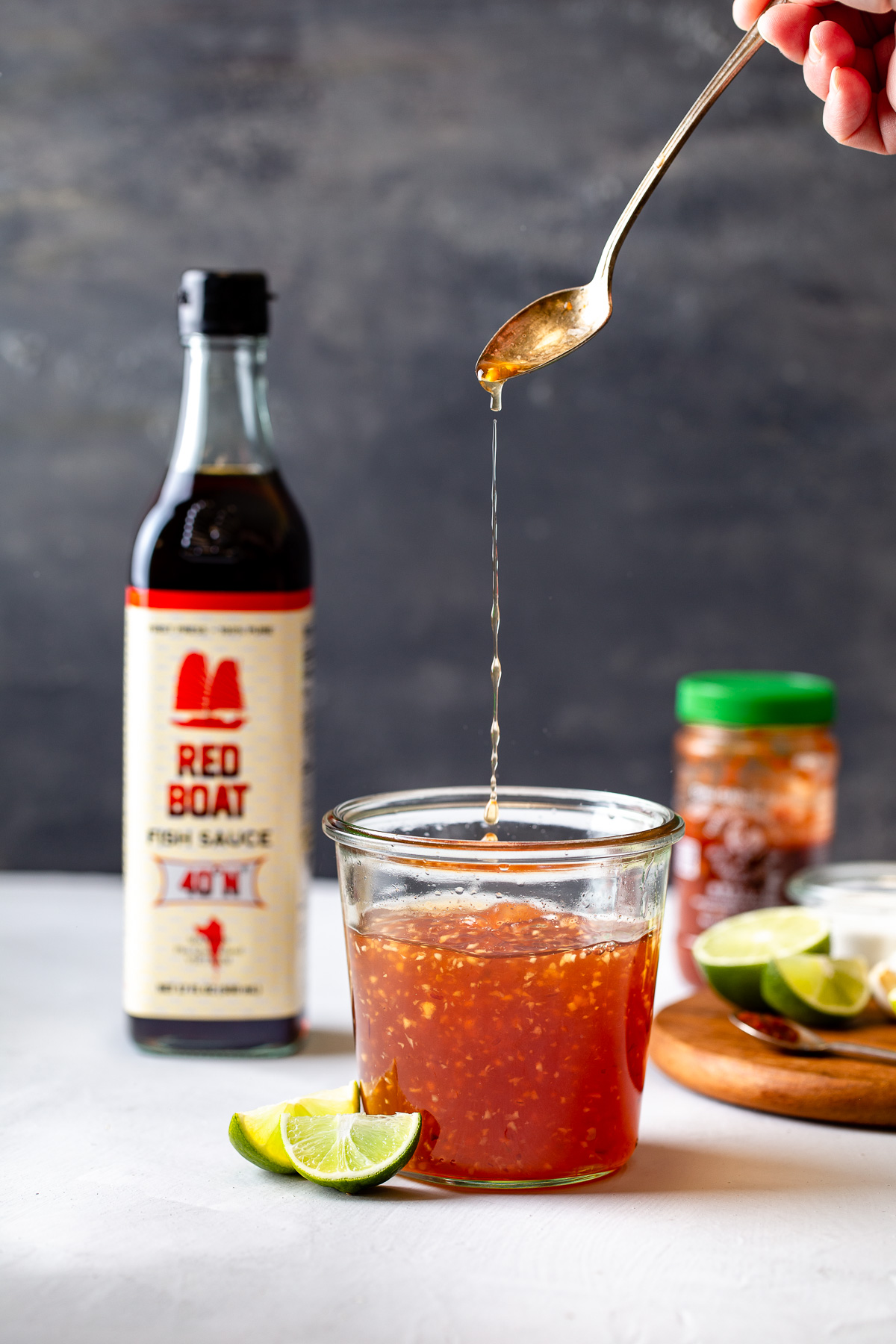 How to Use Nước Chấm
You can store nước chấm it an airtight jar in the refrigerator for 1-3 weeks (it depends on the lime juice and how well its keeping). Once you have a batch made up, you can use it as a dipping sauce for fried egg rolls, as a flavor enhancer for dishes like Vietnamese pork chops, and as the magic sauce for noodle bowls with grilled chicken, lemongrass beef, or chargrilled pork.
---
Print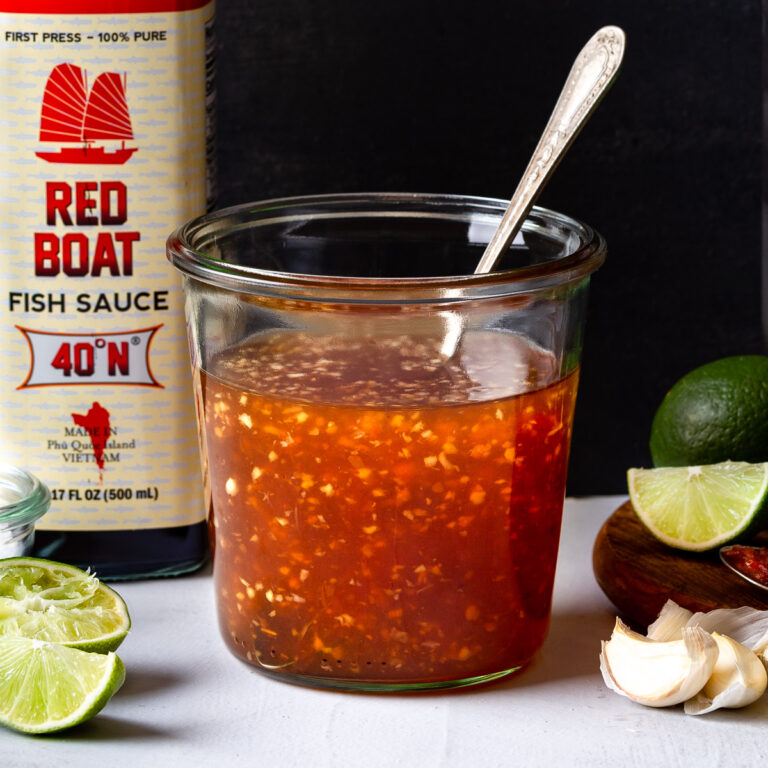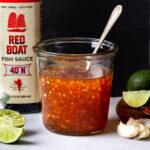 Vietnamese Fish Sauce Recipe (Nước Chấm)
Author:

Nguyet Vo

Prep Time:

10 minutes

Cook Time:

0 minutes

Total Time:

10 minutes

Yield:

1 cup

1

x

Category:

Sauce

Method:

Stirred

Cuisine:

Vietnamese
---
Description
This Vietnamese dipping sauce is the delicious sauce that is served with so many classic Vietnamese dishes from vermicelli noodle bowls to crispy fried eggrolls. 
---
1

cup

water

2 tablespoons

sugar

1/4 teaspoon

chili garlic sauce

1 teaspoon

finely minced garlic, optional

4 tablespoons

fish sauce (see Notes)

1 tablespoon

white vinegar

2 1/2 tablespoons

fresh lime juice
---
Instructions
Mix the sugar and water together in a medium bowl until all the sugar is dissolved.
Stir in remaining ingredients.
---
Keywords: vietnamese fish sauce, vietnamese dipping sauce, nuoc cham
---