Authentic Vietnamese grilled pork & rice vermicelli noodles served with lots of fresh vegetables and a fish sauce dipping sauce.
Prep Time:
45 mins
Cook Time:
15 mins
Total Time:
1 hr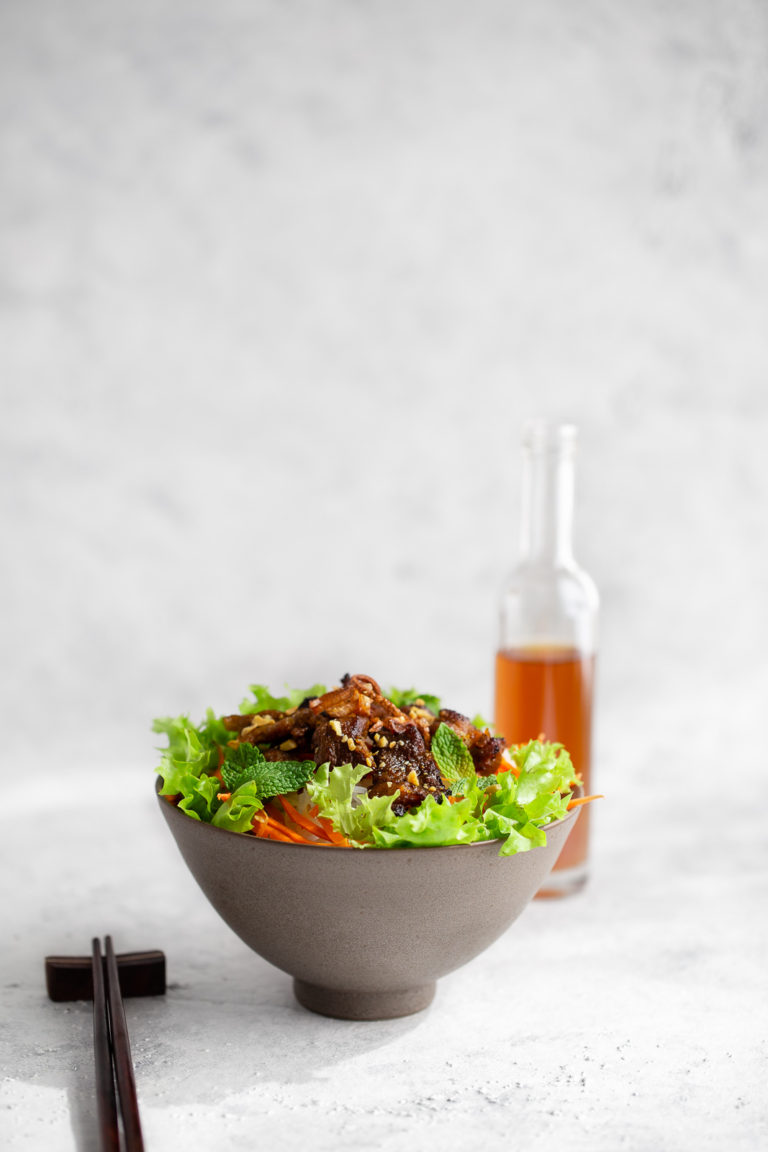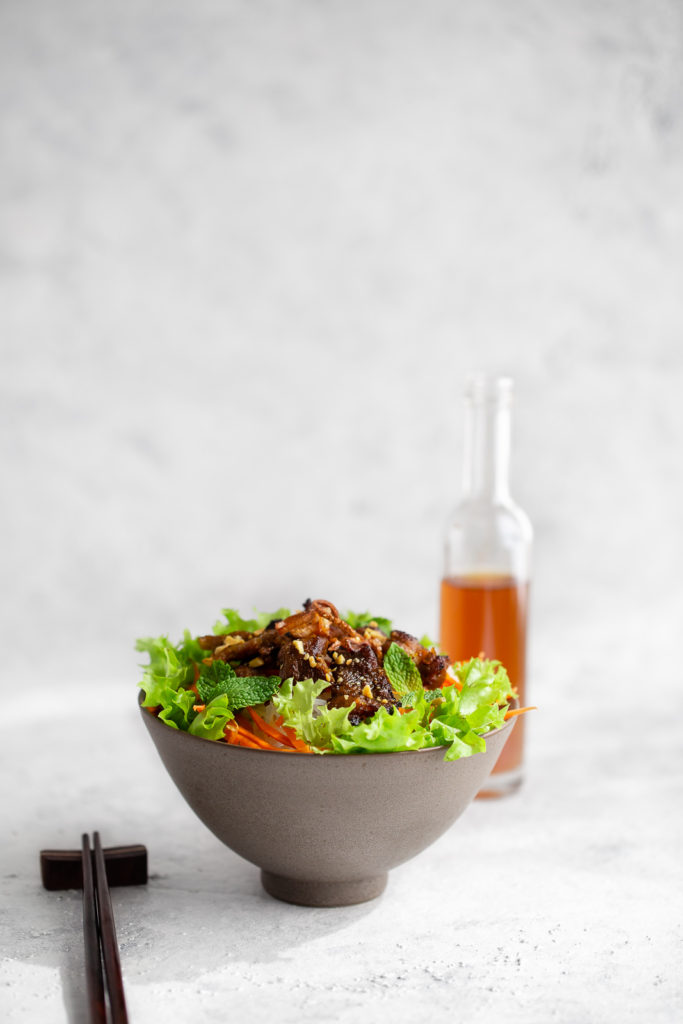 I just got back from a three week trip to Vietnam and do you know what my favorite part was? Getting to eat noodles all the time. I even discovered some new noodle dishes that I had never even heard of. I've mentioned before my love of all things noodle from udon to pho so when I got a chance to take a cooking class and learn how to make authentic Vietnamese grilled pork & rice vermicelli noodles, I was beyond excited. I am actually excited about all the recipe possibilities that came to mind while I was in Vietnam but I'll try to spread them out over the next few months.
This recipe for Vietnamese grilled pork & rice vermicelli noodles is slightly adapted from what I learned in class since a couple of the ingredients my instructor used aren't readily available in the states. But don't worry – all the flavor is still there. The ingredient list looks long but everything should be easy to find. Even fish sauce is available at most grocery stores these days!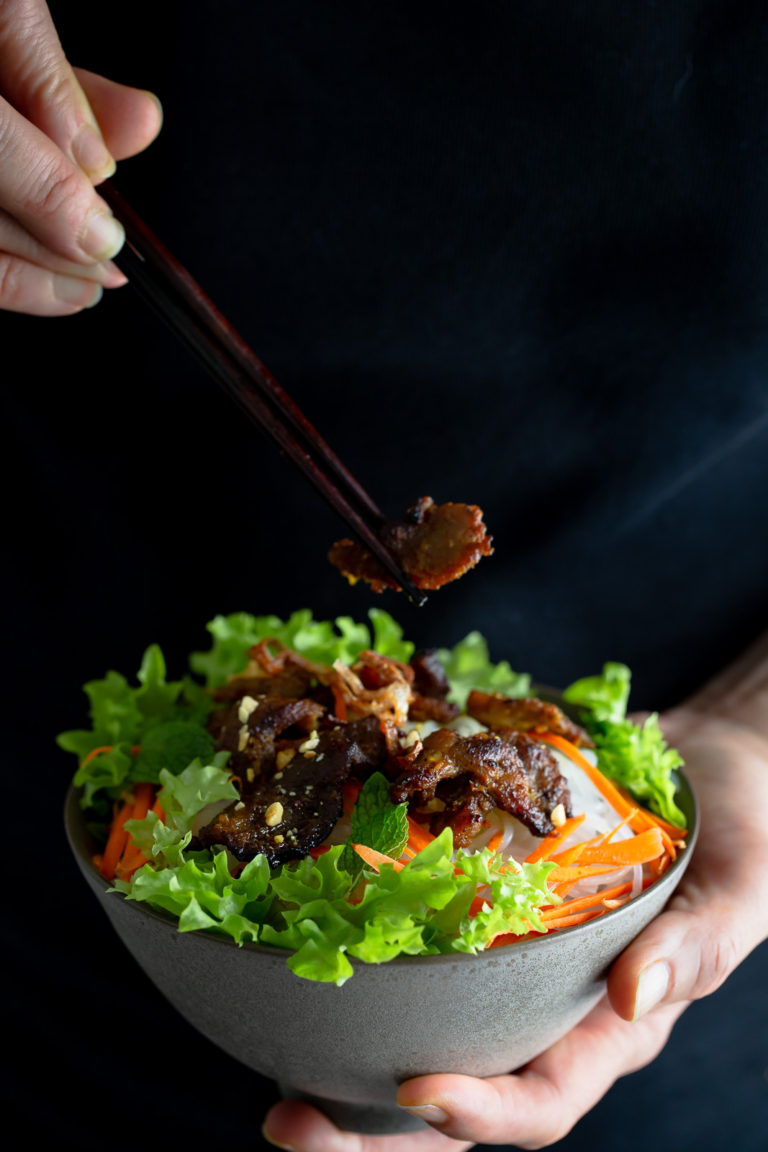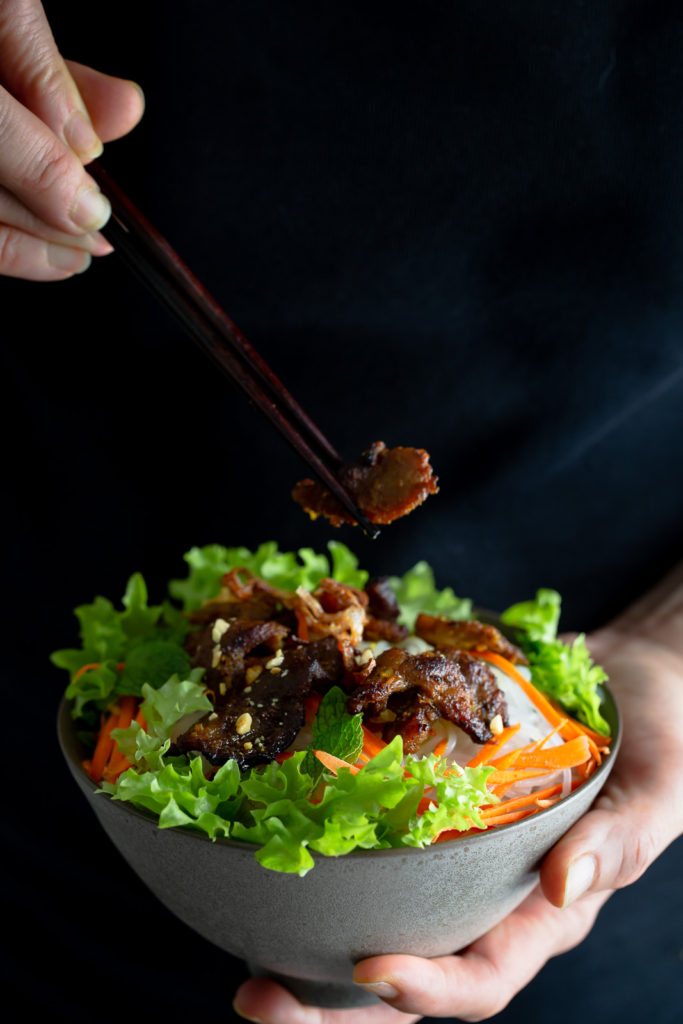 The biggest change I made was the cooking technique. The original recipe calls for first stir-frying the meat on the stove and then finishing it off on a charcoal grill (hence the name). In class, we had a small tabletop grill that worked really well but I knew it was going to be too much work for an everyday meal. So, I decided to broil the meat after it's been stir-fried to get the nice char. It worked great and is far easier.
Fun fact – my husband has always said I hold my chopsticks incorrectly. I have always found this ironic given that I am Asian-born and he is American-born. However, given how my fingers are all pinched together in the above photo I might have to say he's right. How have I managed to pick up anything all these years?
---
Print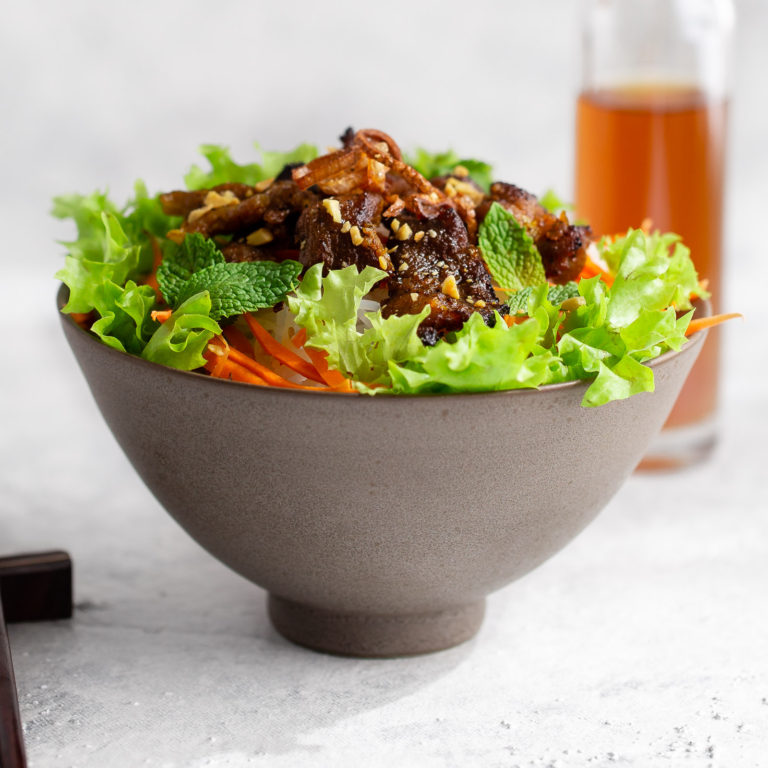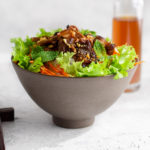 Vietnamese Grilled Pork & Rice Vermicelli Noodles (Bún Thịt Nướng)
Author:

Nguyet Vo

Prep Time:

45 minutes (includes marinating time)

Cook Time:

15 minutes

Total Time:

1 hour

Yield:

4

servings

1

x

Category:

Dinner

Method:

Stovetop

Cuisine:

Vietnamese
---
Description
Authentic Vietnamese grilled pork & rice vermicelli noodles served with lots of fresh vegetables and a fish sauce dipping sauce.
---
For the pork
1 teaspoon

kosher salt

1 teaspoon

ground black pepper

1 teaspoon

Chinese 5-spice powder

1 teaspoon

ground annatto seed

1 teaspoon

turmeric

1

pound

pork shoulder, sliced into thin strips

3 tablespoons

minced lemongrass

2 tablespoons

minced shallot

1 tablespoon

fish sauce

2 tablespoons

honey

4 tablespoons

vegetable oil, divided
For the Vietnamese dipping sauce (Nuoc Cham)
1

cup

water

2 tablespoons

sugar

1/4 teaspoon

chili garlic sauce (or more if you want it spicier)

1 teaspoon

finely minced garlic, optional

4 tablespoons

fish sauce

1 tablespoon

white vinegar

2 1/2 tablespoons

fresh lime juice
For serving
Shredded carrots, lettuce, and cucumbers
Chopped cilantro and mint leaves
Chopped roasted peanuts
Fried shallots (see Notes)
Cooked Vietnamese rice vermicelli noodles (about 8 ounces)
---
Instructions
For the pork
In a small bowl, mix together the salt, pepper, 5-spice powder, annatto seed, and turmeric.
Sprinkle spice mixture over pork and stir until all the pieces are evenly coated with spices. Add lemongrass, shallot, fish sauce, honey, and 2 tablespoons oil. Stir until everything is evenly mixed. 
Cover and refrigerate, allowing the meat to marinate for at least 30 minutes.
Heat remaining 2 tablespoons oil in a wok or heavy cast-iron skillet over medium-high heat until oil begins to shimmer. Rotate and tilt pan so that oil evenly coats the bottom and sides of the wok. Add pork in an even layer around the wok. Let the pork sit a minute or so until it starts to brown. Then stir the pork and let cook until lightly browned all over and pork is just cooked through. 
Transfer the pork to a foil lined rimmed baking sheet, spreading the meat out into a single layer.
Place the baking sheet under a broiler until the meat starts to char in places, about 5-10 minutes. 
For the Vietnamese dipping sauce (Nuoc Cham)
Mix the sugar and water together in a medium bowl until all the sugar is dissolved. Stir in remaining ingredients.
For serving
Place desired amount of noodles, fresh vegetables, cilantro, and mint in a bowl. Top with pork. Drizzle desired amount of sauce in bowl and sprinkle with chopped peanuts and fried shallot.
---
Notes
You can buy fried shallots at Asian grocery stores or fry your own. To fry them at home, heat 1/4 cup canola oil in a cast iron skillet. Add 1/2 cup thinly sliced shallots and cook over medium heat until golden brown, stirring often. Remove shallots from oil with a slotted spoon or chopsticks and let drain on a paper towel before serving.
For tips on cooking rice noodles, see my Vietnamese Grilled Chicken recipe. 
Keywords: rice noodles, vietnamese, grilled pork, noodle bowl, fish sauce
---