About Me
Hi. Welcome to Taming of the Spoon. I'm Nguyet (pronounced "Wick") and I love food. When I am not actually eating or cooking, I am thinking about the next thing I might be eating or cooking. I live in Houston, Texas with my husband and our two teenaged daughters. Sharing delicious food with family and friends brings me great joy.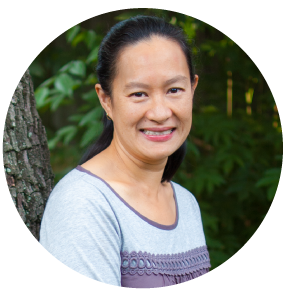 About the Blog
I started this blog to embark on a new adventure after working in Information Technology for several years. I have always loved to cook and the technical side of creating a blog intrigued me so I decided to combine the two and Taming of the Spoon was born. I want to share recipes that my family has enjoyed and that work for us. With two active kids, I am always looking for recipes that are quick and easy to make while still being delicious and healthy. My goal for this site is not to create all original recipes but to share recipes I have found that fit into our lives and lifestyle so that you too can share great food with your family and friends. I find cooking inspiration from many sources (blogs, cookbooks, magazines, restaurants, my mother's cooking) and I cite sources when a recipe is not my own (or my mother's).
Since my oldest daughter was semi-vegetarian for a few years (she ate fish), you will find several recipes that I have adjusted to have both vegetarian and carnivore friendly options. But what's life without dessert? My husband has a ferocious sweet tooth and an addiction to chocolate (we buy chocolate wholesale in 22 pound bags). Several of the fancier desserts and cakes you see on this blog, he made.
So, you'll find a good mix of both healthy and indulgent recipes here.
FAQ
Do you do your own photography?
Yes. Along with all the food styling, cooking, and dish washing.
Can I use your recipe on my website or blog?
Absolutely! If you would like to use a recipe, please re-write the recipe in your own words (no word for word copying) and cite Taming of the Spoon as the source. Please provide a link back to the blog post and include any sources I may have cited.
Can I use your photograph on my website or blog?
All of the photography on this website is my own (unless otherwise specified) and is subject to copyright. The photos may not be used, published, sold, or reprinted for any purpose without written permission from me. You can contact me at tamingofthespoon@gmail.com if you would like to feature my work.
Comment Policy
I welcome (and encourage) respectful, friendly comments and discussion. Because I want to keep Taming of the Spoon a positive place for everyone, I reserve the right to remove offensive, inappropriate, or generally rude comments.
Privacy Policy
To read our privacy policy, please click here.