This chicken pho soup recipe uses the traditional spices and aromatics my mother used in her pho. It's Vietnamese chicken noodle soup with a deeply flavored homemade chicken broth, flat rice noodles, and a delicious array of toppings.
Prep Time:
15 mins
Cook Time:
3 hrs
Total Time:
3 hrs 15 mins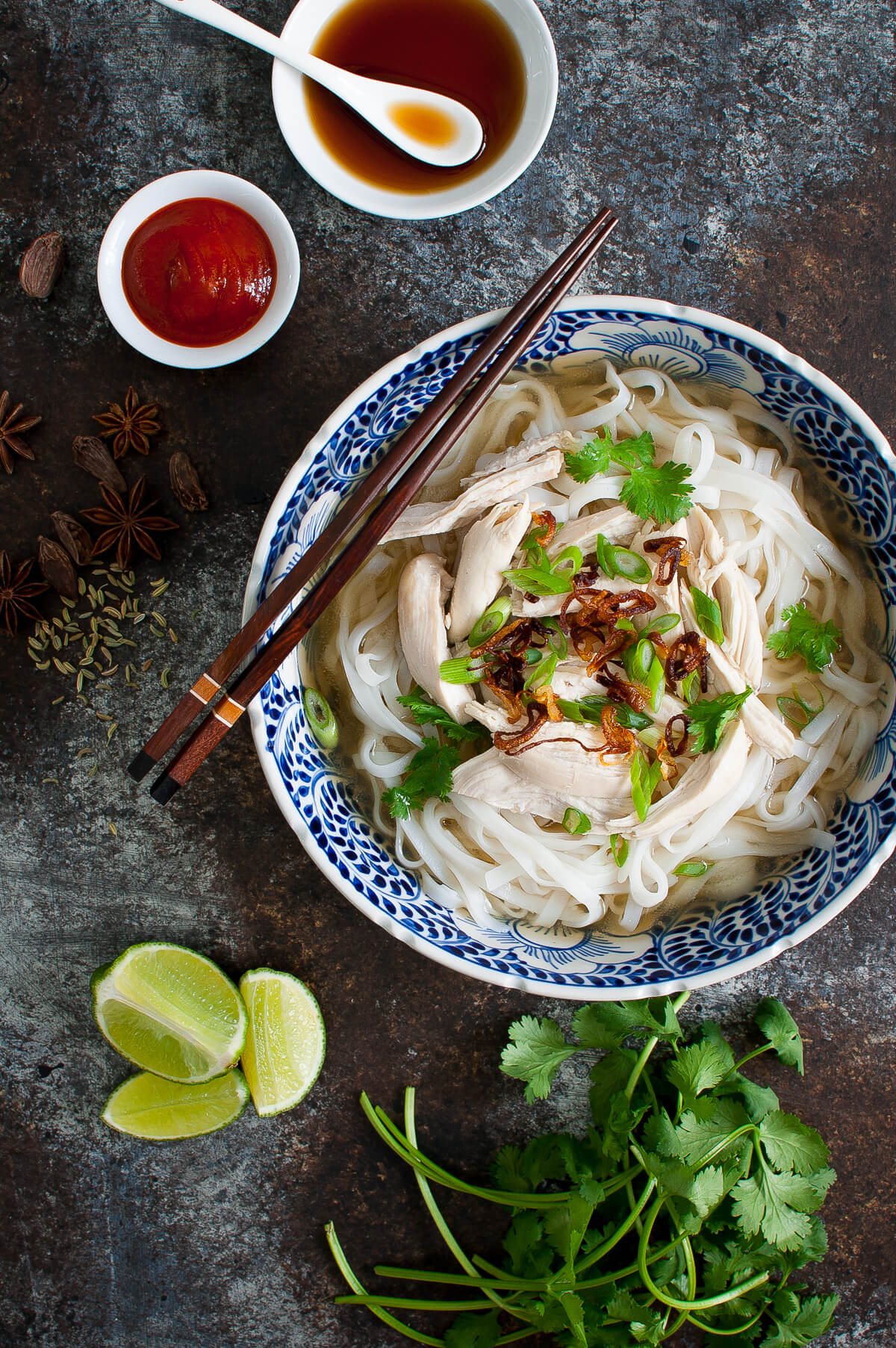 As I'm typing this, I have two sick children home from school with bad colds. It's a good day for some hot Vietnamese chicken pho soup.
Actually, in Vietnam, pho is good anytime – any time of day, any time of year. It's eaten at breakfast, lunch, and dinner regardless of the season. And it's probably why soup is my favorite food group.
I have a batch of pho broth (my third one this week) simmering away on the stove and it's filling my house with the fragrant aromas of star anise, cardamom, fennel, and cinnamon. Some would consider these spices to be optional in pho. I do not.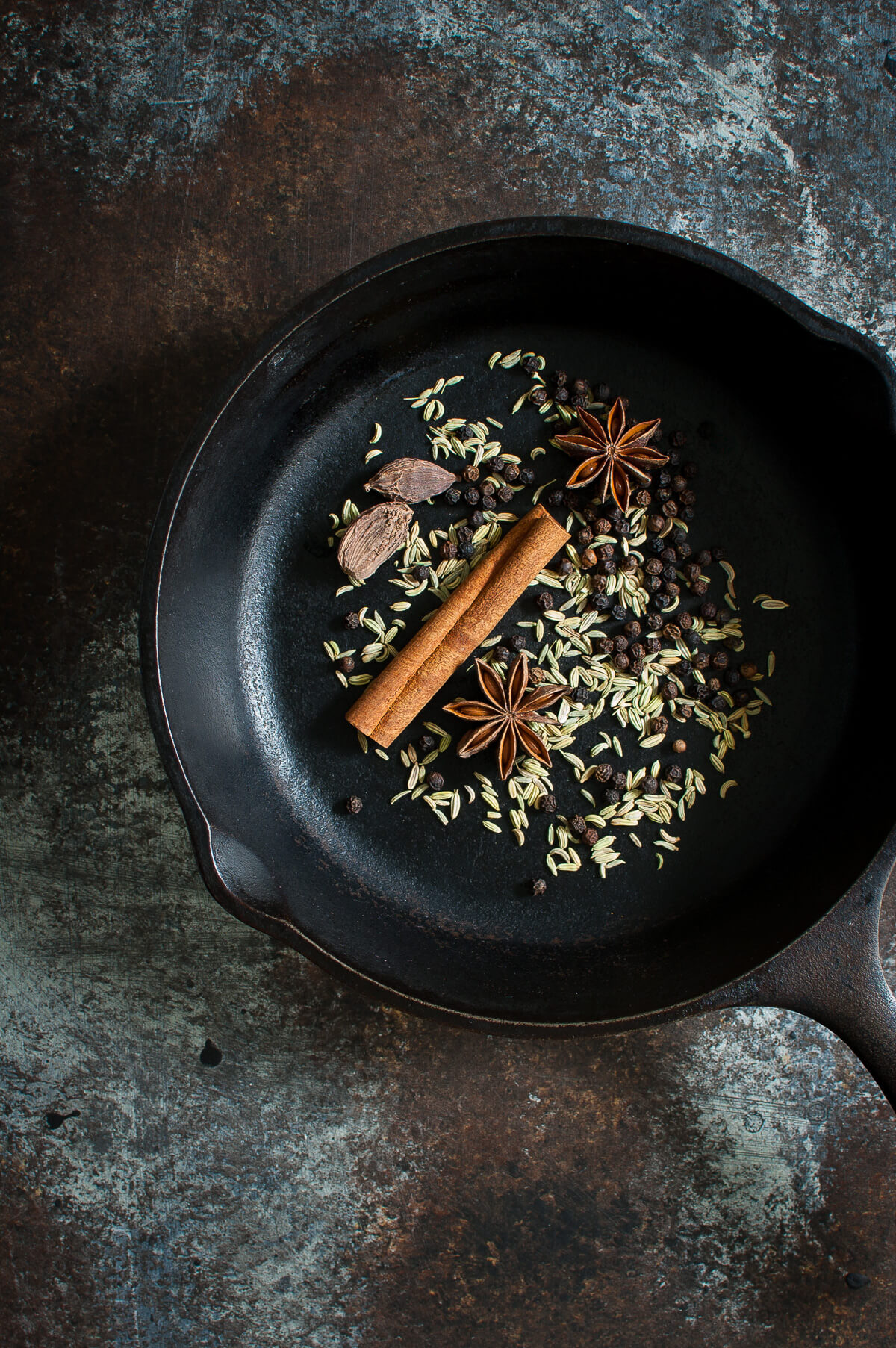 Living in Houston with its large Vietnamese population, it's easy to find numerous restaurants that offer great beef pho at very reasonable prices. However, I find that getting good chicken pho is harder to come by. Restaurant versions have been disappointing so I have had to rely on making special requests to my mother when I need a fix.
However, finding this Food and Wine chicken pho recipe may change that. I liked the cooking method of using a whole chicken to make the broth and shredding the meat for the finished soup. I changed the aromatics and spices to be closer to my mother's version and couldn't be happier with the results. It's a chicken pho I would be proud to serve my own mother.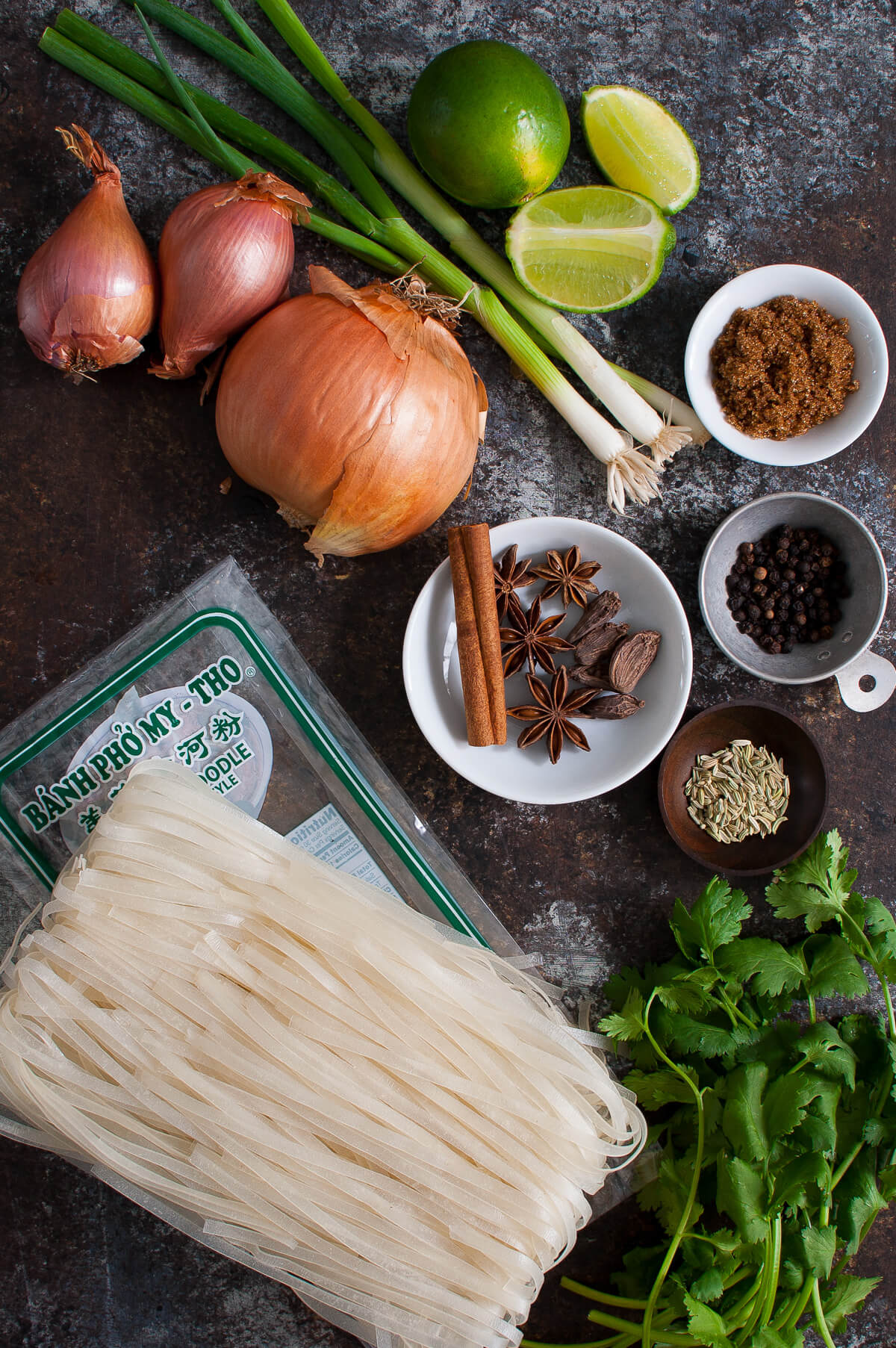 What is pho?
Pho is a classic Vietnamese noodle soup that involves a rich broth, flat rice noodles (similar to the ones used in a pad thai recipe), and some sliced or shredded meat.
What gives pho its distinguishing characteristic is its intensely aromatic broth. There are many extra garnishes (like herbs, hot sauce, and fried shallots) that can be added to enhance the flavor of pho but it all starts with the broth.
There are basically two types of broth – the beef version (typically known as phở tái) and the chicken version (phở gà). The meat bones are simmered for several hours with a mix of spices and aromatics. Every chef and home cook have their favorite blend of pho spices. My mother's always included star anise, cardamom, fennel, and cinnamon that I mentioned before and also ginger, onions, and peppercorns.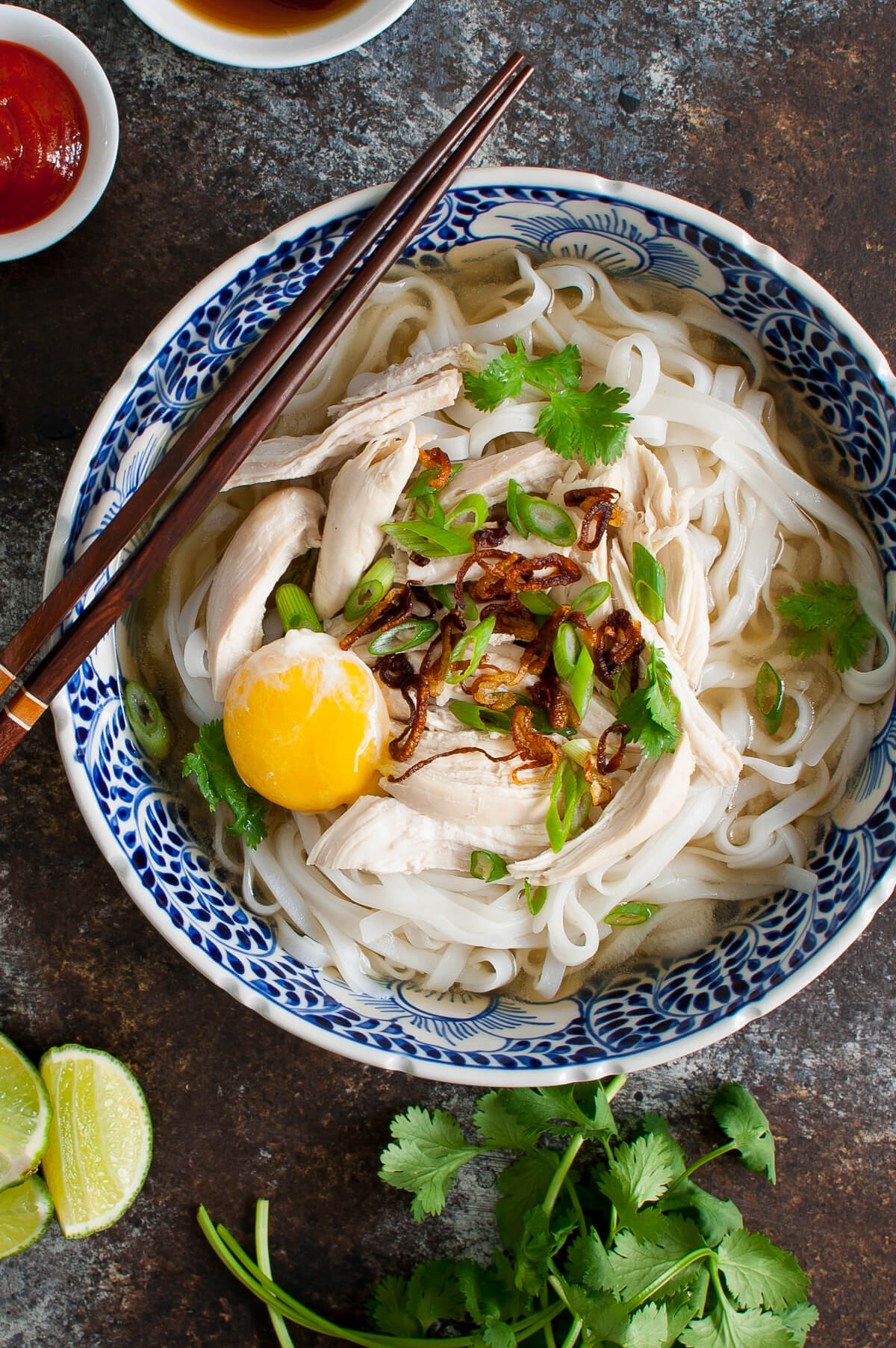 Tips for serving pho
The broth doesn't take all day to cook but it does take almost 4 hours from start to finish. If you want to serve this on a weekday, I suggest making the broth on the weekend and then keeping the strained broth and shredded chicken in the refrigerator until you are ready to serve it.
You can even cook the noodles ahead of time and keep them refrigerated. Yes, the noodles will stick together more but it does save time on a busy night. Whether you are cooking the noodles ahead of time or not, be sure to drain and rinse the cooked noodles well. You should rinse the noodles until the water runs clear.
Be sure to wait until you are ready to serve to pour the hot broth on the noodles. The noodles will soak up the broth and become soggy and mushy if they sit in the broth too long. Not to mention, pho is best eaten when it's steaming hot.
My mother always served her chicken pho topped with a soft cooked egg yolk. You could consider it an indulgence. My husband considers it a requirement.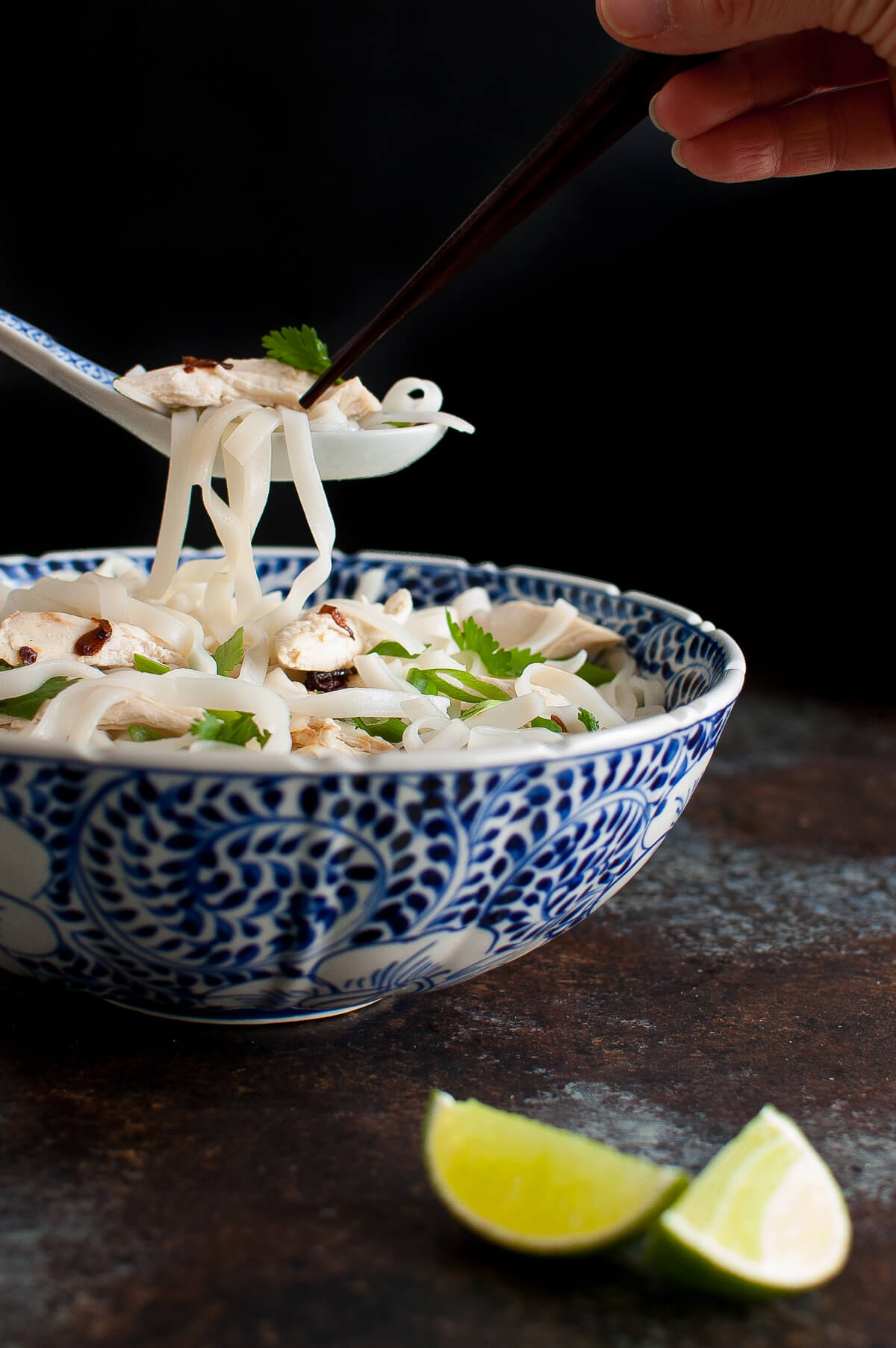 ---
Print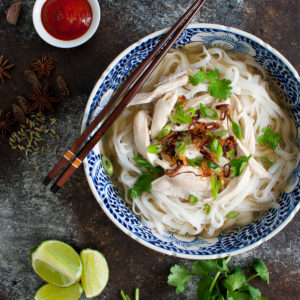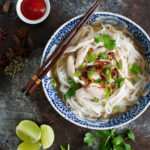 Chicken Pho (Vietnamese Phở Gà)
Author:

Nguyet Vo

Prep Time:

15 minutes

Cook Time:

3 hours

Total Time:

3 hours 15 minutes

Yield:

4

–

5

generous servings

1

x

Category:

Dinner

Method:

Stovetop

Cuisine:

Vietnamese
---
Description
This chicken pho recipe uses the traditional spices and aromatics my mother used in her pho. It's like a Vietnamese chicken noodle soup with a deeply flavored homemade chicken broth, flat rice noodles, and a delicious array of toppings.
---
5

quarts

water

1 tablespoon

kosher salt

3

pounds

chicken bones or chicken wings

1

(3 1/2-pound) whole chicken

2

whole star anise

2

whole black cardamom pods

1 teaspoon

fennel seeds

1 teaspoon

black peppercorns

1

(2 1/2-inch) cinnamon stick

2

shallots, peeled and halved

1

medium onion, peeled and quartered

1 tablespoon

dark brown sugar
For serving
12

–

16

ounces

dried flat rice noodles
Lime wedges
Chopped fresh cilantro
Other optional garnishes
Fried shallots (see Notes)
Soft cooked egg yolk (see Notes)
Asian fish sauce
Hot sauce such as Sriracha sauce
Sliced green onions
Fresh basil sprigs
Fresh mint sprigs
Bean sprouts
Thinly sliced jalapeños
---
Instructions
Poach chicken. In a large stockpot, bring water to a boil. Stir in the salt, then add the chicken bones, whole chicken, breast side down. If the chicken floats up above the water, place a heatproof plate over the chicken to keep it submerged. Return water to a boil then reduce the heat and simmer the chicken for 30 minutes, skimming off any foam that collects at the surface. Using tongs, carefully remove the plate from the stockpot. Transfer the whole chicken to a bowl of ice water and let cool; it will not be completely cooked through. Do not discard the broth in the stockpot.
Prep spices. While chicken is cooling, prepare the seasonings for the broth. In a large cast-iron skillet, combine the star anise, cardamom pods, fennel seeds, black peppercorns, and cinnamon stick. Cook the spices over moderately low heat, stirring occasionally, until very fragrant, about 3 minutes. Add spices to broth in stockpot.
Prep aromatics. In the same skillet, add the shallots and onion. Cook over moderate heat, stirring occasionally, until deep golden brown on all sides, about 10 minutes. Add onion and shallots to the stockpot.
Shred chicken. Remove all of the meat from the chicken and coarsely shred it. Refrigerate the shredded chicken until ready to serve.
Simmer broth. Return all of the chicken skin and bones to the broth in the stockpot and bring broth to a boil. Cover partially and simmer over moderately low heat for 2 hours. Add the brown sugar and simmer for another 30 minutes.
Strain. Strain the broth through a fine mesh strainer into a large saucepan, pressing on the solids; discard the solids.
For serving
Prep noodles. Cook the noodles in a large saucepan of boiling water until pliable, 5 to 8 minutes. Drain the noodles and rinse well. Divide the noodles among serving bowls.
Heat broth. Bring the broth to a simmer. Stir in the shredded chicken and cook until just cooked through, 1 to 2 minutes. Taste the broth and season with salt as needed.
Serve. Ladle the hot broth and chicken over the noodles. Top with cilantro and a squeeze of lime. Add other garnishes as desired.
---
Notes
You can buy fried shallots at Asian grocery stores or fry your own. To fry them at home, heat 1/4 cup canola oil in a cast iron skillet. Add 1 cup thinly sliced shallots and cook over medium heat until golden brown, stirring occasionally.
To add a soft cooked egg yolk to your pho, first separate an egg yolk into a small bowl or sauce plate. Bring the broth to a rolling simmer. Dip a deep ladle into the broth, filling the ladle about 1/2 full. Gently slide the egg yolk into the ladle then slowly lower the ladle back into the hot broth. Fill the ladle with more hot broth; gently swirl the broth around in the ladle. Hold the ladle in the broth for about 1 minute to let the egg yolk cook. Gently pour the broth and egg yolk into a soup bowl.
Update: I recently re-visited this recipe and noticed that I had not included the chicken bones in the ingredient list. I've corrected the recipe. My sincere apologies to anyone who made the recipe and found it lacking in chicken flavor.
Recipe adapted from Food and Wine.
Keywords: Vietnamese chicken pho recipe, how to make chicken pho
---