Chargrilled chicken served with rice vermicelli noodles, fresh vegetables and herbs, and classic Vietnamese dipping sauce (nước chấm).
Prep Time:
20 mins
Cook Time:
20 mins
Total Time:
40 mins*
* Plus marinating time.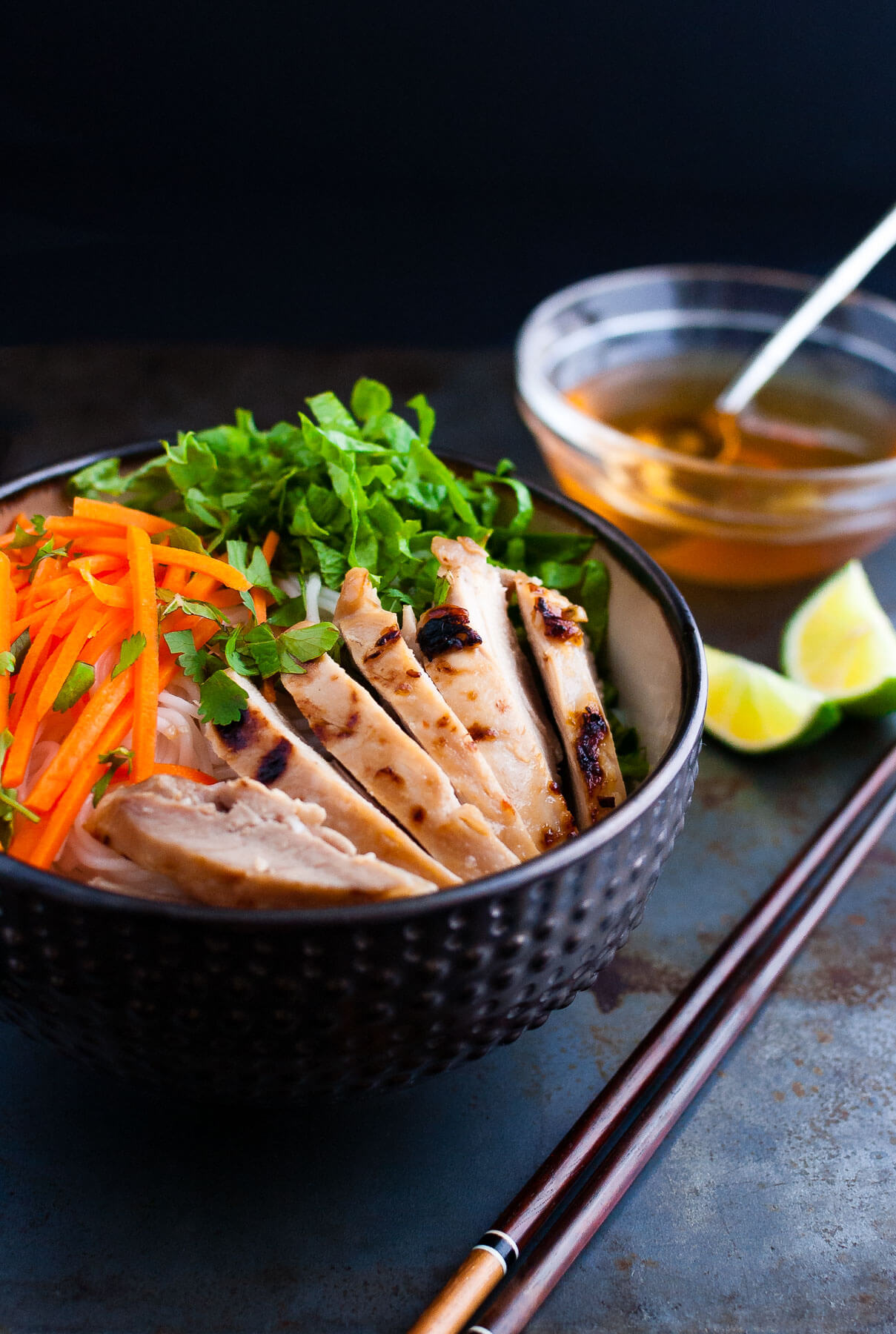 Sometimes the simplest things can come together and be amazing.
That is how I feel about Vietnamese noodle dishes. Each component on its own seems rather mundane – noodles, vegetables, herbs, chicken. However, when you put them all together and add in a sauce that is all about complexity and balance, you get a taste extravaganza.
Vietnamese grilled chicken with rice vermicelli noodles is warm and cool, sweet and salty, fresh and tart all at once. It's complex without being fussy.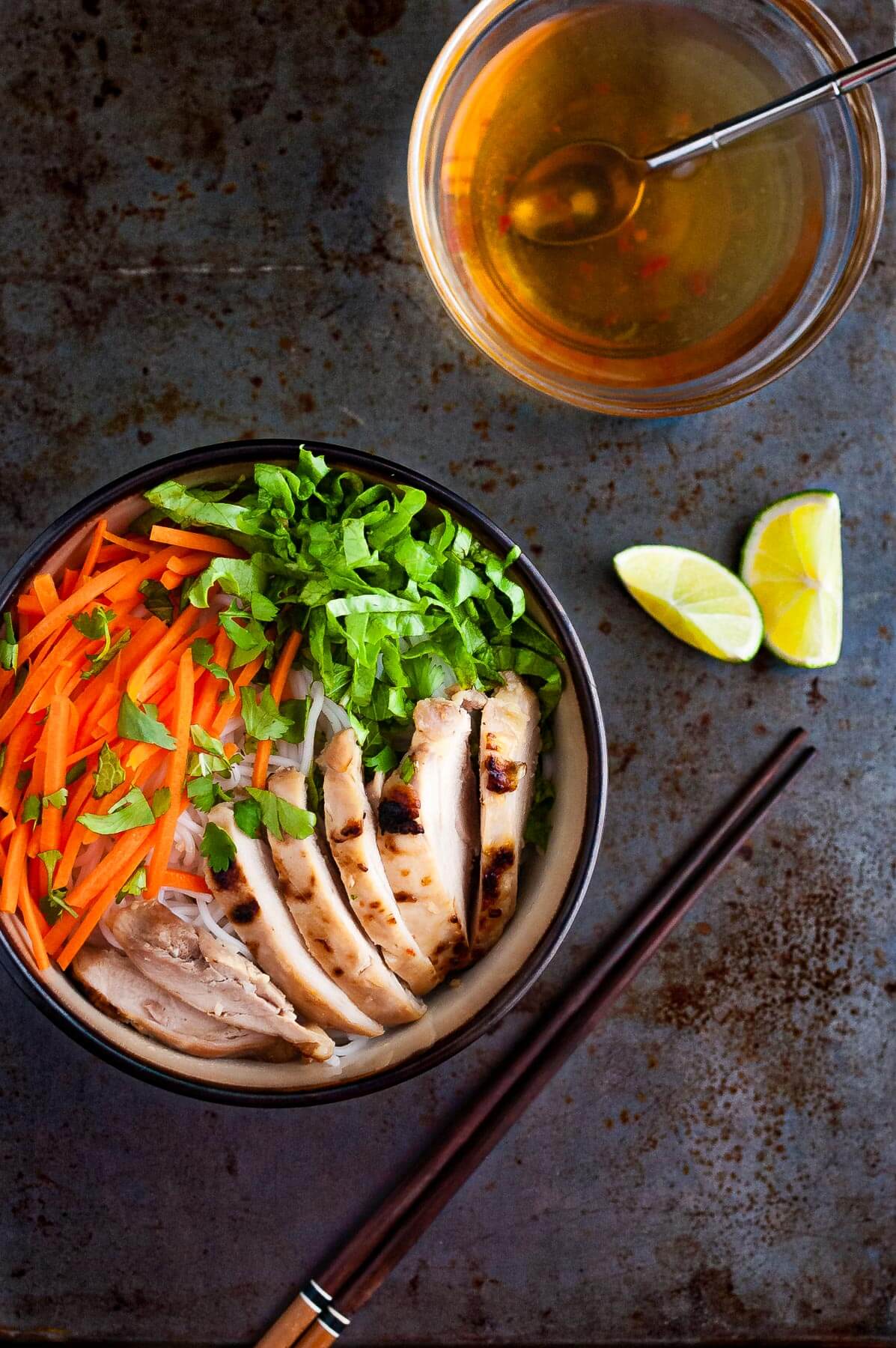 The Secret Sauce in Vietnamese Noodle Bowls
An important part of Vietnamese grilled chicken noodle bowls is the dipping sauce (also known as fish sauce or Nước Chấm). The term "fish sauce" can be a little confusing because it refers to both the concentrated stuff you buy in the bottle as well as the sauce you make using the concentrated fish sauce.
Although the sauce you make to eat with the chicken and noodles is not really a dipping sauce (you pour the sauce over the noodles), that is how the sauce is commonly referred so I decided to use the same naming convention here. Like so much of Vietnamese cooking, this sauce balances sweet, salty, and sour flavors. It ties all the other ingredients together so don't skip that part of the recipe.
I am not particularly loyal to the brands shown in these photos. I wanted to include pictures of these ingredients in case this is your first time working with them. Given the choice, I usually buy the Red Boat brand fish sauce. However, the last time I needed fish sauce, the store where I was only had the Thai Kitchen brand and it has been fine. Most grocery stores nowadays will carry these items in their Asian or Ethnic Cooking aisle. If your store does not carry them, it is time for an adventurous outing to your local Asian grocery store.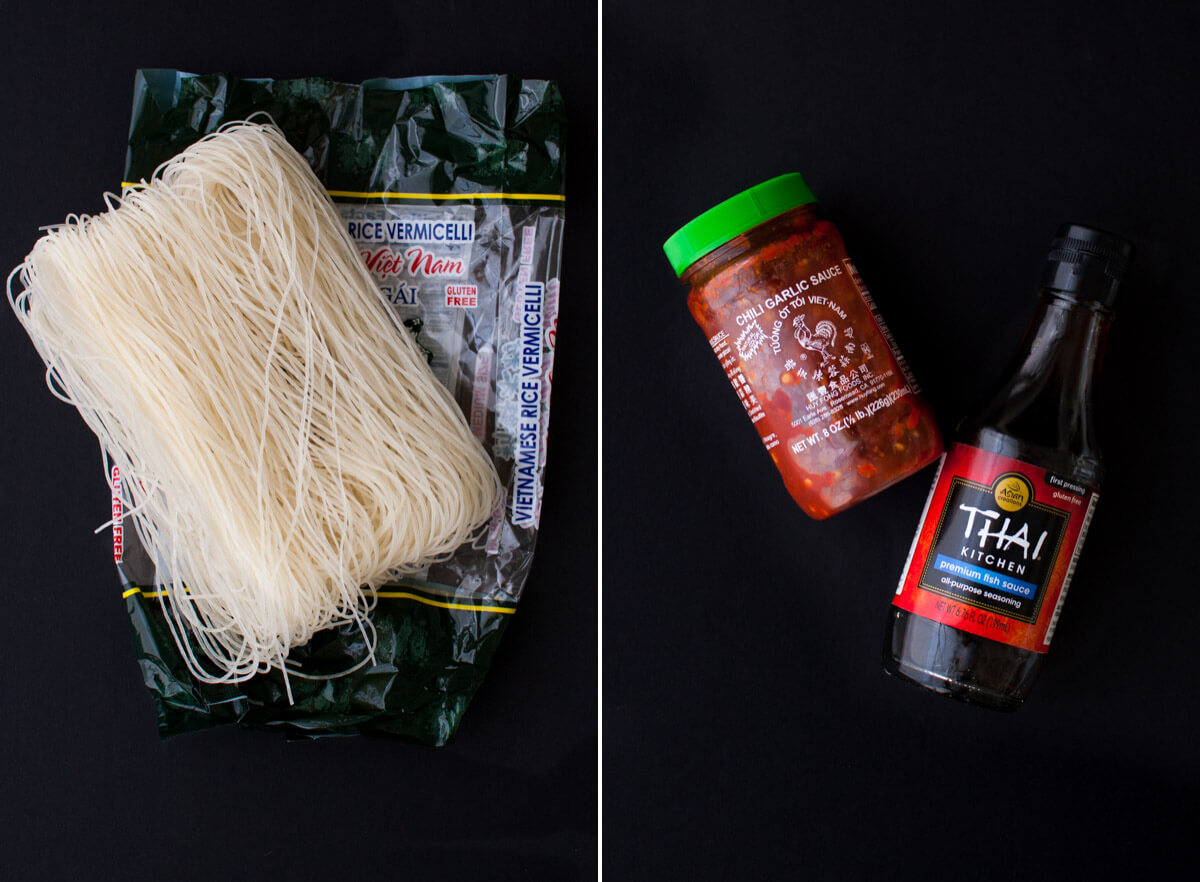 How to Cook Rice Vermicelli Noodles
Cooking rice vermicelli noodles does not take long so do not get distracted and forget about them or you will quickly end up with a mess of mushy tasteless noodles.
I set a timer for 6 minutes once I add the noodles to the boiling water. I also turn down the heat so the water is at a low simmer. As the noodles soften, stir them gently to prevent sticking. You do not want to stir too aggressively which can cause the noodles to break.
When the timer goes off, take some noodles from the pot, rinse them under cool water and taste them. The noodles should be firm-tender. Depending on the brand, some noodles may take longer than 6 minutes. I have just found that 6 minutes is a good time to start checking.
Once the noodles are cooked to your liking, drain them in a strainer and rinse with cool water. Unlike Italian pastas, rice noodles need to be rinsed.
Note that rice vermicelli noodles are sometimes called rice stick noodles or pad thai noodles. Do not confuse these with mung bean noodles which are thinner and more clear looking.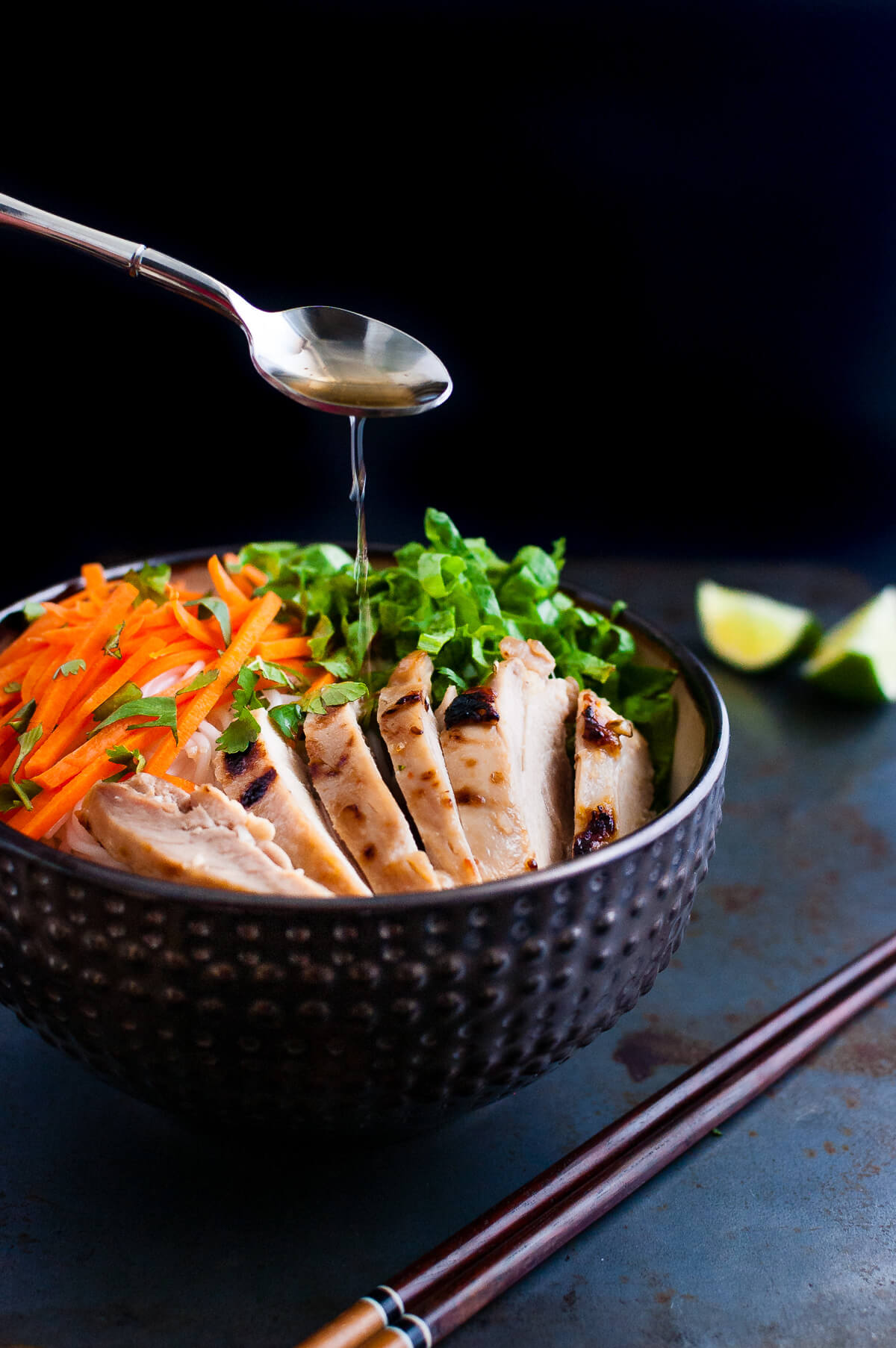 This chicken tastes best when it is grilled. However, my husband is the grill expert in our family and he was not available when I needed to take these pictures. So, I roasted the chicken in the oven until it was almost cooked through and then finished cooking it under the broiler to get some nice charring. It worked great.
Noodles bowls are extremely flexible so feel free to get creative with the vegetable toppings. Cucumber, fresh Thai basil, and pickled radishes are all great additions. Just don't skip the secret sauce.
---
Print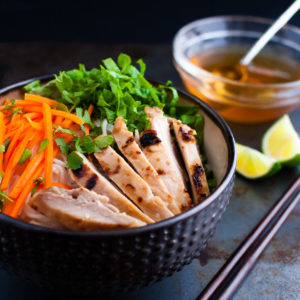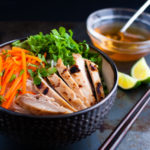 Vietnamese Grilled Chicken with Rice Vermicelli Noodles
Author:

Nguyet Vo

Prep Time:

20 minutes (plus marinating time)

Cook Time:

20 minutes

Total Time:

40 minutes

Yield:

4

servings

1

x

Category:

Dinner

Method:

Grilled

Cuisine:

Vietnamese
---
Description
Chargrilled chicken served with rice vermicelli noodles, fresh vegetables and herbs, and classic Vietnamese dipping sauce.
---
For the chicken
3 tablespoons

fresh lime juice

2 1/2 tablespoons

fish sauce

4

cloves garlic, minced

1/4 teaspoon

chili garlic sauce

2 tablespoons

sugar

1 tablespoon

canola oil

5

–

6

boneless, skinless chicken thighs
For the Vietnamese dipping sauce (Nuoc Cham)
1

cup

water

2 tablespoons

sugar

1/4 teaspoon

chili garlic sauce

1 teaspoon

finely minced garlic, optional

4 tablespoons

fish sauce

1 tablespoon

white vinegar

2 1/2 tablespoons

fresh lime juice
For serving
Shredded carrots, lettuce, and cucumbers
Chopped cilantro leaves
Chopped mint leaves
Cooked Vietnamese rice vermicelli noodles (about 8 ounces)
---
Instructions
For the chicken
Marinate chicken: Whisk lime juice, fish sauce, garlic, chili garlic sauce, sugar and oil in a small bowl. Reserve about 2 tablespoons of the marinade for basting later. Pour the remainder into a large resealable plastic bag. Add chicken pieces to the bag and turn to coat. Marinate in the refrigerator for 20 minutes to 1 hour, turning occasionally.
Heat grill: Prepare grill for medium-high heat and oil the grill rack.
Cook chicken: Grill the chicken, covered, turning several times and basting the browned sides with the reserved marinade, until well browned and slightly charred, and cooked through (internal temperature of 165 degrees F).
For the Vietnamese dipping sauce (Nuoc Cham)
Make sauce: Mix the sugar and water together in a medium bowl until all the sugar is dissolved. Stir in remaining ingredients.
For serving
Serve: Slice the grilled chicken. Place desired amount of noodles, fresh vegetables, cilantro, and mint in a bowl. Top with sliced chicken. Pour in desired amount of dipping sauce and enjoy.
---
Notes
You can also cook the chicken in the oven rather than cooking it on the grill. Roast at 375 degrees until the chicken is almost cooked through, 15-20 minutes, turning at least once. Then turn on the broiler and broil the chicken about 4-5 inches from the heat, turning and basting the chicken until cooked through and lightly charred.
Recipe for chicken adapted from Eating Well.
Keywords: Vietnamese grilled chicken, vermicelli noodle bowls, fish sauce, Vietnamese dipping sauce, Vietnamese noodle bowl
---