Prep Time:
10 mins
Cook Time:
10 mins
Total Time:
20 mins
Migas are eggs scrambled with fried tortilla strips Tex-Mex style with jalapeños, green onions, and white onions. A generous helping of cheese makes it extra good.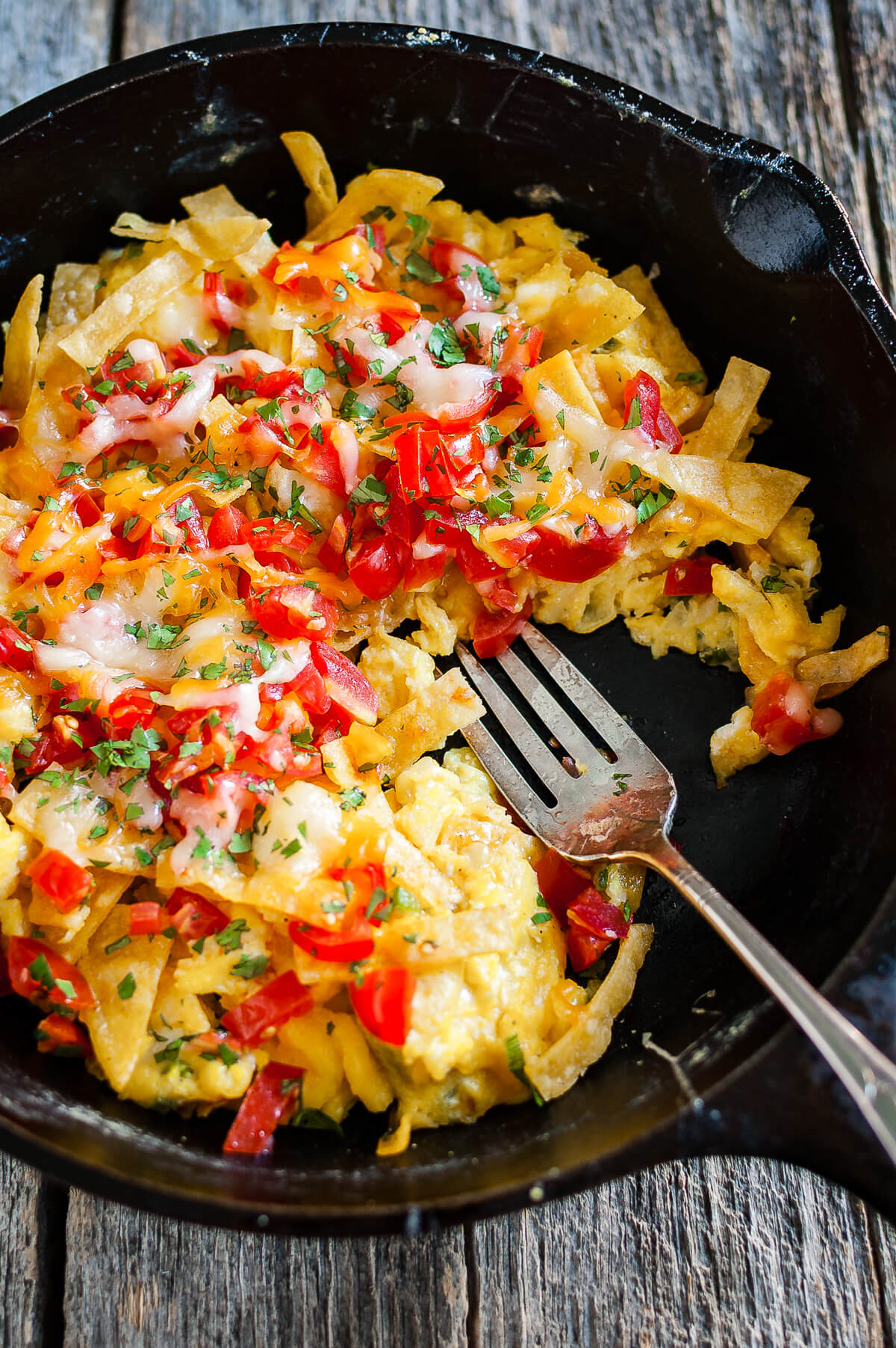 I've been wanting to post a migas recipe for awhile now. The only problem was that I didn't have a good one. I've tried different variations of recipes over the last several months but I was never entirely satisfied with any of them.
I finally decided that Cinco de Mayo would be a good motivator to get in the kitchen and really work out a recipe for migas I was happy with. Part of the issue is that there's a stand at the farmer's market that makes fabulous migas and I never felt my attempts measured up. So last week when I was at the farmer's market and ordered my usual migas, I kept myself from immediately inhaling them and carefully studied their components. I also studiously watched while the migas were being cooked. It turns out I was needlessly over complicating the process.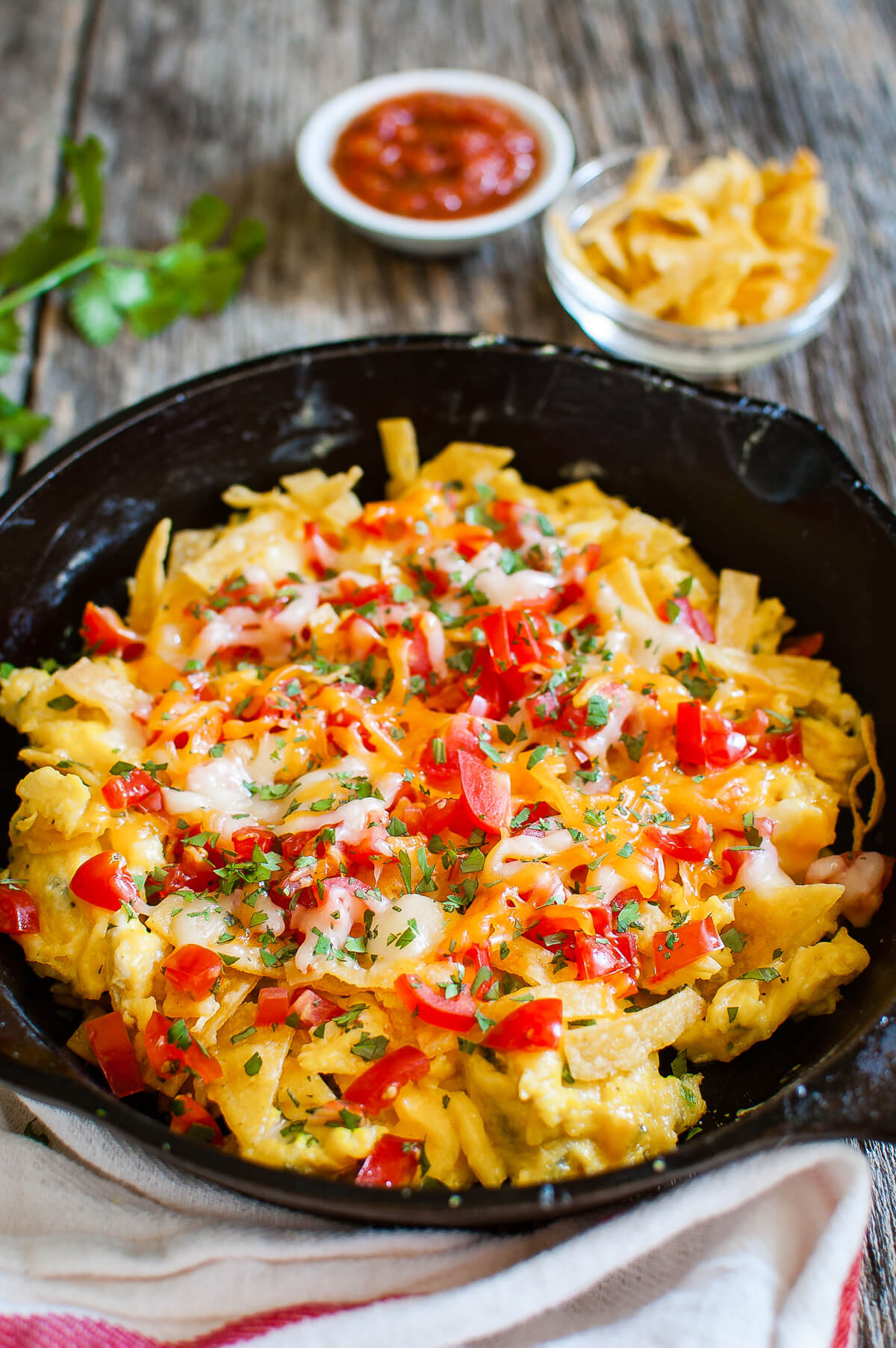 What are migas
Mexican migas are basically eggs scrambled with tortillas. There are also Spanish migas that use bread instead of tortillas. They are great way to use up leftover tortillas hiding out in the back of the fridge or some stale tortilla chips at the bottom of the bag.
How to make migas the easy way
First, the tortillas. Migas aren't migas without the tortillas. So before really getting started, you'll need to decide whether you want to go the authentic route or the easy route. Frying your own tortillas is the more authentic option but using tortilla chips works really well and makes cooking migas so much easier. I usually opt for the easy route.
Next, the aromatics. Once the tortillas question is settled, migas don't need much else to be outstanding. The eggs need just enough aromatics to add flavor but not so much that you feel like you're eating a crunchy southwest omelet. Sautéing some finely diced jalapeño peppers, white onions, and green onions adds the best flavor without overpowering the eggs. Some recipes call for beating the eggs with salsa but I find that option just ruins the texture of the eggs.
Then, the eggs. Once the jalapeños and onions have softened, add in some well beaten eggs. When the eggs begin to set, add in either the fried tortilla strips or some broken tortillas chips and some cheese, and cook until the eggs are barely cooked through. They'll continue to cook once you've removed them from the heat.
Finally, the toppings. Although, I add some of the tortilla strips/chips into the eggs for extra flavor, I also like to keep some crunchy to add on top because crunchy fried foods is always a good thing (see these black bean tostadas or beer battered fish tacos as evidence). Then I add a generous handful of cheese that gets gooey and melty. You can stop here and have migas that would rival even my favorite farmer's market migas OR you can go nuts with the topping possibilities. Diced fresh tomatoes, chopped avocados, cilantro, pico de gallo, and salsa are all great options. And if you're in the mood for tacos, wrapping your migas creation in a warm tortilla is also a solid choice.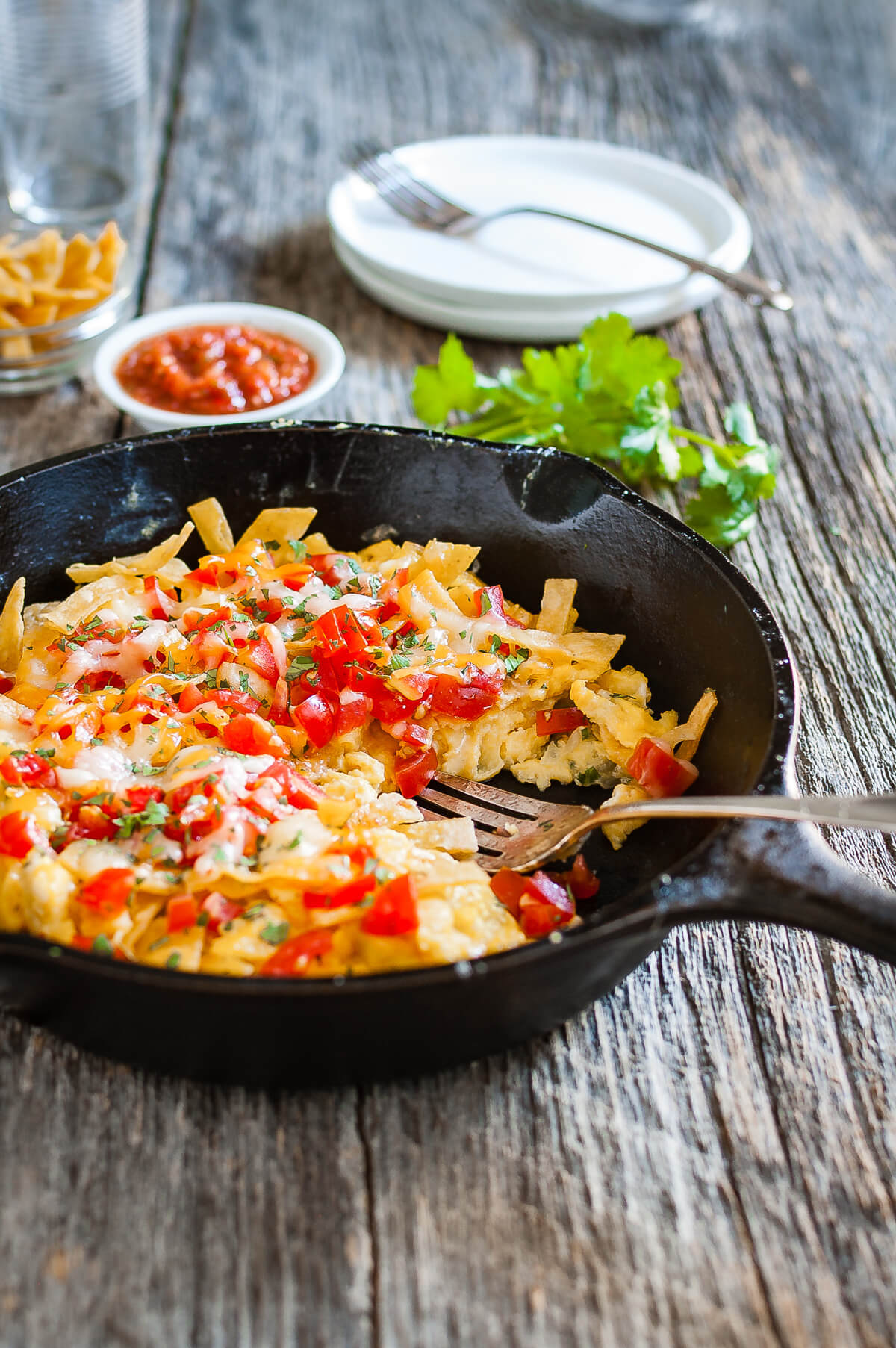 ---
Print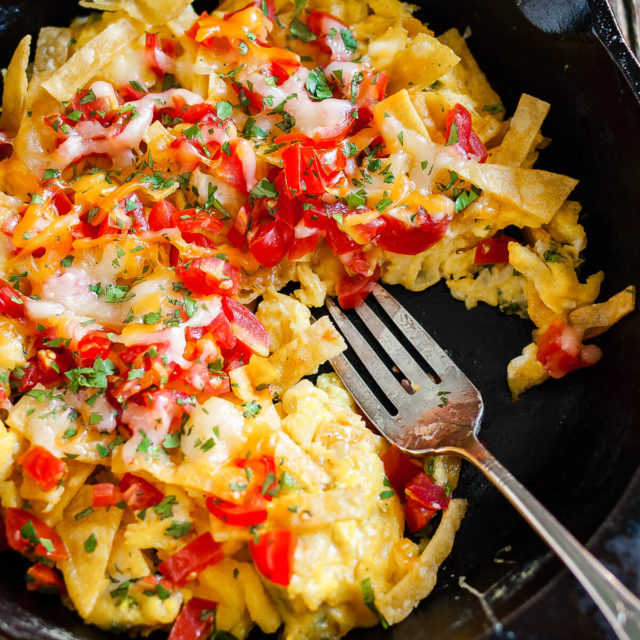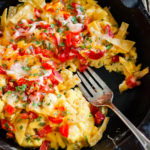 Easy Tex-Mex Migas
Author:

Prep Time:

10 minutes

Cook Time:

10 minutes

Total Time:

20 minutes

Yield:

2

servings

1

x

Category:

Breakfast, Brunch

Method:

Stovetop

Cuisine:

Tex-Mex
---
Description
Migas are eggs scrambled with fried tortilla strips Tex-Mex style with jalapeños, green onions, and white onions. A generous helping of cheese makes it extra good.
---
For the tortillas
A handful of corn tortilla chips, roughly crumbled
OR
3

–

4

corn tortillas, cut into short strips, about

1/4

by 1 inch long

1/2 cup

canola oil, for frying
For the eggs
2 tablespoons

canola oil

1 tablespoon

finely diced jalapeño pepper (seeds and ribs removed)

1 tablespoon

finely diced green onions

1 tablespoon

finely diced white onions

5

large eggs, beaten
Kosher salt
Fresh ground black pepper

1/2 cup

grated cheese (cheddar, asadero, monterey jack or a combination)

1/4 cup

diced tomatoes, optional
Salsa, chopped avocados, and chopped cilantro for serving
---
Instructions
For the tortillas
Fry tortillas (or not). If you are using tortilla chips, skip to the next step. If you are frying your own tortilla strips, heat oil over medium-high heat in an 8-inch skillet (cast-iron is best). When the oil is hot but not smoking, fry the tortilla strips in batches, stirring often to encourage even cooking. When the tortilla strips are lightly crisped, transfer the strips to a paper towel lined plate using a slotted spoon. Set tortilla strips aside. Wipe out the pan.
For the eggs
Prep eggs. In a medium bowl, whisk the eggs with a generous pinch of salt and pepper. Set aside.
Cook aromatics. In a heavy skillet, heat oil over medium-high heat. Add jalapeños, green and white onions and cook until the onions soften, about 2 minutes.
Cook eggs. Add the beaten eggs to the pan and cook until the eggs begin to set, about 20 seconds. Stir with a heatproof spatula, scraping up the eggs on the bottom and sides of the pan and folding them toward the center. Repeat until the eggs are cooked halfway through, about 1 minute. Add half the tortilla strips/chips and half the grated cheese and continue folding to evenly distribute the cheese and tortilla strips throughout the eggs. Cook, stirring occasionally, until the eggs are barely cooked and still a little wet. Remove the pan from the heat.
Serve. Top eggs with remaining tortilla strips, diced tomatoes (if using), and remaining grated cheese. Let the eggs stand in the pan to allow the residual heat to finish cooking them and melt the cheese. Serve with salsa, chopped avocados and chopped cilantro as desired.
---
Keywords: migas, tex-mex eggs, migas recipe
---