Prep Time:
20 mins
Cook Time:
30 mins
Total Time:
50 mins
Slices of green tomatoes get coated and lightly fried until they're golden brown and crunchy on the outside and just cooked on the inside. Topped with some mashed avocado and poached eggs, they're perfect for breakfast, lunch or dinner!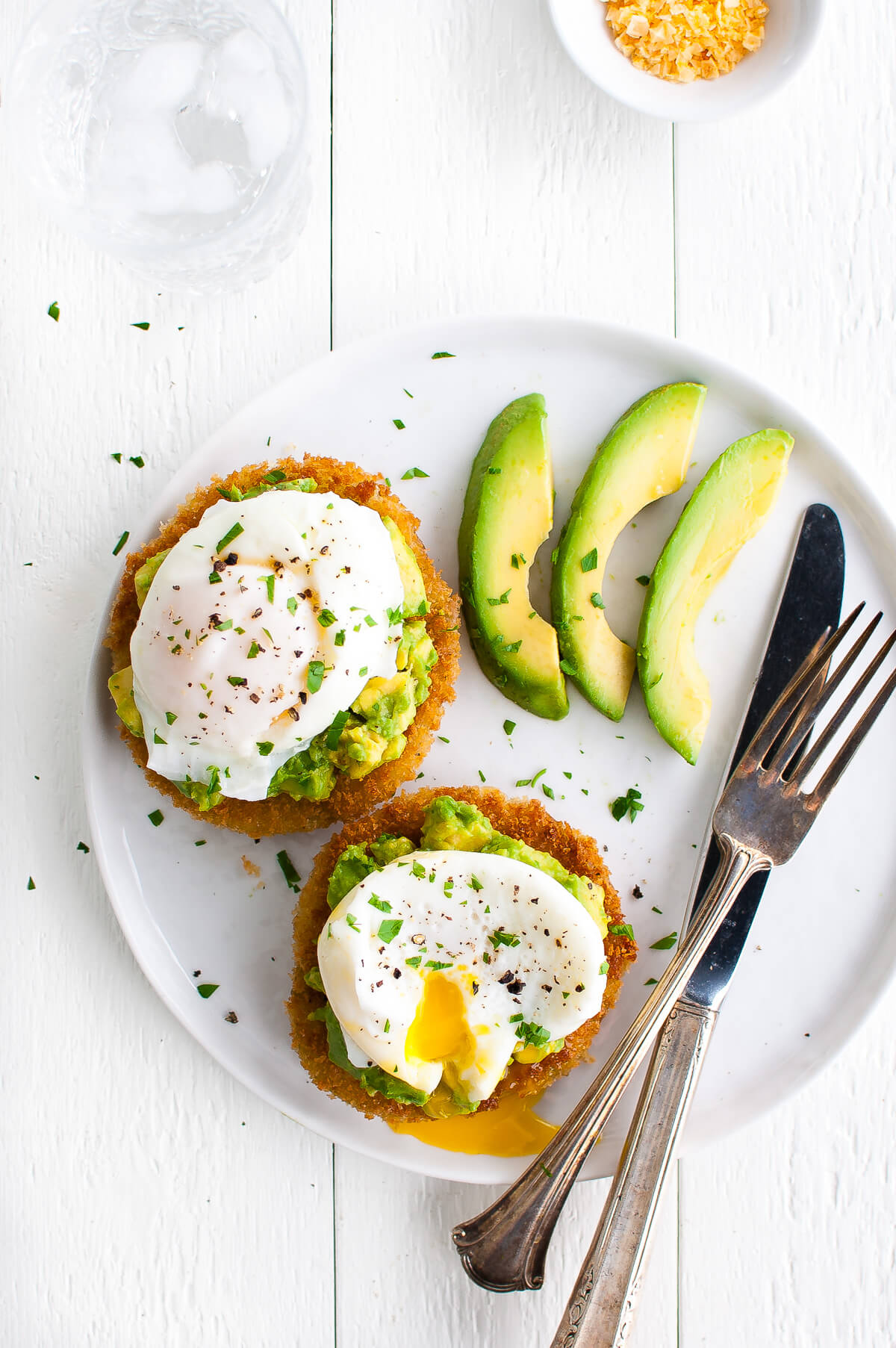 It's time to give fried green tomatoes their due. Fried green tomatoes are usually relegated to being a supporting player to fried chicken or fish but this recipe lets them be in the spotlight.
Here, slices of green tomatoes get coated and lightly fried until they are golden brown and crunchy on the outside and just barely soft on the inside. Then they're topped with some mashed avocado and poached eggs. You could call it my version of the ubiquitous avocado toast and it's great for breakfast, lunch or dinner.
This recipe was inspired by an appetizer I had at a party where rounds of fried green tomatoes were topped with an avocado salsa. I would have never thought to put the two together but it totally worked – the creaminess of the avocados pairing beautifully with the tartness of the tomatoes.
So, I set out to re-create that appetizer. But then inspiration struck. Why not top all that goodness with a perfectly poached egg (with a runny yolk) and make it a meal.
Panko Breadcrumbs vs Cornmeal for Fried Green Tomatoes
I tried several variations for coating these fried green tomatoes and my taste testers (thanks, guys!) and I decided that buttermilk and panko breadcrumbs were key in getting a crispy tasty coating.
The buttermilk added just enough tang to make the coating pop. Although the addition of cornmeal is traditionally used in the coating, we all preferred the coating without it. If you're a traditionalist, you could certainly add some cornmeal to the panko breadcrumbs.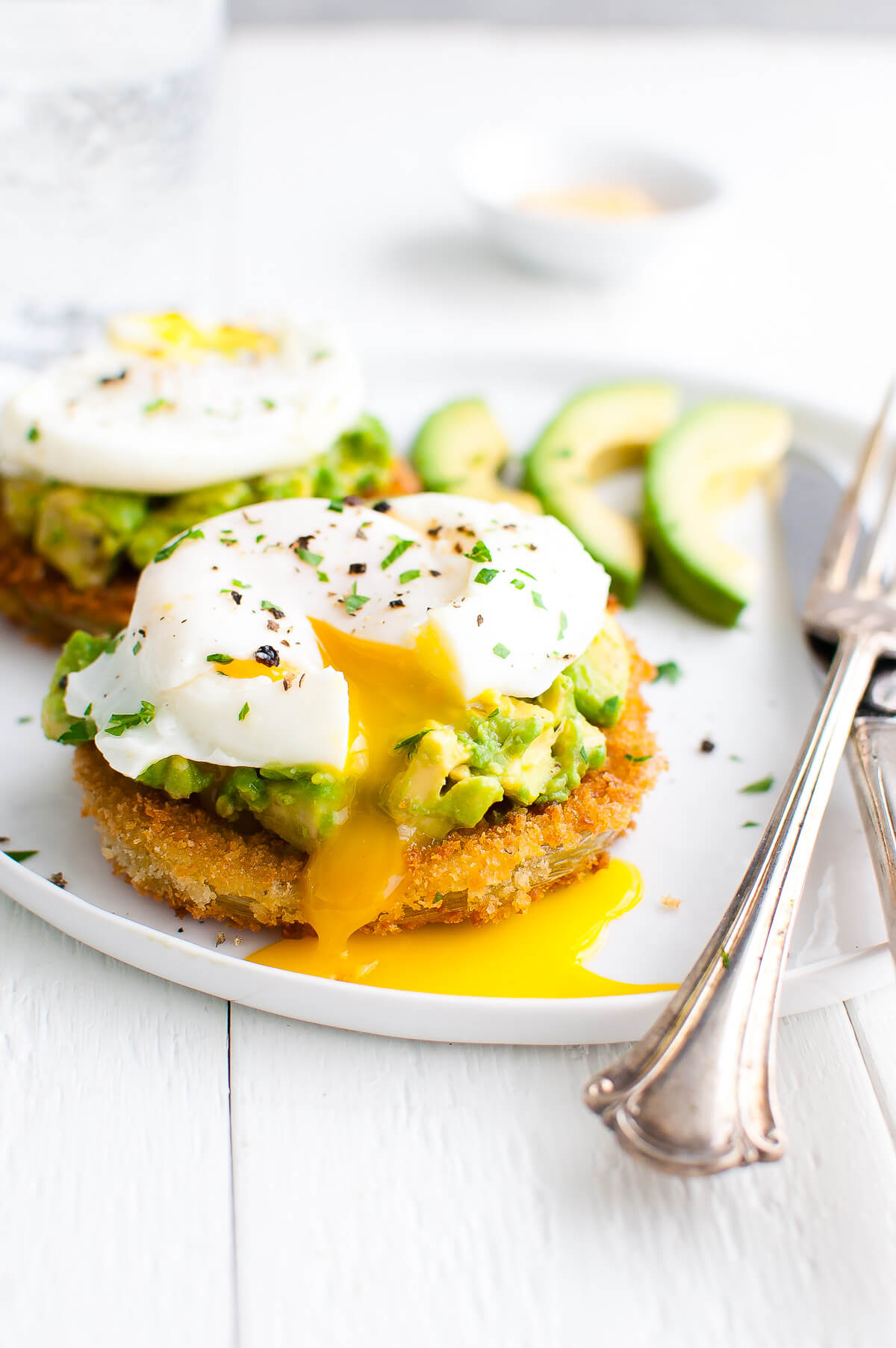 Tips for Poached Eggs
There are about a million techniques out there for achieving the perfect poached egg – special pans, special cups, adding vinegar, swirling the water etc. I have tried almost all of them but I have found using the most basic technique (and practice) to be the best.
The water should be very hot but not boiling when you are ready to add the eggs. I usually bring the water to a boil and then turn down the heat so that there are no more bubbles but plenty of steam.
Crack the eggs into a small dishes or ramekins first and then slide the egg into the water. Don't try trying to crack the eggs directly into the water.
Let the eggs poach slowly in the hot but not boiling water.
Equipment for Poaching Eggs
Although you really don't need any special equipment to get the perfect poached egg, lately I have been following Michael Ruhlman's advice to drain off some of the thinner liquidy parts of the egg white with a slotted spoon first. This minimizes the small fly-away bits of egg white that often form.
Yes, I do own the spoon referenced in the article but I have used other slotted spoons with success as well. Just make sure the bowl of the spoon is large enough to hold an egg and the holes in the spoon aren't too big. It took some practice to get a feel for when enough of the whites had drained off to get rid of the liquidy parts without draining so much off that I was left with a naked yolk.
With a little practice, you will soon be on your way to delighting in soft eggs with that dreamy runny yolk.
---
Print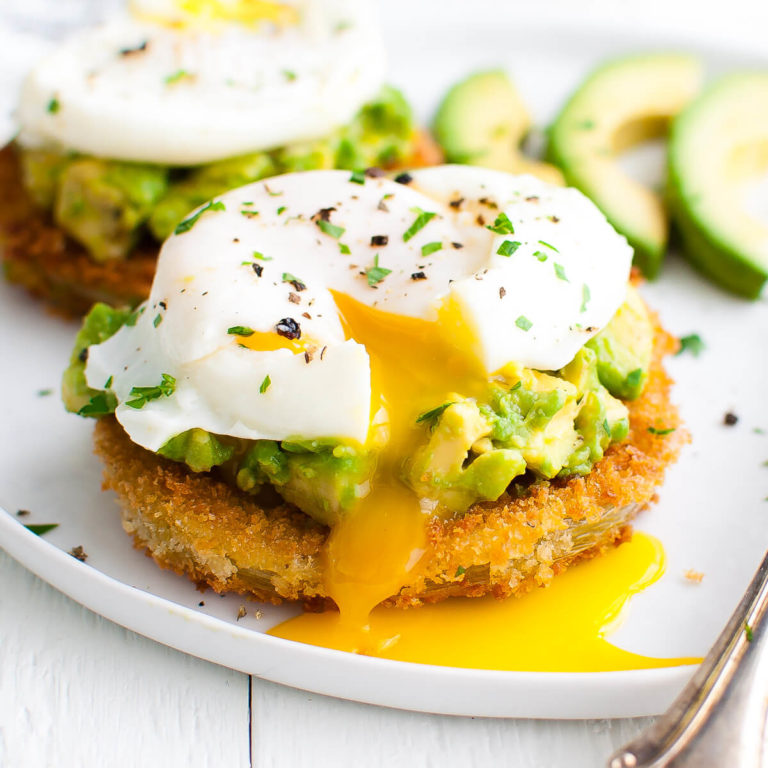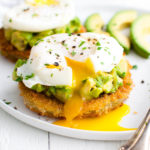 Fried Green Tomatoes with Avocados and Poached Eggs
Author:

Prep Time:

20 minutes

Cook Time:

30 minutes

Total Time:

50 minutes

Yield:

4

fried tomato slices topped with avocados and eggs

1

x

Category:

Main

Method:

Pan Fried

Cuisine:

American
---
Description
Slices of green tomatoes get coated and lightly fried until they're golden brown and crunchy on the outside and just cooked on the inside. Topped with some mashed avocado and poached eggs, they're perfect for breakfast, lunch or dinner!
---
For the tomatoes
1

large green tomato
Kosher salt
Freshly ground black pepper

1/2 cup

all-purpose flour

1

large egg

1 tablespoon

buttermilk

1 1/2 cups

panko Japanese-style breadcrumbs

1/2

–

1

cup olive oil, for frying
For serving
1

medium avocado

1 teaspoon

fresh lemon juice, or more to taste

4

large eggs
---
Instructions
For the tomatoes
Prep tomatoes. Trim 1/2-inch from the stem and blossom ends of the tomato and discard. Slice tomato into 1/4-inch thick slices. Season tomato slices on both sides with salt and pepper. Set aside.
Prep coating. In a shallow dish or pie pan, add the flour. In a second shallow dish, whisk together the egg and buttermilk until blended. Spread the panko breadcrumbs in a third shallow dish.
Coat tomatoes. Working with one tomato slice at a time, dip the tomato slices into the flour to coat evenly, shaking off the excess. Then, dip into the egg mixture, letting the excess drip back onto the dish. Then coat the tomato slices in the panko breadcrumbs, patting firmly to help the breadcrumbs adhere.
Cook tomatoes. Heat 1/2 cup oil in a 10-inch non-stick or well-seasoned cast iron skillet over medium-high heat until it shimmers. Working in batches if necessary, carefully place tomatoes into the heated oil in a single layer. Cook until the undersides are golden brown, about 2 minutes. Turn the slices and fry until the other sides are browned, about 2 minutes more, adding more oil to the pan as necessary. Drain the fried tomatoes on paper towels.
For serving
Prep avocado. Cut the avocado in half lengthwise around the pit. Twist the avocado halves in opposite directions and pull the halves apart. Remove the pit from the avocado and discard. Scoop out the avocado pulp into a medium bowl and mash it with a fork and some fresh lemon juice. Season with salt and pepper to taste.
Plate tomatoes. Place tomato slices on plates and top with even amounts of avocado mixture. Set aside.
Cook eggs. For the eggs, crack the eggs into 4 small ramekins or sauce dishes. In a 12-inch straight-sided skillet, bring 3 inches of water to a simmer. Turn down the heat so that no more bubbles form on the surface. Carefully slide the eggs into the water, evenly spreading the eggs around the pan so they don't touch each other. Cook eggs, undisturbed, until white is just set and yolk is still runny, 3 to 4 minutes. Use a rubber spatula to gently release eggs from the bottom of pan, if necessary. Using a slotted spoon, remove eggs from water. Blot the bottom of the spoon on a paper towel to remove excess water. Gently place an egg on each tomato slice. Serve immediately.
---
Notes
This recipe yields 4 fried tomato slices topped with avocados and eggs. This can serve 2 people with hearty appetites or 4 people with lighter appetites.
Use green tomatoes that are simply hard unripe red tomatoes not the variety of heirloom tomatoes with a green flesh.
Keywords: fried green tomatoes, tips for poached eggs
---