Last summer, I posted a recipe for easy fish tacos that was delicious and easy enough to do on a weeknight. I still love that recipe. It is definitely the one I turn to when I want fish tacos but don't want to put in a lot of work. However, when I have a little more time on my hands and want something slightly more indulgent, I make fried beer battered fish tacos. Let's face it – deep frying anything makes it taste better. Until recently, I had always used a boxed mix for the fish batter. I hadn't found a recipe I liked that used basic ingredients and yielded light and crispy fish pieces. I was really happy when I came across this one. It uses basic pantry staples and fries up beautifully. It's the perfect foundation for some tasty tacos. Then, I added a cilantro-lime sauce that adds a little zest and creaminess. It's used for the dressing in the slaw as well as a topping for the tacos. It also works great as a dip with some tortilla chips. Basically, you can't go wrong with it. Finally, no fish taco is complete without some kind of salsa in my opinion. In this case, I went with a tried and true favorite – homemade pico de gallo. Hop over to my recipe for easy fish tacos for instructions on how to make this quick pico de gallo in a food processor.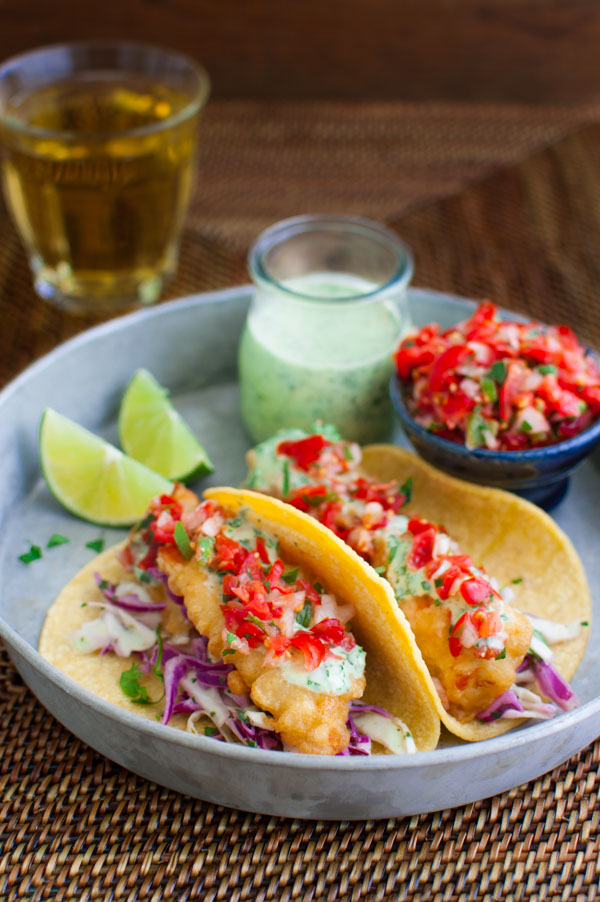 To make things easier on the day you're serving these tacos, you can make the cilantro-lime sauce and the pico de gallo the day before and keep them in an airtight container in the refrigerator until you are ready to use them. If you're planning to serve these fish tacos at a party, you can also fry the fish a few hours ahead of time and keep it warm in the oven set at a low temperature. Then once you're ready to serve, mix some of the cilantro-lime sauce with some shredded cabbage to make the slaw and set out all the other ingredients. Then, let everyone make tacos to their liking.
---
Beer Battered Fish Tacos with Cilantro-Lime Sauce
Ingredients
For the cilantro-lime sauce
2 cups (packed) fresh cilantro leaves
⅓ cup water
1 clove garlic, roughly chopped
1 jalapeno pepper, seeded and roughly chopped
½ cup non-fat plain yogurt (not Greek yogurt)
½ cup low fat mayonnaise
1 tablespoon white wine vinegar
1 tablespoon fresh lime juice
¼ teaspoon salt
For the fish
¾ cup flour
¼ cup cornstarch
¼ teaspoon baking powder
Salt and pepper
¾ - 1 cup light beer
1 - 1¼ pounds mild white fish (tilapia, cod, halibut etc)
Canola oil for frying
For serving
2 cups shredded cabbage
6-8 corn or flour tortillas, warmed until pliable
Pico de gallo, either store bought or homemade (see my recipe for easy pico de gallo)
Lime wedges, for serving, optional
Instructions
For the cilantro-lime sauce
Put all ingredients for the sauce in a blender or food processor and blend until smooth. Season with salt to taste. Set aside.
For the fish
In a medium bowl, whisk together flour, cornstarch, baking powder, a pinch of salt and pepper. Add ¾ cup beer and whisk to combine. Batter should be slightly liquid but still thick enough to coat the fish. Add more beer to thin batter if necessary.
In a deep, heavy fry pan or sauté pan over medium-high heat, pour in oil to a depth of 1 inch. Heat the oil to 375 degrees. While the oil is heating, pat the fish dry with paper towels and season with salt and pepper. Cut the fish into pieces about 3 inches long by ½ inch square. Working in batches, dip the fish pieces into the batter, and then carefully slide the fish into the hot oil. Fry the fish, turning the pieces regularly, until they are golden brown and crispy, about 4-7 minutes. Drain the fried fish on paper towels and keep warm in a low oven while you fry the rest of the fish.
For serving
Toss the shredded cabbage with 2-3 tablespoons of the cilantro-lime sauce.
Place desired amount of cabbage slaw on a warm tortilla, top with fish and a spoonful of sauce and pico de gallo. Add a squeeze of fresh lime juice, if desired, and serve.
Notes
Recipe for batter adapted from
Serious Eats
.
Recipe for cilantro-lime sauce adapted from Rice Epicurean Markets Cooking School.
---