Topped with caramelized onions, goat cheese, Parmesan cheese, fresh basil, and tomatoes, this tomato tart on flaky puff pastry dough is a delicious way to savor fresh heirloom tomatoes.
Prep Time:
30 mins
Cook Time:
30 mins
Total Time:
1 hr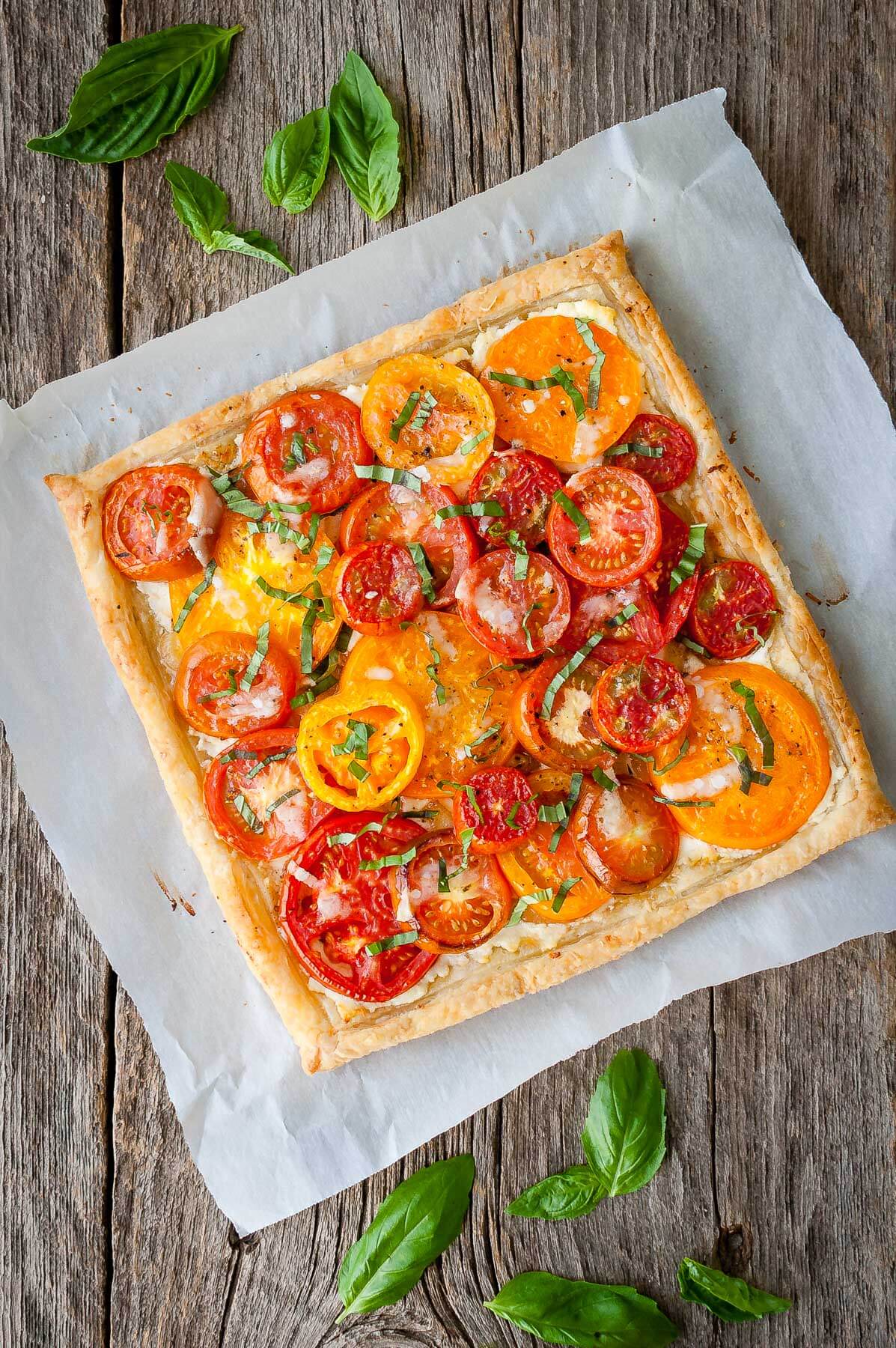 Tomato season has arrived in Texas! Usually, when tomato season arrives my thoughts automatically go to bruschetta and caprese salads. However, when I saw beautiful heirloom tomatoes at the farmer's market this past weekend and remembered I also had some goat cheese I needed to use, I decided it was time to make a tomato tart. Not just any tomato tart though but a tomato, goat cheese, and caramelized onion tart.
This is a luscious way to enjoy the tomato bounty. Sweet, ripe tomatoes atop a bed of caramelized onions and creamy goat cheese – all baked in a flaky puff pastry shell. Oh my.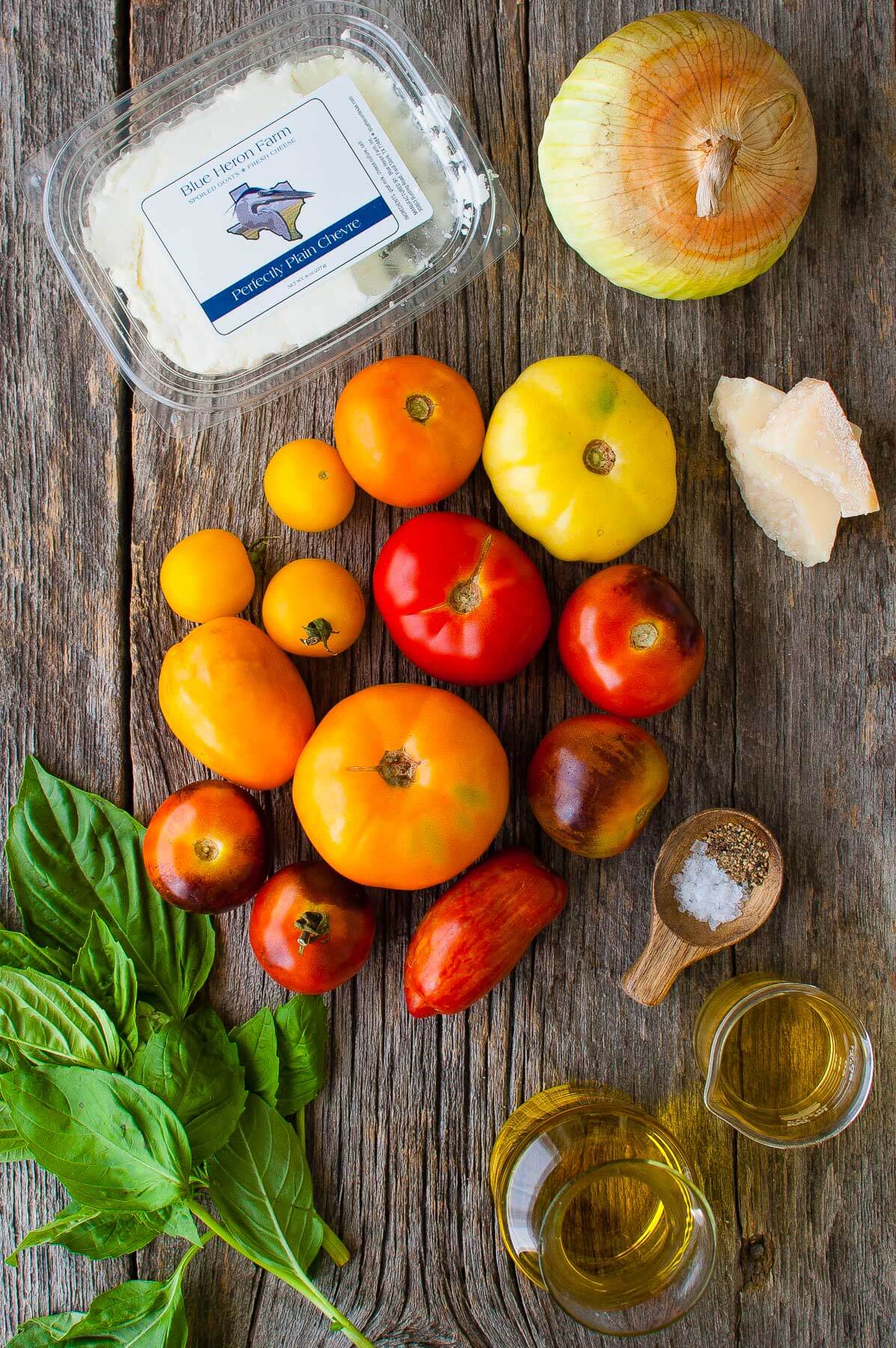 Variations for tomato tarts are endless. Some use a baked pastry shell, others use puff pastry. There are those where the tomatoes are baked and some that keep the tomatoes fresh. Cheese options range from ricotta to mozzarella.
After researching the possibilities, I settled on a simplified version of a recipe from Ina Garten (aka the Barefoot Contessa). Her recipe called for making individual sized tarts and used only one tomato. Since I had bought an abundance of tomatoes, I decided to be more generous with the tomatoes and make a full size tart for easy assembly.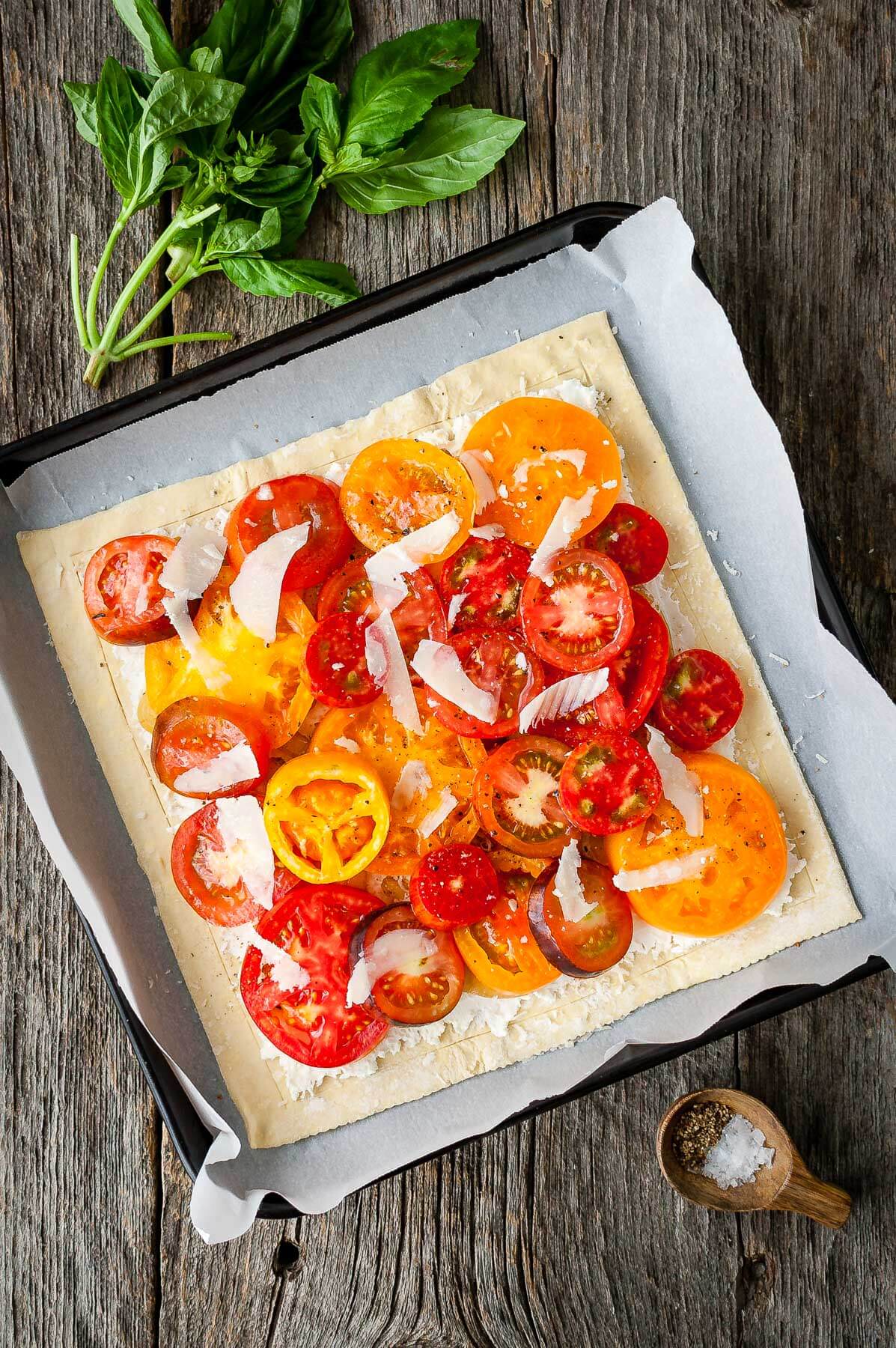 How to not have a soggy tomato tart
One key step in making this tart is to drain the tomatoes by first sprinkling them with salt and then laying them out on paper towels for 3o minutes. This draws the excess moisture from the tomatoes so you don't end up with a soggy tart.
Depending on your love of salt (I love it!) and how much salt you wipe off the tomatoes once they've drained, you may want to season them with more salt when assembling the tart.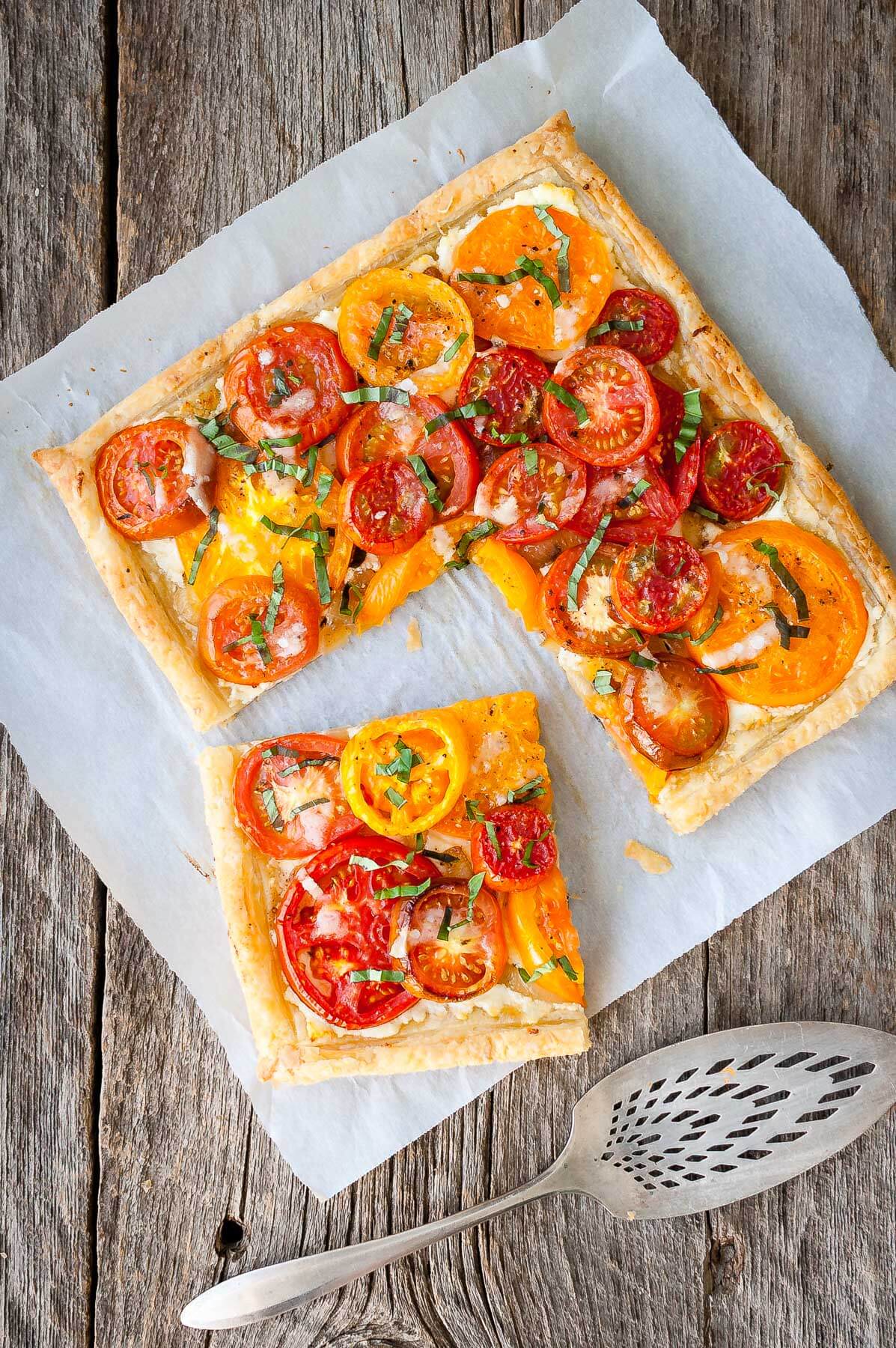 Ways to serve a tomato tart
You can make this tart be the star of your meal or be an elegant side dish. Either way, it's worth a trip to the farmer's market to find the season's best tomatoes.
Cut the tart into larger portions to serve as the main dish. To serve as a side or appetizer, cut into smaller portions.
---
Print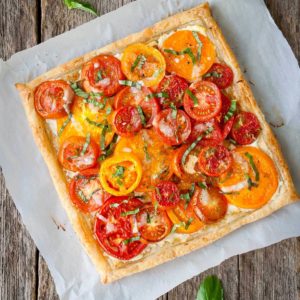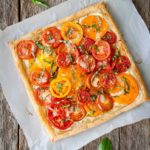 Tomato, Goat Cheese, and Caramelized Onion Tart
Author:

Prep Time:

30 minutes

Cook Time:

30 minutes

Total Time:

1 hour

Yield:

4

servings

1

x

Category:

Side Dish

Method:

Baking

Cuisine:

American
---
Description
This tomato tart on flaky puff pastry dough is topped with caramelized onions, goat cheese, Parmesan cheese, fresh basil, and tomatoes. It's an easy and delicious way to savor fresh, ripe tomatoes. 
---
12

ounces

assorted tomatoes (preferably heirloom), sliced 1/4 inch thick
Kosher salt

1 tablespoon

olive oil, plus more for brushing the tomatoes

1

medium onion, peeled, halved, and then sliced about

1/8

inch thick

2 tablespoons

dry white wine

1/2 teaspoon

dried thyme
Kosher salt and freshly ground pepper

1

sheet frozen puff pastry (such as Pepperidge Farm), defrosted overnight in the refrigerator

4

ounces

soft goat cheese, at room temperature

2 tablespoons

freshly grated Parmesan cheese

2

ounces

Parmesan cheese, shaved with a vegetable peeler

2 tablespoons

julienned basil leaves
---
Instructions
Prep tomatoes. Line a large baking sheet with a double layer of paper towels. Lay tomato slices in a single layer on the prepared baking sheet. Sprinkle tomato slices with salt. Flip the tomatoes over and sprinkle second side with salt. Allow the tomatoes to sit for 30 minutes. While tomatoes are draining, prepare the onions. Also, set out the goat cheese to soften if you haven't already.
Cook onions. Heat oil in a large skillet over medium heat. Add the onions and sauté them briefly until they are evenly coated with oil. Cover the pan and reduce the heat to low. Let the onions steam for about 10 minutes, stirring occasionally. Uncover the onions, add white wine, thyme, and a pinch of salt and pepper. Continue to cook the onions until they are nicely browned and there is almost no moisture in the pan, about 15-25 minutes more.
Preheat. Preheat oven to 425 degrees F.
Score puff pastry. Unfold one sheet of puff pastry and place it on a baking sheet lined with parchment paper. With the tip of a sharp paring knife, lightly score a border ¾ inch from edges (being careful not to cut all the way through the puff pastry).
Add cheese. Spread the goat cheese on the pastry sheet up to the scored border line. Sprinkle grated Parmesan cheese over the goat cheese.
Add onions. Spread onion mixture on top of the goat cheese and Parmesan cheese, again staying within the scored border.
Add tomatoes. Pat the tomato slices dry and lay them on top of the onions, overlapping as necessary. Brush the tomatoes lightly with olive oil and sprinkle with salt and pepper. Scatter shaved Parmesan over tart.
Bake tart. Bake for 20 to 25 minutes, until the pastry is golden brown. Sprinkle baked tart with julienned basil leaves and serve.
---
Keywords: tomato tart, puff pastry tomato tart, puff pastry tart
---