Before you dismiss this recipe as being too complicated and time consuming, let me just say that these winter squash tartlets are a lot easier than you think. Thanks to frozen puff pastry dough and frozen winter squash purée, you can have these winter squash tarts baking in your oven in less than 30 minutes. Store bought frozen puff pastry dough is one of my favorite cooking short-cuts. It let's you make amazing tarts with minimal effort. I always keep a package in my freezer and use it for recipes like my spinach tart or tomato and goat cheese tart. The other time saver in this recipe is the frozen squash purée. As much as I love roasting winter squash, I hate prepping it. Peeling the hard skins of butternut and acorn squashes is not something I enjoy doing. Since this recipe uses squash purée, I took the easy route.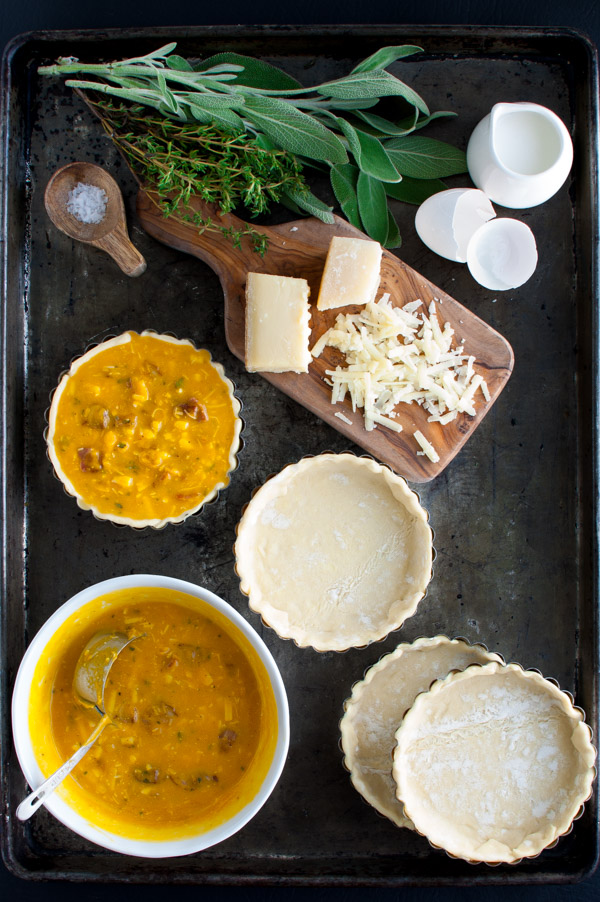 I realize I took a potentially great vegetarian dish and added bacon. I couldn't help myself. The combination of winter squash and bacon is too good to pass up and it works deliciously in this tart. The bacon also adds a little bit of texture to the smooth puree in the filling. My husband, older daughter, and I loved this dish. My younger daughter – not so much. She's not a huge fan of winter squashes to begin with and the puff pastry, bacon, caramelized onions and two types of cheese weren't enough to change her mind. She's thirteen so I've got a few more years to work on her.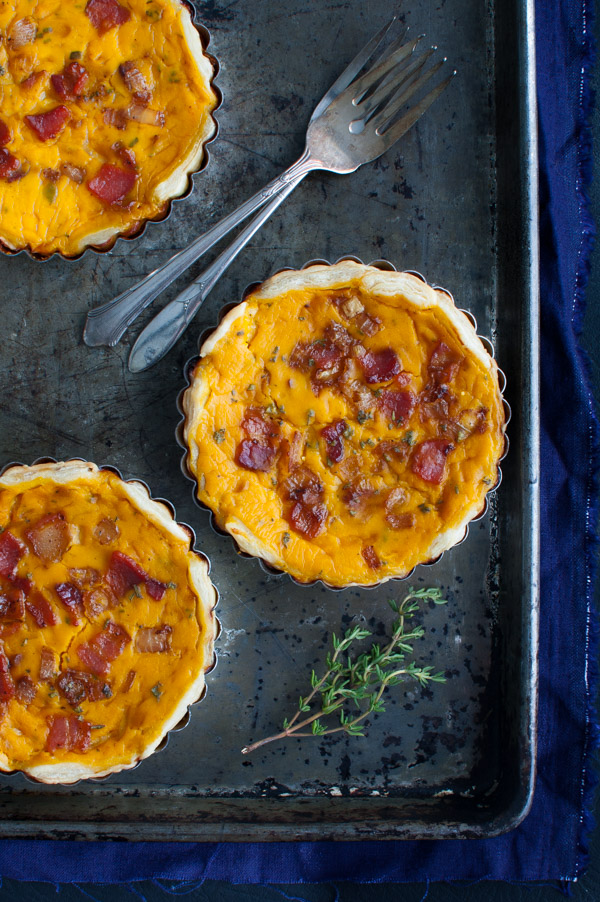 I think these tartlets are filling enough to star as the main dish at dinner with perhaps a salad on the side. Or you can have it be the vegetable side dish served with some roasted chicken.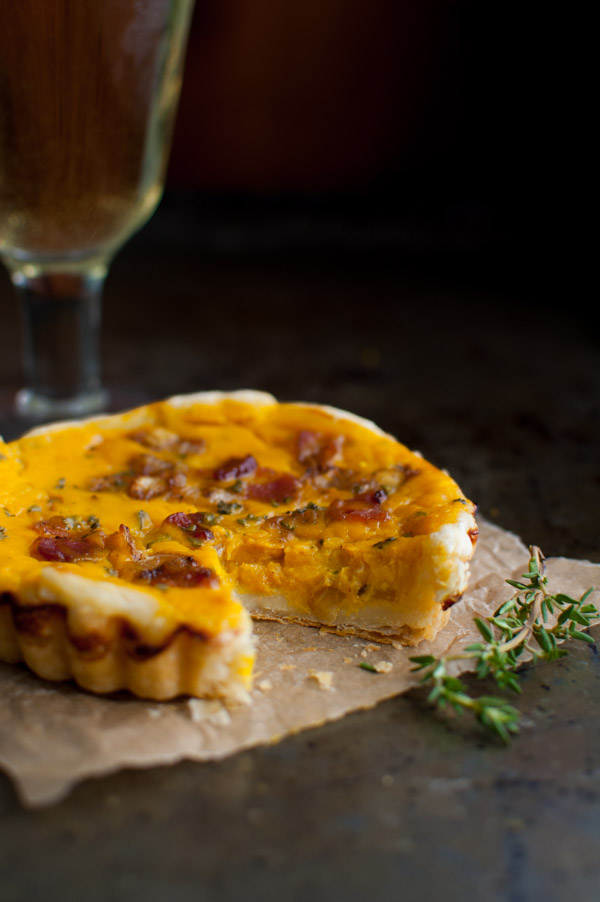 If you peek at the recipe below, you'll notice that you will end up with an odd half sheet of puff pastry. Want some ideas on how to use it up?
For something savory, I suggest wrapping the puff pastry around a small wedge of Brie. Use an egg wash to seal the edges and to brush on the puff pastry to help it brown. Then bake it at 400 degrees on a parchment-lined rimmed baking sheet for 20-25 minutes or until golden. Serve it with apple slices or crackers for a melty, cheesy snack.
If you're in the mood for something sweet, cut the puff pastry into rectangles. Place a small piece of good quality chocolate on one side of each rectangle. Brush a small amount of egg wash on the edges then fold the puff pastry rectangles in half pressing to seal the edges. Then brush the tops with egg wash and sprinkle with some sugar. Bake at 400 degrees on a parchment-lined rimmed baking sheet for 15 minutes or until golden. Now you've got dinner and dessert done. How easy was that?
---
Print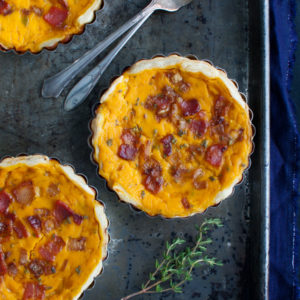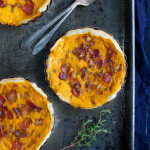 Winter Squash Tart with Bacon, Caramelized Onions, and Herbs
Author:

Prep Time:

25 minutes

Cook Time:

35 minutes

Total Time:

1 hour

Yield:

6

servings

1

x
---
2

sheets (10″ x 10″) puff pastry dough, thawed (see Notes)

3

strips thick-cut bacon, diced

1

small onion, diced (about

1 cup

)

2 teaspoons

minced fresh sage leaves

1 teaspoon

minced fresh thyme

2

(10 ounce) packages frozen winter squash purée, thawed (see Notes)

1

whole large egg

1

large egg yolk

1/3 cup

whole milk

3/4 cup

grated Gruyere cheese

1/3 cup

freshly grated Parmesan cheese

1/2 teaspoon

salt
freshly ground black pepper
---
Instructions
Spray 6 (4-1/4 inch) tartlet pans with cooking spray.
Cut one sheet of puff pastry dough into quarters to make 4 pieces that are 5″ x 5″. Cut two more 5″ x 5″ squares from the second sheet of puff pastry. Reserve remaining half sheet of puff pastry for another use. Transfer the puff pastry squares to the prepared tartlet pans. Ease puff pastry into the pans and pat lightly into the bottoms and up the sides of the pans (it does not need to fit in tightly). Trim excess puff pastry with kitchen shears and use scraps to patch areas where the puff pastry does not reach the top of the pans. Place tartlet pans on rimmed baking sheet and refrigerate while preparing the filling.
Preheat oven to 375 degrees.
In a cast iron skillet, cook diced bacon over medium high heat until lightly browned and crispy. Transfer to paper towels to drain. Pour off all but 1 tablespoon of the fat from the pan. Add onions and cook covered over medium-low heat until onions begin to soften, stirring occasionally, 2-3 minutes. Uncover pan and continue cooking onions until browned. Remove from heat and stir in sage, thyme, and cooked bacon. Taste and season with salt and pepper as needed. Set aside.
In a large bowl, whisk together squash purée, whole egg, egg yolk, and milk. Reserve about 5 tablespoons of the bacon mixture for sprinkling on top of the tartlets. Stir the remaining bacon mixture into the squash mixture along with the Gruyere cheese, Parmesan, salt, and pepper to taste. Using a measuring cup or ladle, pour filling into prepared tartlet pans dividing evenly among the pans. Sprinkle reserved bacon mixture on top of tartlets. Bake tartlets for 25-35 minutes, or until filling is set and puffed up and puff pastry is browned. Cool tartlets in pans on rack 10 minutes then carefully remove pan sides from tartlets.
---
Notes
I used puff pastry from Pepperidge Farm which comes in sheets that are 10×10 inches square. If you use a different brand, you might need to adjust how you cut the puff pastry to fit them into your tartlet pans.
I used frozen squash purée from Cascadian Farm. Whatever brand you buy, make sure to look at the ingredient list and check that the purée only contains squash. You can also roast your own squash and make the purée yourself. You will need about 2 cups of squash purée.
---