This Vietnamese coffee crème brûlée tastes just like Vietnamese iced coffee since it's made with Vietnamese ground coffee and sweetened condensed milk.
Prep Time:
25 mins
Cook Time:
45 mins
Total Time:
1 hr 10 mins *
* Plus chilling time.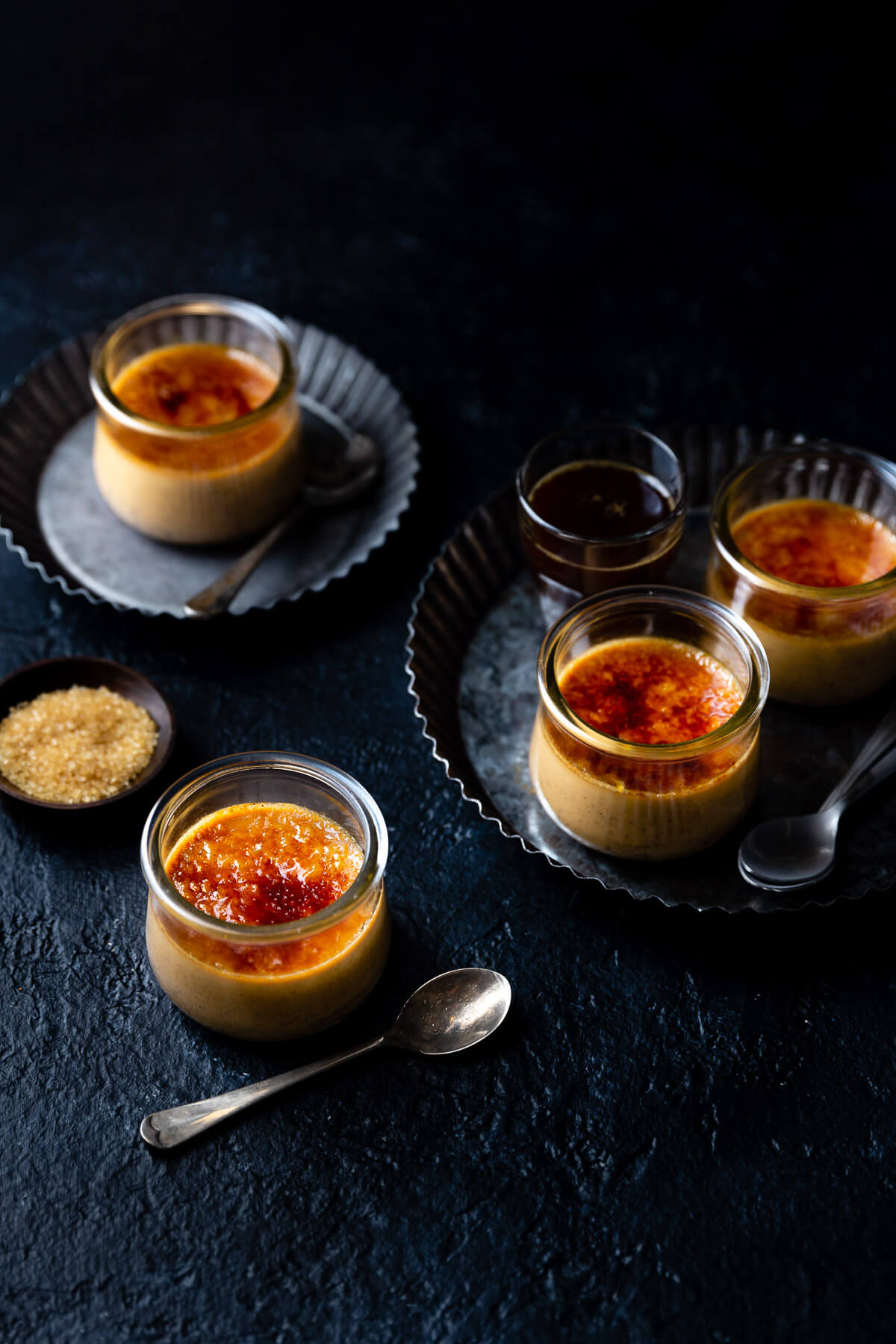 If there's one thing I've learned in the last few weeks, it's that sweetened condensed milk (especially with coffee) is absolutely on my list of desert island items. Apparently, it's even more of a comfort food than I had previously thought. Therefore, it should be no surprise that I've created yet another recipe inspired by Vietnamese iced coffee – introducing Vietnamese coffee crème brûlée.
It's creamy and luscious and tastes just like a chilled Vietnamese iced coffee (no doubt due to the use of sweetened condensed milk in the custard).
Tips for Making Vietnamese Coffee Crème Brûlée
Use good coffee. My favorite coffee to use for this recipe is the Gourmet Blend from Trung Nguyen Coffee. I used to have to order it on-line but my favorite Asian market started carrying it so I stock up on it every time I go. If you can't find Vietnamese coffee, a good dark roast coffee will work.
Be careful not to over-bake the custard. The temptation is to bake until the custard feels solid all the way through. However, that will result in a rubber-like consistency once the custard is cooled. To get a creamy texture, bake the custard until just the edges are set and the centers still jiggle.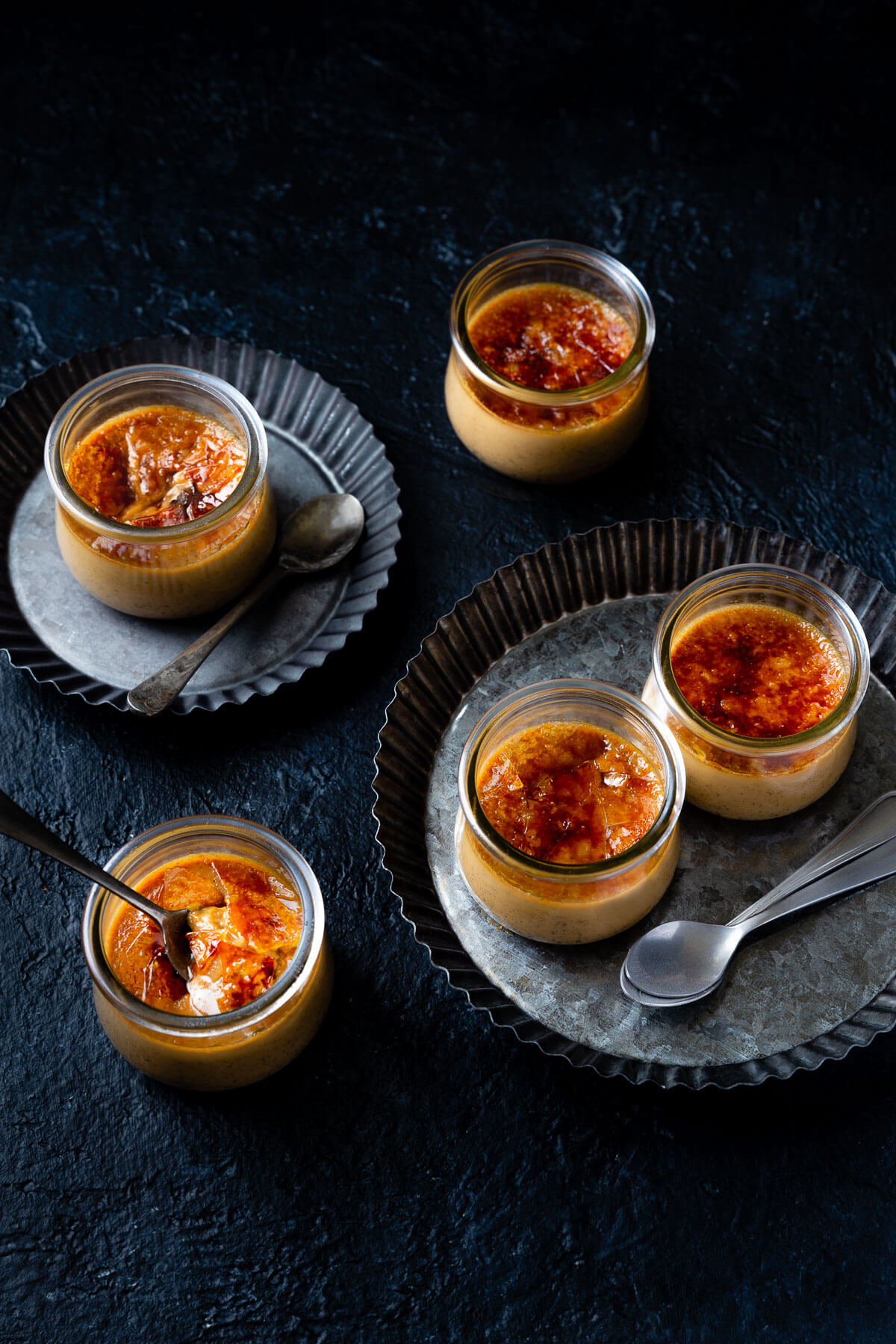 Tips for a Perfect Caramelized Sugar Topping
Use a kitchen torch. A kitchen torch may seem like a frivolous thing to own but it really is the best way to get that perfect crackly topping. I have tried using a broiler as well but I found that the results were very uneven. I ended up with too many spots that either didn't caramelize at all or were burnt. Using a kitchen torch gives you better control and more even results.
Keep things moving. To minimize burnt spots, move the torch around in a circular motion over the sugar as the sugar starts to melt and brown. I also rotate and tilt the ramekin to promote even browning.
Use granulated sugar. I have had the most success using granulated sugar. I've tried brown sugar and raw sugar in the past and found that they burnt too quickly without ever really caramelizing.
Use the right amount of sugar. Too little sugar won't allow a thin shell to form and can cause the custard to melt when you start to torch the sugar. Too much sugar will create a topping that is too thick and hard to break through (and hard to eat). It does take a little trial and error to get a feel for the right amount of sugar to sprinkle on top but the idea is to sprinkle just enough sugar so that the custard is no longer visible. I start with about 1 1/2 teaspoons for a typical ramekin and then use the back of the spoon to spread the sugar out evenly. If there are any bare spots, I sprinkle a little more sugar on and repeat until there's even coverage.
---
Print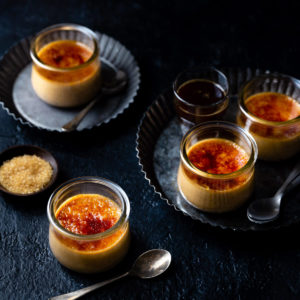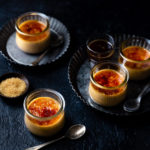 Vietnamese Coffee Crème Brûlée
Author:

Nguyet Vo

Prep Time:

25 minutes

Cook Time:

45 minutes

Total Time:

1 hour 10 minutes (plus chilling time)

Yield:

8

(5-ounce) ramekins

1

x

Category:

Dessert

Method:

Baking

Cuisine:

American
---
Description
This Vietnamese coffee crème brûlée tastes just like Vietnamese iced coffee since it's made with Vietnamese ground coffee and sweetened condensed milk.
---
1

cup

heavy whipping cream

1

cup

whole milk

3 tablespoons

Vietnamese ground coffee

1

(14 ounce) can sweetened condensed milk

4

large egg yolks
Pinch of kosher salt
Granulated sugar for serving
---
Instructions
Preheat the oven to 325 degrees.
In a small saucepan, stir together the cream, milk, and coffee grounds. Heat the mixture over medium heat until the mixture begins to simmer, 3-4 minutes. Remove from heat, cover, and let steep for 15 minutes.
Strain the coffee mixture through a fine mesh strainer into a clean bowl.
In a medium bowl, whisk together the sweetened condensed milk, egg yolks, and salt.
Gradually add about 1/2 cup of the coffee mixture to the egg mixture, whisking constantly, then slowly add the remaining coffee mixture and whisk to fully combine. Pour the mixture through a fine-mesh strainer set over another bowl (I rinse out the bowl from step 3 and re-use it).
Divide the mixture among  8 (5-ounce) ramekins. Place the ramekins  in a large roasting pan big enough to hold them.
Place the baking sheet in the oven and carefully pour enough hot water into the pan to come halfway up the sides of the ramekins. Loosely cover the pan with aluminum foil.
Bake the custards for 45 minutes to 1 hour or until the edges of the custards are set but the centers still jiggle when the pan is gently shaken.
Transfer the ramekins to a wire rack and let cool to room temperature. Loosely cover the ramekins and refrigerate at least 3 hours or overnight.
Just before serving, sprinkle the top of each crème brûlée with an even layer of sugar (about 1 1/2 teaspoons per ramekin). Working with one ramekin at a time and using a kitchen blowtorch, move the flame continuously in small circles over the surface until the sugar melts and lightly browns. Serve immediately.
---
Notes
You can use smaller ramekins if desired. The cook time will be shorter with smaller ramekins so start to check for doneness around 30 minutes.
The baked custards (without the caramelized sugar) can be stored covered in the refrigerator for up to 2 days.
Keywords: coffee crème brûlée, vietnamese coffee, crème brûlée
---