This Vietnamese iced coconut coffee is a popular drink in cafés all over Vietnam. It's a blended coconut slushy made with coconut cream, sweetened condensed milk, and ice that gets topped with some Vietnamese coffee.
Prep Time:
5 mins
Cook Time:
5 mins
Total Time:
10 mins *
* Plus chilling time.
When my husband and I visited Hanoi a few years ago, getting a Vietnamese coconut coffee from one of the local cafés became a favorite afternoon activity. It also gave my husband something to do as he accompanied me, my sister, and his mother on endless shopping trips through the city.
We discovered this icy treat at a popular Vietnamese café called Cong Caphe where the coconut coffee is their signature drink.
What is a Vietnamese coconut coffee frappé?
First, I should say that in Vietnam, this drink was just called coconut coffee (or cốt dừa cà phê in Vietnamese). However, I wanted to emphasize the slushy aspect of this recipe and decided to add frappé to the name. It's a blended coconut slushy topped with some strongly brewed Vietnamese coffee.
If you like affogatos, you'll love this.
If you like Vietnamese iced coffee, you'll love this too.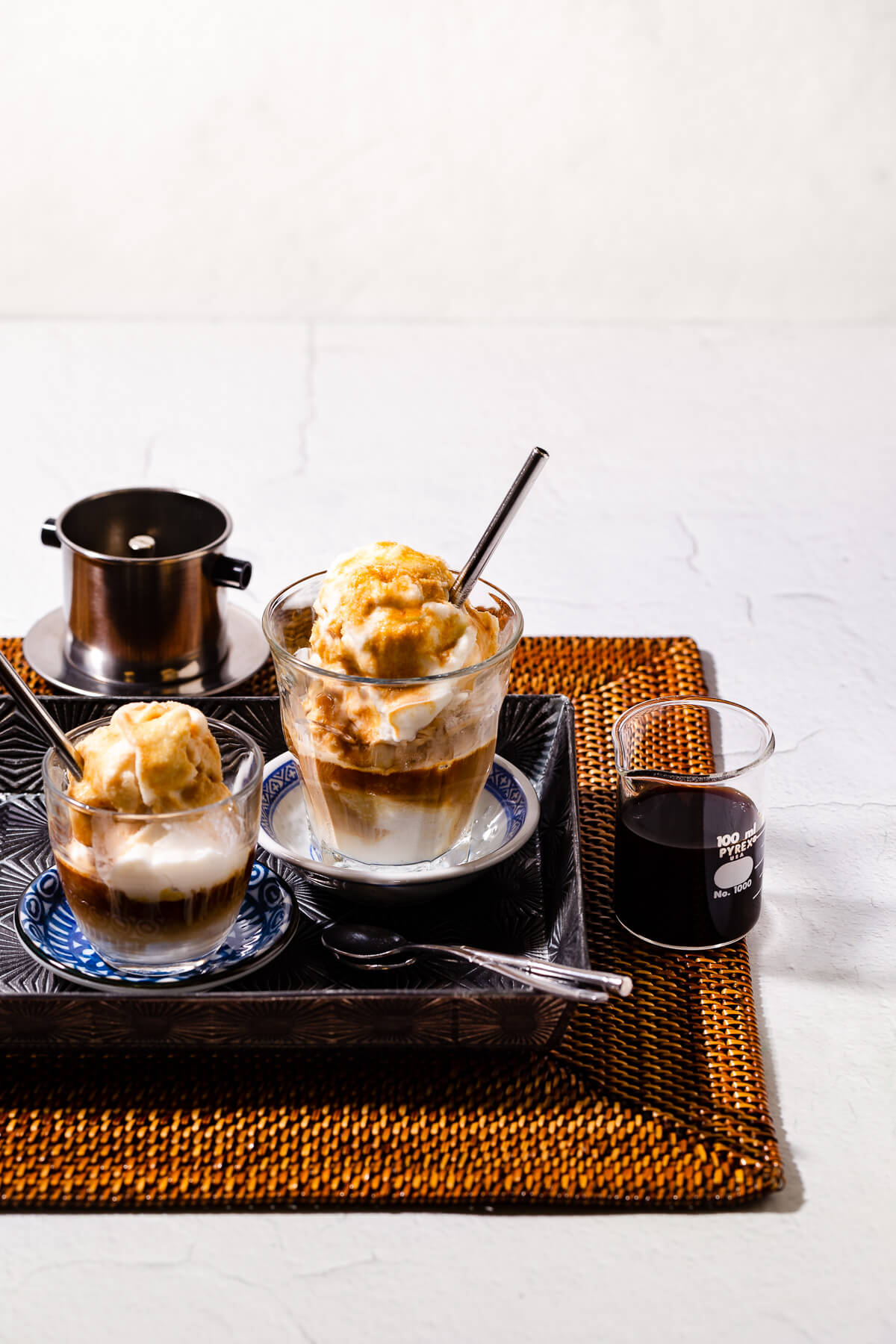 Coconut milk vs coconut cream
Coconut cream is the thicker (and richer) layer that rises to the top in a can of coconut milk. In cooked recipes, like soups and curries, the milk is often stirred or shaken so that that the cream is mixed in. However, for this coconut slushy, we are using just the cream portion of the coconut milk.
Coconut cream should not be confused with cream of coconut, which is sweetened. Look for a can of coconut milk that just has water and coconut (and sometimes guar gum as a stabilizer) listed in the ingredients.
You may also see cans labeled "coconut cream" with ingredients of water and coconut. In theory, this should be the same as scooping the top layer from coconut milk but already conveniently separated out for you. However, after testing this recipe with both the canned coconut cream and coconut cream taken from coconut milk, I decided I prefer the taste and consistency of taking the cream layer from canned coconut milk.
Do I have to use a phin filter?
A Vietnamese phin coffee filter allows for the most authentic brew but if you don't have one, you could also use a french press or an espresso maker. A french press works especially well if you're making coconut coffee for a crowd.
I would highly recommend getting a phin filter if you're a fan of Vietnamese coffee. The phin is somewhere between a french press and a pour over. Most phins consist of four parts – a round perforated base that is designed to sit on top of a glass or mug, a chamber that sits on top of the base and holds the water, a filter screen that fits inside the chamber, and a lid. In some models the base and the chamber are one piece.
I bought my phin filters at a local Vietnamese grocery store but they are available from almost any Vietnamese coffee on-line retailer.
---
Print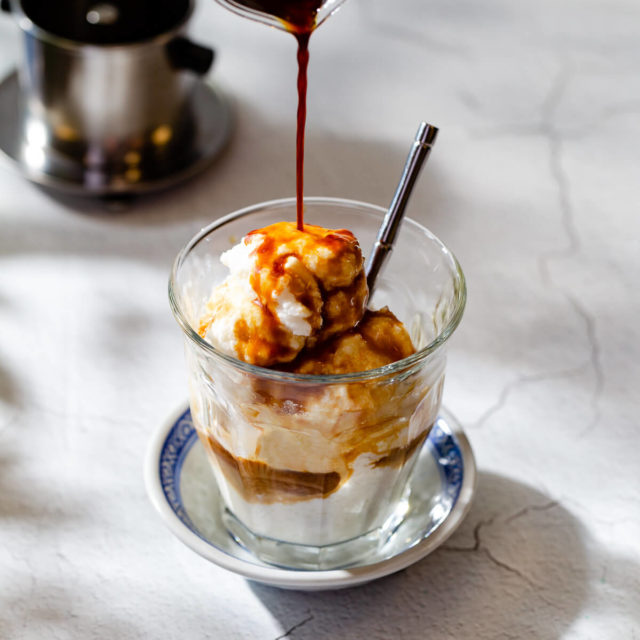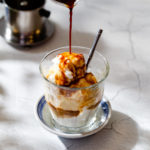 Vietnamese Coconut Coffee Frappé
Author:

Nguyet Vo

Prep Time:

5 minutes

Cook Time:

5 minutes

Total Time:

10 minutes (plus chilling time)

Yield:

2

servings

1

x

Category:

Drink

Method:

Blended

Cuisine:

Vietnamese
---
Description
This Vietnamese iced coconut coffee is a popular drink in cafés all over Vietnam. It's a blended coconut slushy made with coconut cream, sweetened condensed milk, and ice that gets topped with some Vietnamese coffee.
---
2 tablespoons

Vietnamese dark-roast ground coffee (See Note 1)

1/3

cup

water

1/4

cup

sweetened condensed milk, chilled

6 tablespoons

unsweetened coconut cream from 1 can coconut milk (see Note 2)

2

cups

ice
---
Instructions
For the coffee
Boil water. Heat water until it just barely begins to boil.
Prep filter. Remove screen insert from a phin filter and add coffee. Tap the filter slightly to evenly spread out the coffee grounds. Place screen insert on top of coffee and place filter over a glass.
Steep. When water is ready, pour a splash (about 1-2 tablespoons) of the hot water into filter to allow coffee grounds to expand and bloom. When coffee begins to drip through, add remaining water. Place lid on filter and let coffee drip into glass.
Cool. Once almost all of the water is drained and coffee has stopped dripping (about 5 minutes), remove the filter and chill espresso in the refrigerator for 15-30 minutes (see Note 3).
For the coconut slushy
Blend. In a blender, blend the sweetened condensed milk, coconut cream, and ice together until smooth and frothy. Pour the slushy into two serving  glasses. If desired, chill the slushy in the freezer for about 15 minutes for a thicker consistency.
For serving
Serve. Pour espresso over the slushy, dividing the espresso equally between the 2 glasses.
---
Notes
I use Trung Nguyen Gourmet Blend (not an affiliate link)
To get the coconut cream, put a can of coconut milk in the refrigerator for about an hour. Then, carefully open the can and spoon off the thick layer of cream from the top.
If I'm in a hurry, I put the coffee in the freezer to chill while making the slushy.
Keywords: coconut coffee, Vietnamese coffee
---