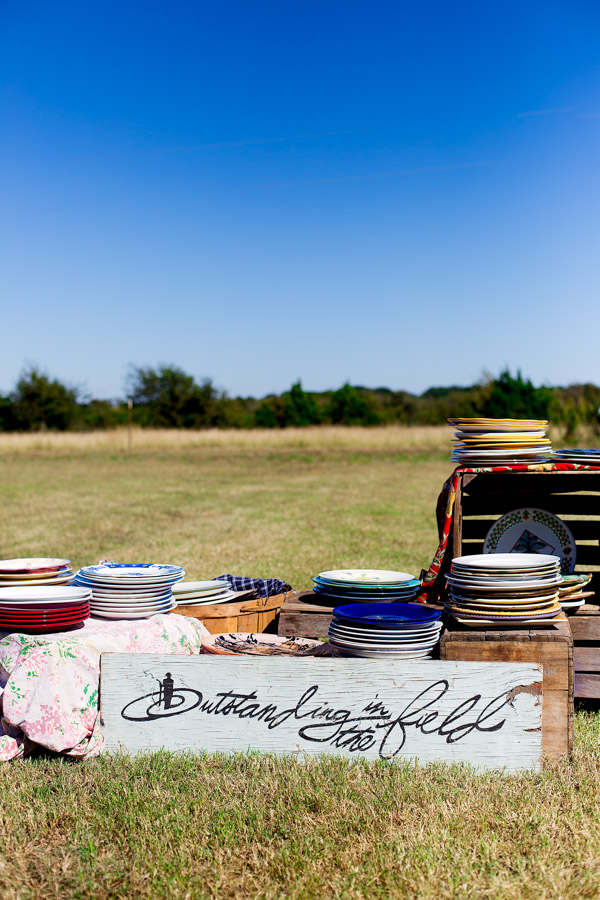 A unique culinary experience
Outstanding in the Field came to the Houston area this past weekend and my husband and I were thrilled to be part of the farm to table dining experience. We had been looking forward to it since we bought our tickets six months ago. Outstanding in the Field describes the experience as a "culinary adventure" and they have never failed to deliver in the four dinners I've attended.
My husband missed last year's dinner because of a business trip so he was happy to be able to attend this year. Plus the dinner is right near my birthday so it feels even more special.
Outstanding in the Field was started more than 15 years ago in California by Jim Denevan, a chef and artist, who saw a disconnect between food consumers and food growers. He wanted to reconnect diners with the land by hosting alfresco dinners at local farms where guests could visit with farmers, chefs, and artisan food producers.
Now they organize farm dinners across the country and beyond with dinners in Hawaii, Europe, and Central America.
This year's dinner was hosted by Jolie Vue Farm. Located about 90 minutes west of Houston in Brenham, Jolie Vue Farm raises chickens and heritage breed pigs and cattle. Given their speciality and the fact that this year's chef was chef Richard Knight of Hunky Dory, we knew meat would play a big role in the meal. And we were not disappointed.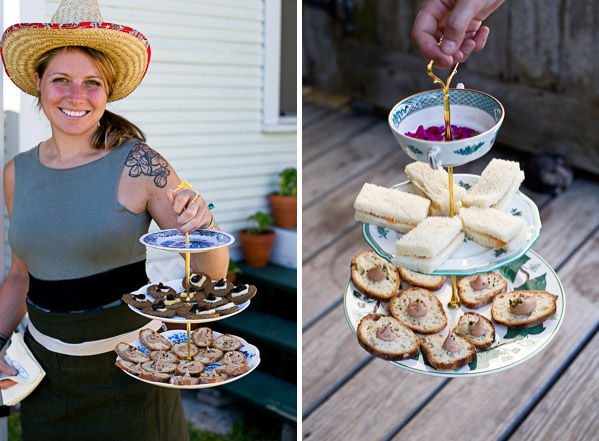 During the cocktail hour, sauvignon blanc was poured and appetizers were served from pretty tiered cake stands. There were rare roast beef (from the farm) finger sandwiches, smoked salmon and watercress sandwiches, chicken liver paté and chive on toast, and aged cheddar on oatcake cracker.
The chicken liver paté and roast beef sandwiches were my favorites and I made several return trips for those.
However, I quickly figured out I couldn't hold a glass of wine,  nibble on appetizers and take pictures at the same time (#foodbloggerproblems) so  after snapping a few photos I went back to eating.
After cocktails, we took a guided tour of the farm as we made our way up the to table. And what a glorious table it was.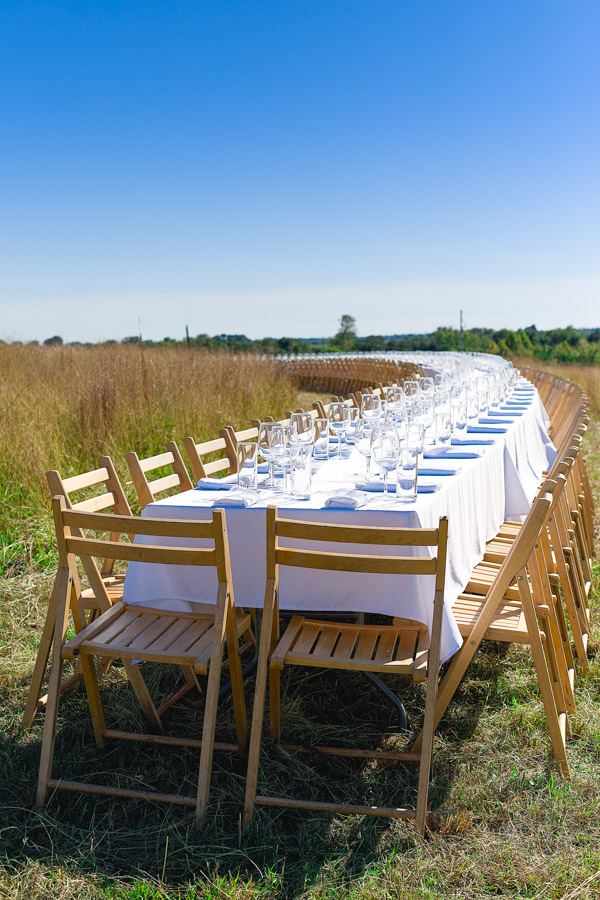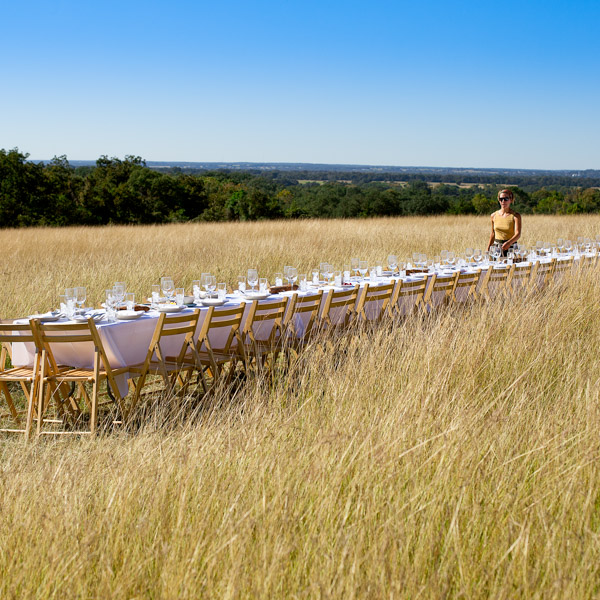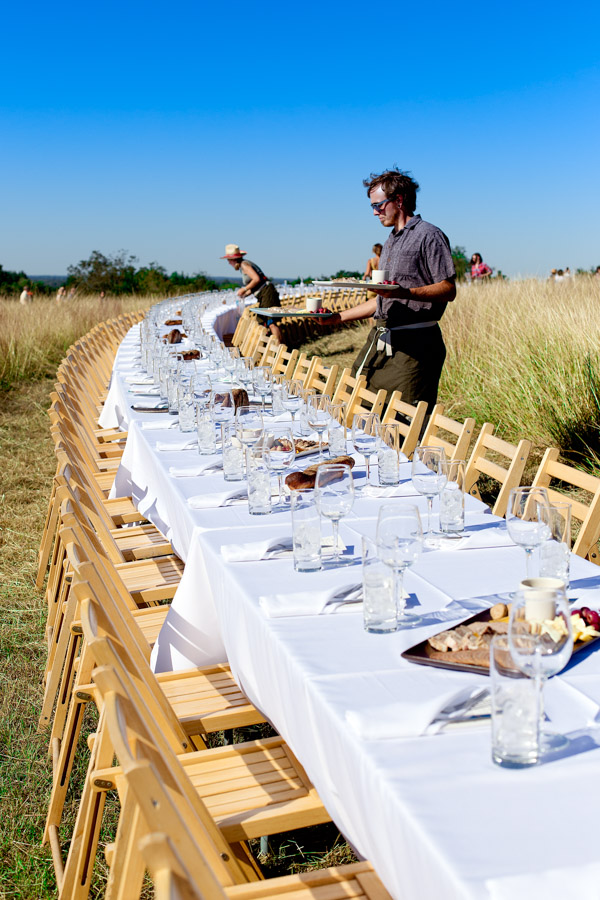 Sitting in a large open field of native grasses under an impossibly blue sky, the long curving table awaited us and we knew dinner was going to be spectacular. Even though I have attended several dinners with Outstanding in the Field, seeing the table for the first time at each dinner never ceases to excite me.
Dinner at Jolie Vue Farm was the largest one of the season with 200 guests. The long table is made of smaller tables set end to end and each table seats eight people. Dinner is served family style among each party of eight.
It's open seating so you never know who you may end up sitting next to. We shared a table with Honi and Glen Boudreaux, owners of Jolie Vue Farm and two of the most delightful people you could ever share a meal with. They are very passionate about their farm and taking care of their animals. They are committed to producing the best quality and most flavorful meat possible while ensuring the sustainability of the land.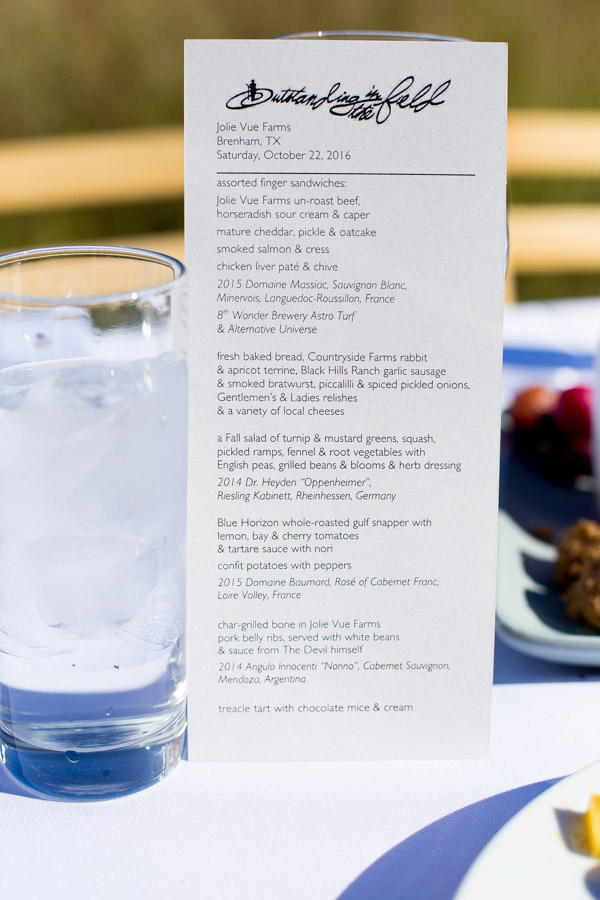 Dinner was served in 5 courses (plus the appetizer course) with a wine pairing for each course.
We started with a charcuterie plate of rabbit and apricot terrine, sausage, bratwurst, sardine spread, and local cheeses. My husband and I love charcuterie so we were super excited to see these platters being served.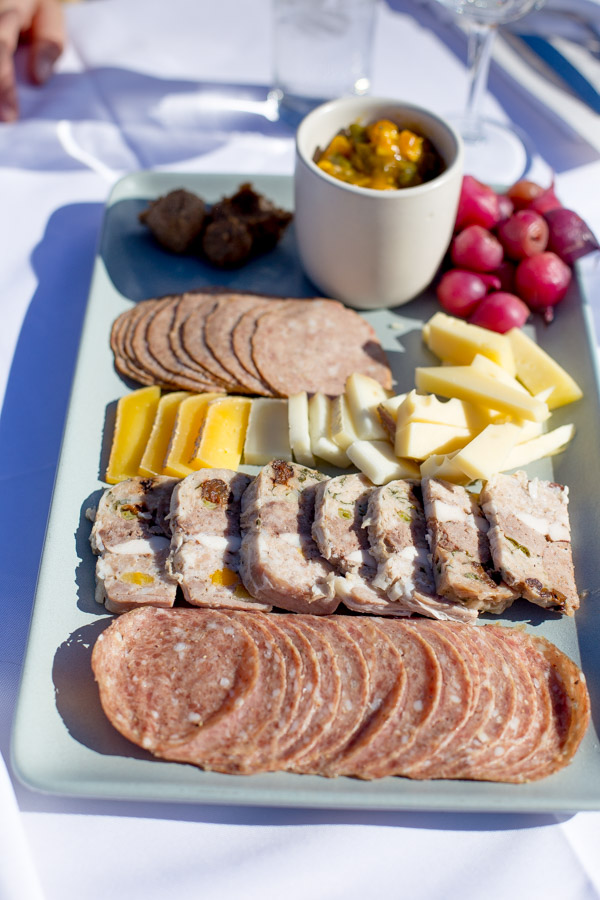 The second course was a gorgeous salad of greens, squash, root vegetables, English peas, and grilled beans topped with nasturtium blooms. It was beautiful and delicious!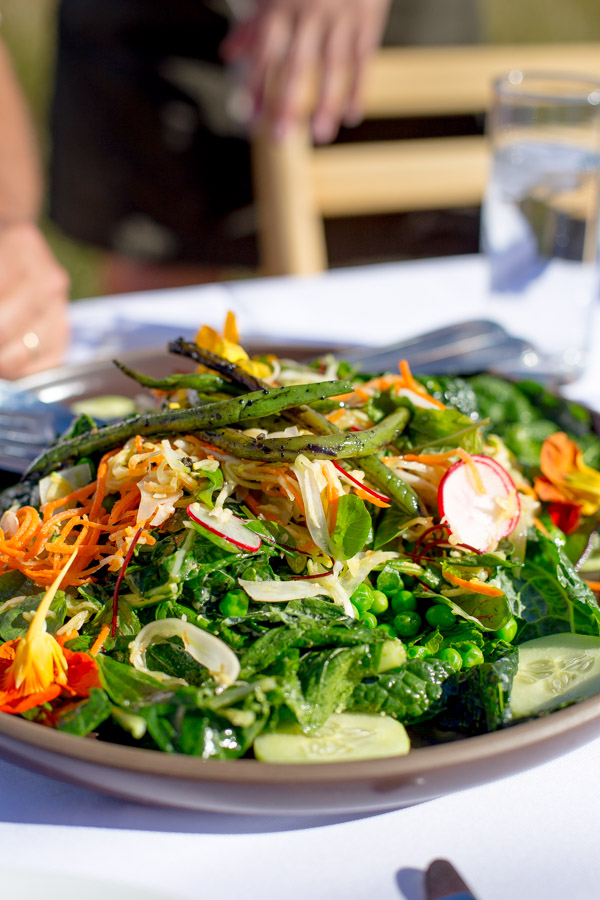 The next course was grilled whole gulf snapper topped with heirloom tomatoes and herbs and served with a nori tartare sauce. I'm usually not a fan of tartare sauce but that nori tartare sauce was like nothing I've ever had.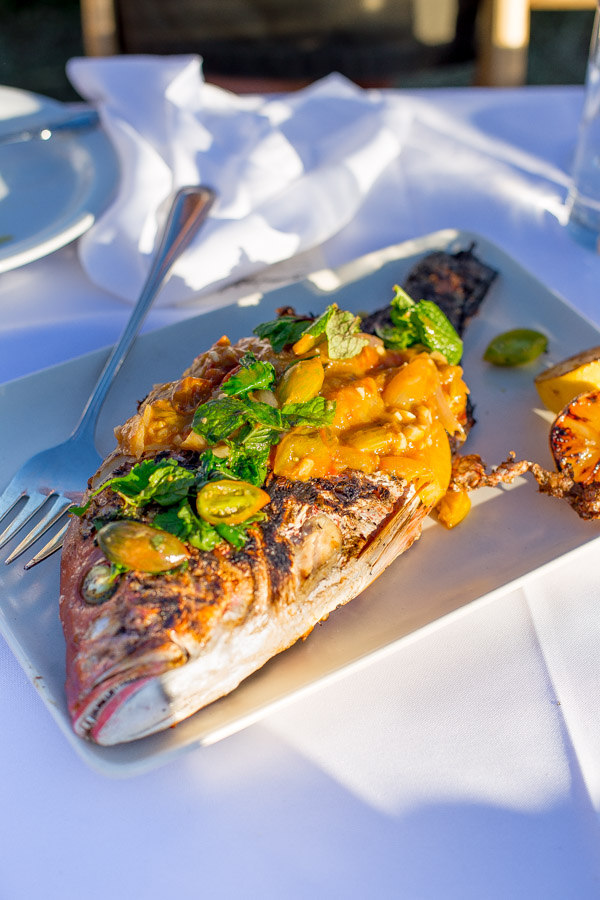 Finally, the course I had been looking forward to the most arrived – bone-in pork belly ribs. They were just as delicious and decadent as they sound.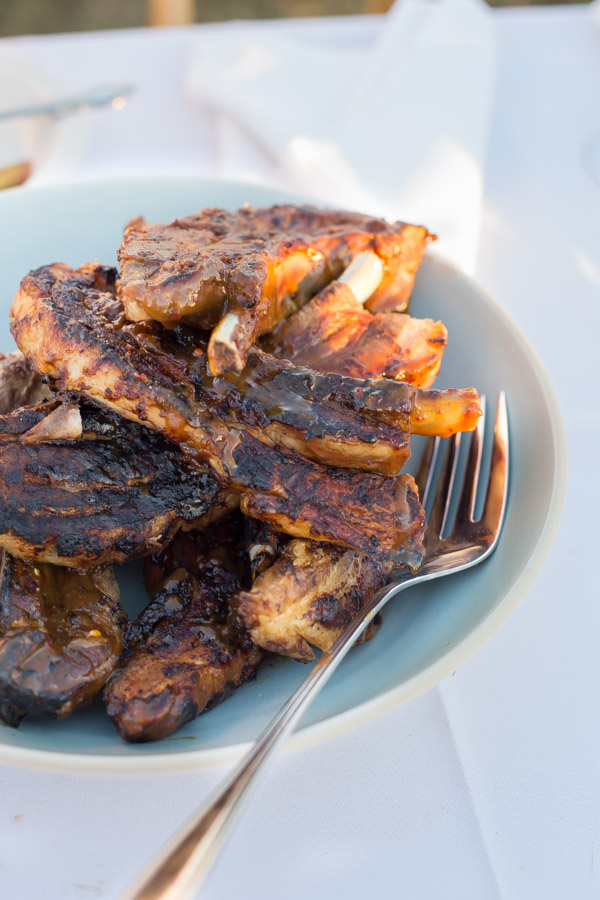 As the dinner plates were cleared away, we all sat back to bask in the last of rays of the setting sun.
The dessert of treacle tart with shortbread cookies and chocolate mousse filled mice-shaped chocolates was served as night began to fall. So, sorry, no good pictures of the caramel filled tarts to share.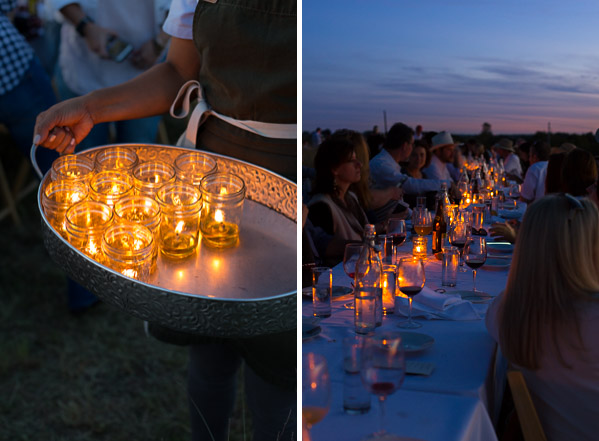 A dinner shared with friends whether they be old or new is always a joy and I feel fortunate to be able to partake in another memorable dinner with such a great group of people.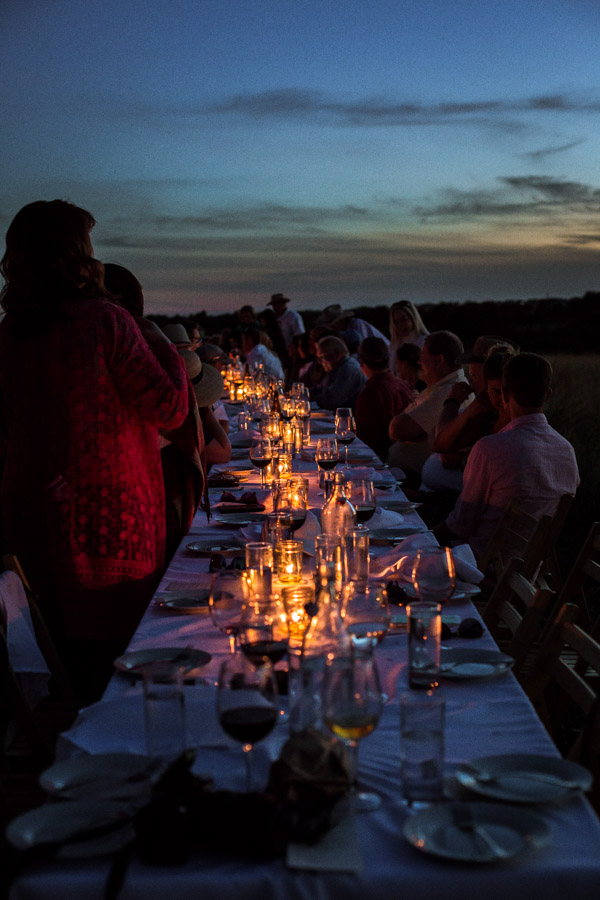 Note: This is not a sponsored post. I was in no way compensated by Outstanding in the Field, Jolie Vue Farm, or Hunky Dory. I bought my own ticket and created this post because I truly love attending these dinners.
---