These French cheese puffs (aka cheese gougères) are light and airy, flavored with lots of cheese, and are great as a party appetizer.
Prep Time:
20 mins
Cook Time:
30 mins
Total Time:
50 mins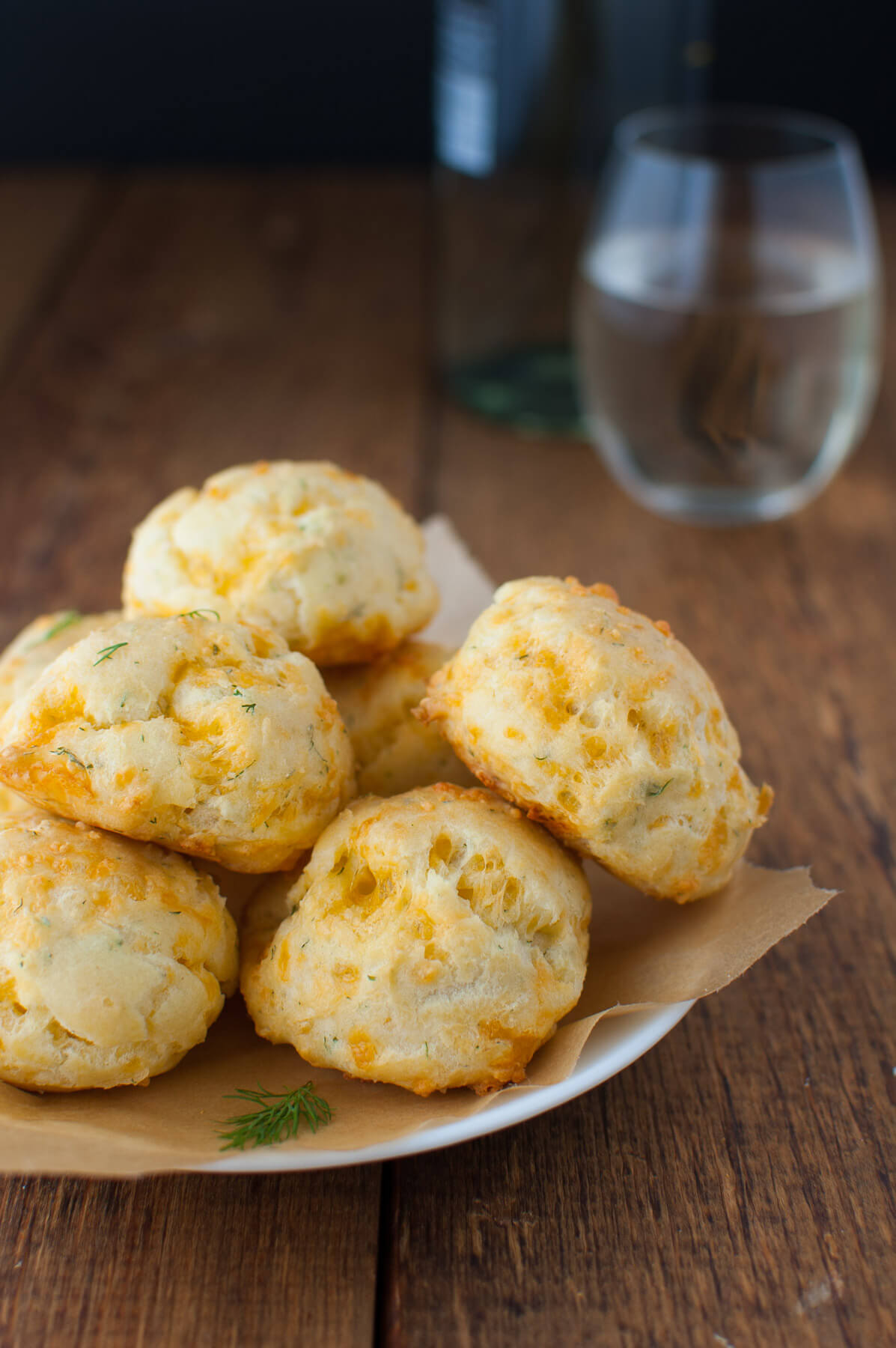 When my older daughter looked at my posting schedule and saw that I was making cheddar dill puffs this week, she just about giggled with delight and did a happy dance. Despite being a typical teenage girl, my daughter does NOT do giggles or happy dances (so uncool in her book). But these little babies will bring out the giddiness in anyone.
These cheese puffs are slightly crispy on the outside and all light and airy on the inside. The cheddar cheese and dill add just enough flavor without feeling heavy.
Technically, these cheddar dill puffs are called gougère which in French cooking is a baked savory choux pastry made of choux dough (the same kind used for cream puffs) mixed with cheese. But gougère sounds so intimidating that you might not want to try making these. And that would be a shame since they really are easy to make. So let's stick with calling them puffs.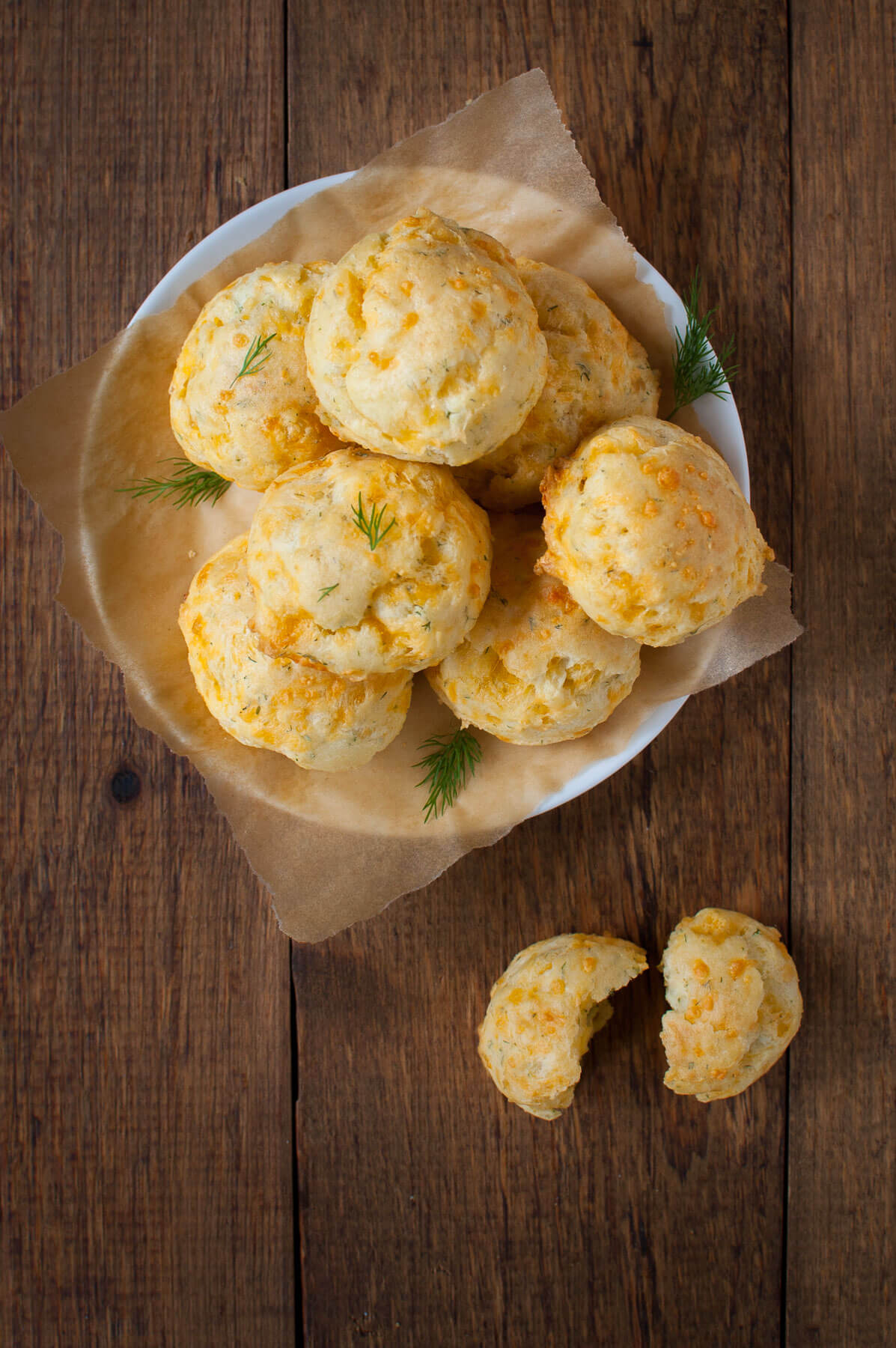 Tips for making cheese gougère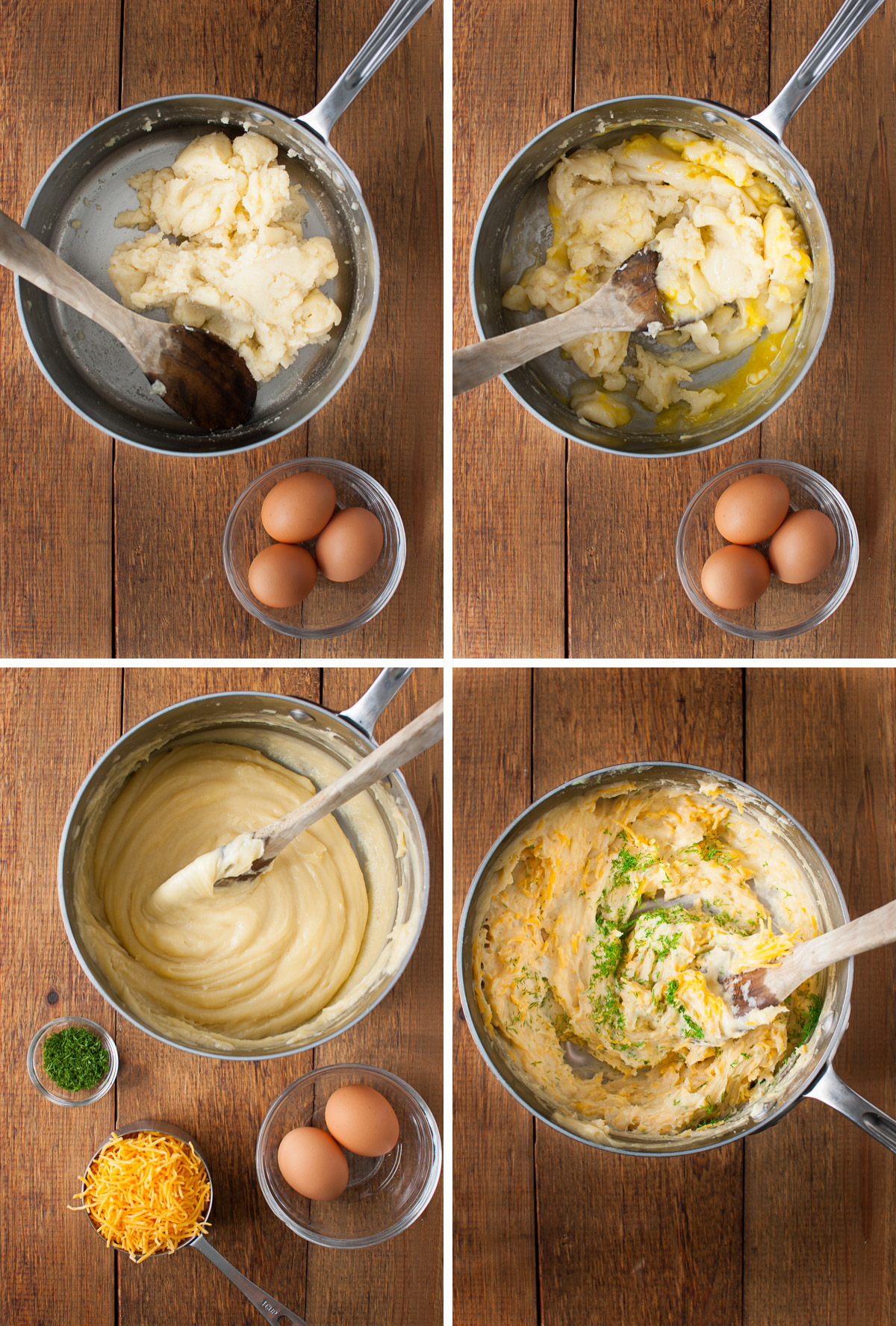 The dough is first cooked on the stovetop, removed from the heat, and then cooled slightly. It's important to cool the dough a little bit so that the eggs will incorporate smoothly into the dough and not become scrambled eggs. At this point, the dough will look like a big lump of dry clay. That's OK.
Then the eggs get beaten in one at a time. When you first add in each egg, the dough will separate and look completely messed up like what you see in the upper right photo above. Don't worry – just keep stirring. As the egg gets incorporated, the dough will get smoother and will magically become more glossy like in the lower left photo above.
Just remember to add the eggs one at a time, incorporating each egg in before adding the next. And stir vigorously.
Although most recipes say to pipe the puffs using a pastry bag, I find it much easier to use a small scoop. I use the kind typically used for scooping out cookie dough – a couple of squeezes of the handle will release the dough ball onto the baking sheet quickly and easily.
I use a 1 1/2-inch scoop for these puffs.
Be sure to bake the puffs until they feel slightly crispy when tapped. If you take them out too soon, the puffs will collapse.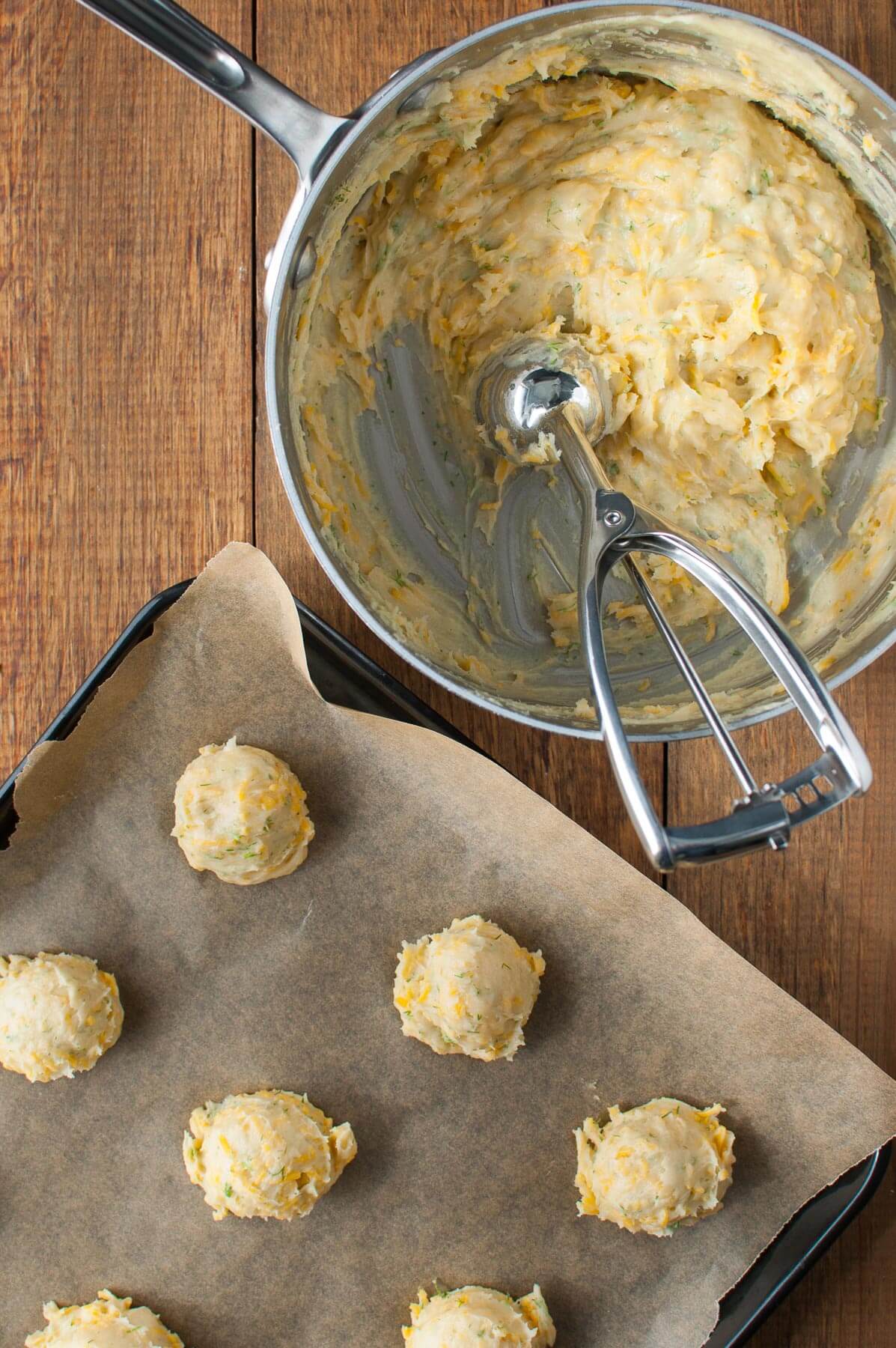 Can I double the recipe?
Yes! I often double the recipe for parties. When making a double recipe, I find it easier to use my stand mixer to beat in the eggs (unless you're looking for a really good arm workout). Be sure to still beat in the eggs one at a time.
Can I make these ahead of time?
Yes! These cheddar dill puffs can be made ahead of time, cooled completely, and then sealed in airtight bags or containers. You can refrigerate them for 2 days or freeze them for 1 week.
To reheat, heat the oven to 350 degrees F and place the puffs in a single layer on baking sheets. Leave enough room between the puffs to allow heat to circulate between them. Place the puffs in the oven until they are heated through, 7-10 minutes if chilled or 15 minutes if they had been frozen.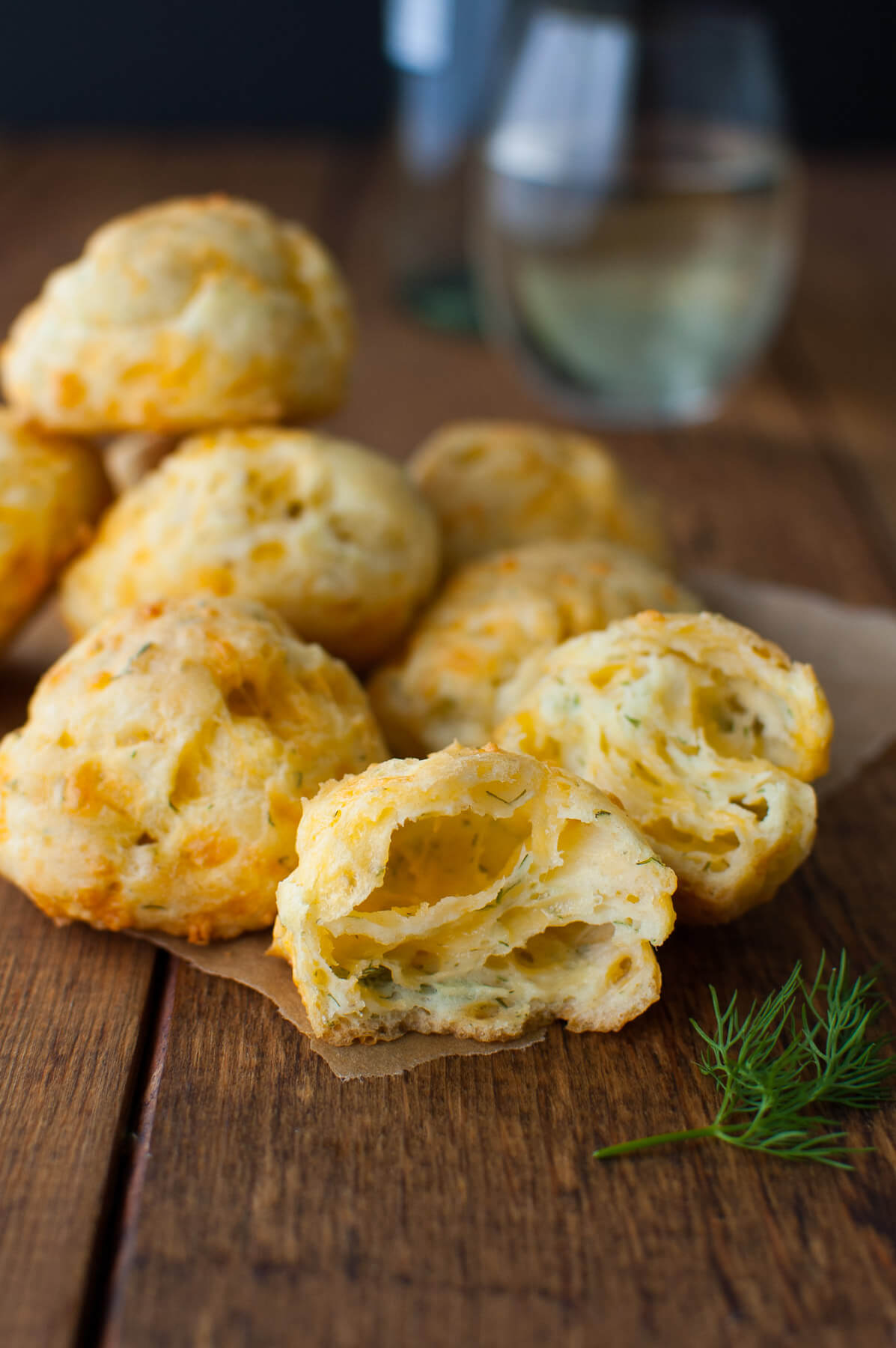 These puffs are fantastic as a small appetizer before the main event at Thanksgiving or any holiday party. Serve them with a nice chilled white wine and I guarantee all your guests will be giddy too.
---
Print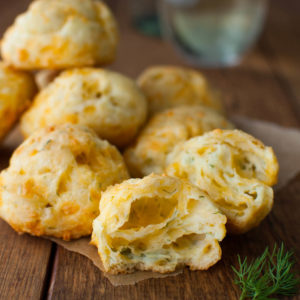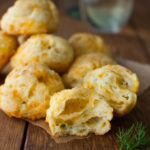 Cheddar Dill Puffs
Author:

Prep Time:

20 minutes

Cook Time:

30 minutes

Total Time:

50 minutes

Yield:

About

22

puffs (using a

1

1/2-inch scoop)

1

x

Category:

Appetizer

Method:

Baking

Cuisine:

American
---
Description
These French cheese puffs (aka cheese gougères) are light and airy, flavored with lots of cheese, and are great as a party appetizer. 
---
1

cup

water

1/2

cup

(1 stick) unsalted butter, cut into tablespoon pieces

1/2 teaspoon

kosher salt

1

cup

all-purpose flour

4

to

5

large eggs

1 1/2

cups

(about 6 ounces) finely grated yellow Cheddar (preferably extra-sharp)

2 tablespoons

finely chopped fresh dill
---
Instructions
Preheat oven to 375 degrees F.
In a large heavy saucepan over medium heat, cook the water, butter, and salt. Bring to a simmer and cook until the butter melts, stirring to combine. Then add flour all at once and cook, stirring vigorously with a wooden spoon. The mixture should start to come together and pull away from the side of the pan after about 2 minutes. Remove from heat and cool slightly, about 3 minutes.
One at a time, add 4 eggs, beating well after each addition. The batter will separate at first but will become smooth as each egg is mixed in. The mixture should be glossy and just stiff enough to hold soft peaks. If batter is too stiff, beat remaining egg in a small bowl and add to batter 1 teaspoon at a time, beating and then testing batter until it reaches proper consistency. Stir in cheese and dill.
Line 2 large baking sheets with parchment paper. Using a 1 to 1 1/2 inch diameter scoop, drop the batter by scoopfuls onto the prepared baking sheets, spacing the mounds about 1 inch apart. Bake until the cheddar puffs are golden brown, crisp when tapped, and are puffed up, 25 to 30 minutes. Be sure to switch the baking sheets between the oven racks and rotate them 180 degrees halfway through baking to promote even baking. Serve warm.
---
Notes
I used a 1 1/2-inch scoop which made 22 puffs.
Puffs can be made ahead of time, cooled completely, and then sealed in plastic bags. Puffs can be refrigerated for 2 days or frozen for 1 week. To reheat, place puffs on baking sheets in a preheated 350°F oven for 7-10 minutes if chilled or 15 minutes if frozen or until heated through.
Recipe from Gourmet Magazine, August 2003.
Keywords: cheddar dill puff, gougère, cheese puff, cheese gougère
---