Let's talk cheese because we are a cheese loving household here. I can name six different kinds of cheese sitting in our refrigerator right now without even looking – asiago, brie, gouda, Parmesan, Boursin, and cheddar (in block, grated, and sliced form). We eat cheese at breakfast, lunch, and dinner and at all the snack times in between.
By the way, does anyone know the proper rule for what cheese names get capitalized? Why does Parmesan often get capitalized but cheddar does not? Does anyone else find this confusing? Anyway …
When I want everyone to eat more vegetables without too much whining, I know I should include plenty of cheese in the recipe. This vegetable alfredo lasagna fits the bill perfectly. Healthy vegetables are tucked under layers of melted cheese, creamy béchamel sauce, and pasta. I even over browned the cheese when I baked this lasagna and I still got no complaints.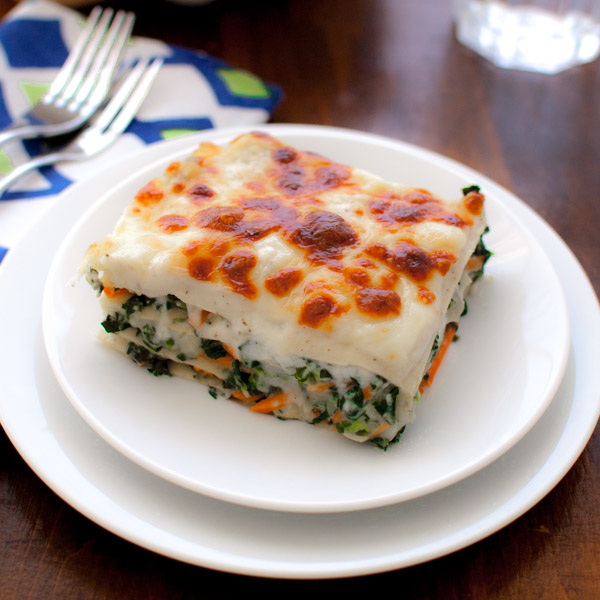 Getting your family to eat more vegetables AND having a whine free meal at the same time. That is a win-win for everyone.
---
Print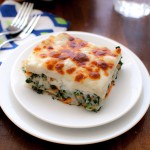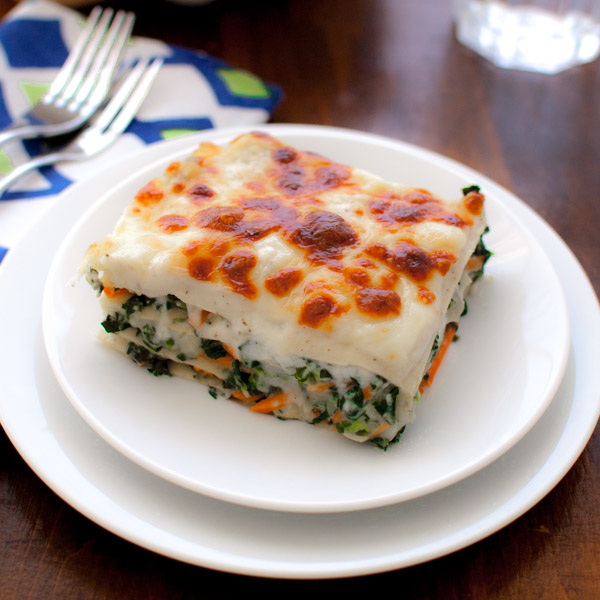 Vegetable Alfredo Lasagna
Author:

Prep Time:

60 minutes

Cook Time:

45 minutes

Total Time:

1 hour 45 minutes

Yield:

8-10 servings
---
Ingredients
For the vegetables
1 tablespoon olive oil
1/2 cup chopped onion
2 cloves garlic, minced
10 ounces frozen chopped spinach, defrosted
1 cup frozen peas
1 cup shredded carrots
Salt to taste
For the béchamel sauce
4 tablespoons unsalted butter
1 tablespoon minced garlic
1/4 cup all-purpose flour
3 cups whole milk
1/2 teaspoon table salt
1/4 teaspoon grated nutmeg
1/4 teaspoon ground black pepper
For the cottage cheese filling
8 ounces (1 cup) whole milk cottage cheese
1 large egg
1/4 teaspoon table salt
For assembly
Nonstick cooking spray
8 no-boil lasagna noodles from 1 box
1/2 cup freshly grated Parmesan cheese
1 1/2 cups freshly grated mozzarella or Italian fontina cheese
---
Instructions
For the vegetables
Heat the oil in a sauté pan and cook the onions over medium heat for 5 to 7 minutes, until tender. Add the garlic and cook for 1 more minute. Meanwhile, squeeze all the water out of the spinach. Add the spinach, peas, and carrots to the onions and garlic and cook until heated through. Season with salt to taste. Set aside.
For the béchamel sauce
Melt butter in medium saucepan over medium-low heat; add garlic and cook, stirring until fragrant, about 1 minute. Add flour and cook, stirring constantly, for 2 minutes. Do not let the mixture brown. Gradually whisk in milk. Bring mixture to boil over medium-high heat, whisk in nutmeg, salt, and pepper. Reduce heat to low and simmer 5-10 minutes more until sauce has thickened. Remove from heat and allow to cool slightly; set aside.
For the cottage cheese filling
Blend cottage cheese, egg, and salt in food processor or blender until very smooth, about 30 seconds.
For assembly
Preheat oven to 425 degrees. Spray an 11×7 inch baking dish with non-stick cooking spray.
Use a rubber spatula to spread 1/2 cup béchamel sauce in bottom of baking dish; position 2 noodles on top of sauce (trim noodles as necessary so they don't touch the sides of the pan). Reserve 3/4 cups of the béchamel sauce and stir remaining béchamel sauce into the vegetable mixture, mixing well to break up any clumps of spinach.
Continue assembling the lasagna in the following order – spread one-fourth of the vegetable mixture evenly over noodles, sprinkle Parmesan over vegetables, and then top with 2 more noodles (trimmed).
Spread one-fourth of the vegetable mixture evenly over noodles, sprinkle half the mozzarella or fontina over the vegetables, and then top with 2 more noodles (trimmed).
Spread one-fourth of the vegetable mixture evenly over noodles, top with cottage cheese mixture, and then top with last 2 noodles (trimmed).
Spread remaining vegetable mixture evenly over noodles.
Spread remaining béchamel sauce over top to cover completely and top with remaining mozzarella or fontina.
Lightly spray a sheet of aluminum foil with nonstick cooking spray and cover lasagna. Bake until bubbling, about 25 minutes. Remove the foil and continue baking until the noodles are tender and the cheese is golden and bubbling, about 10-15 minutes longer. Cool 10 minutes, then cut into pieces and serve.
---
---