Mini fruit tarts filled with vanilla pastry cream in a delicate cookie crust. Top with sliced strawberries or your choice of fresh fruit.
Prep Time:
60 mins
Cook Time:
30 mins
Total Time:
1 hr 30 mins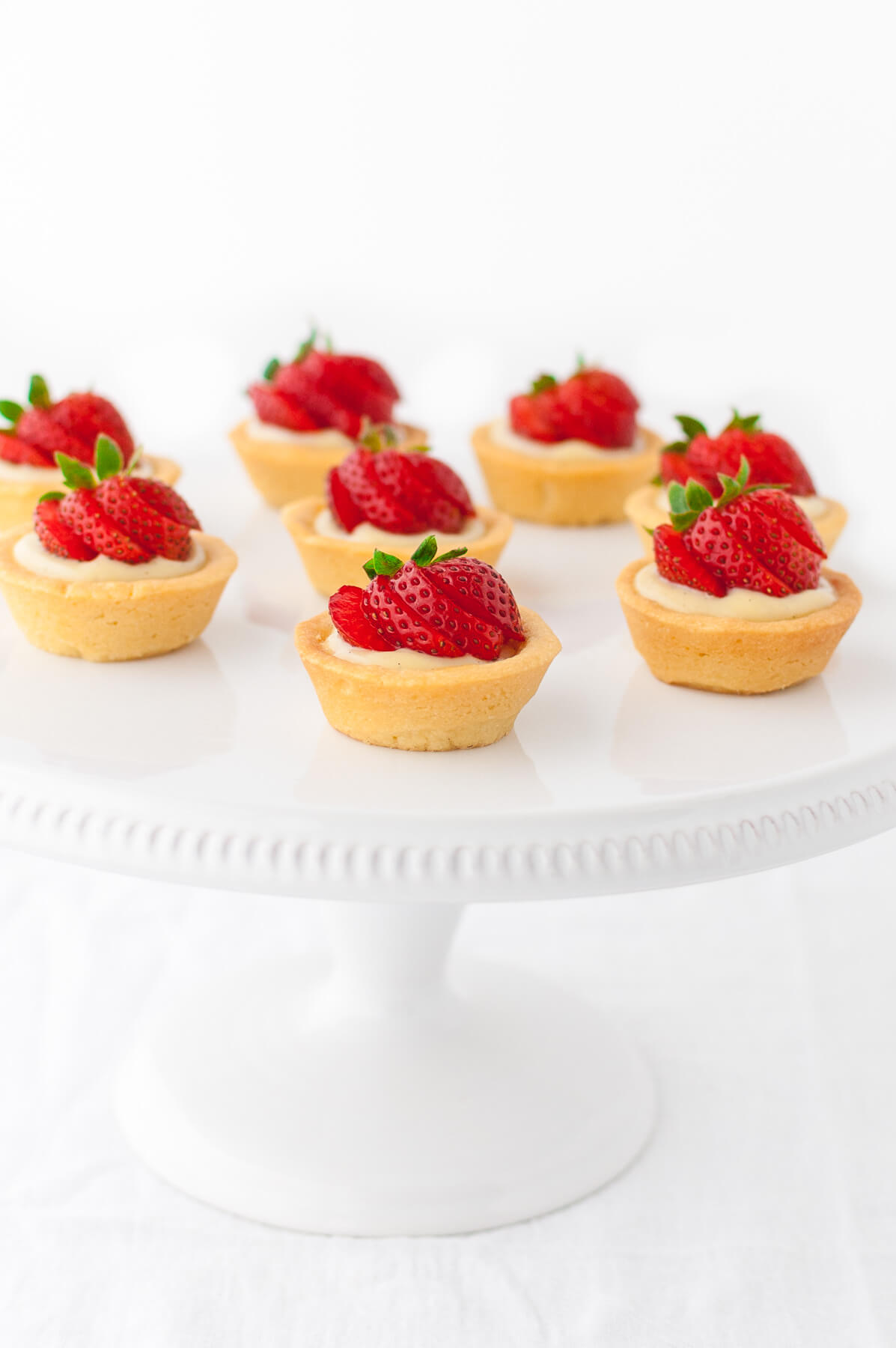 I love fruit tarts. You know the ones where the fruit is beautifully arranged in perfect concentric circles on top of some vanilla pastry cream in a golden baked tart shell. They are so pretty you hardly want to cut them. Because the moment you slice it, the fruit always get messed up and the pastry cream spreads everywhere. It just feels wrong to leave so much delicious pastry cream on the plate. My solution – strawberry tartlets with vanilla pastry cream.
Mini fruit tartlets stay pretty right up to the moment you devour them. And because they are small, I usually devour two or three.
I used strawberries for these tartlets but you can use blueberries, raspberries, kiwi or mangoes. Fruit tartlets are very versatile.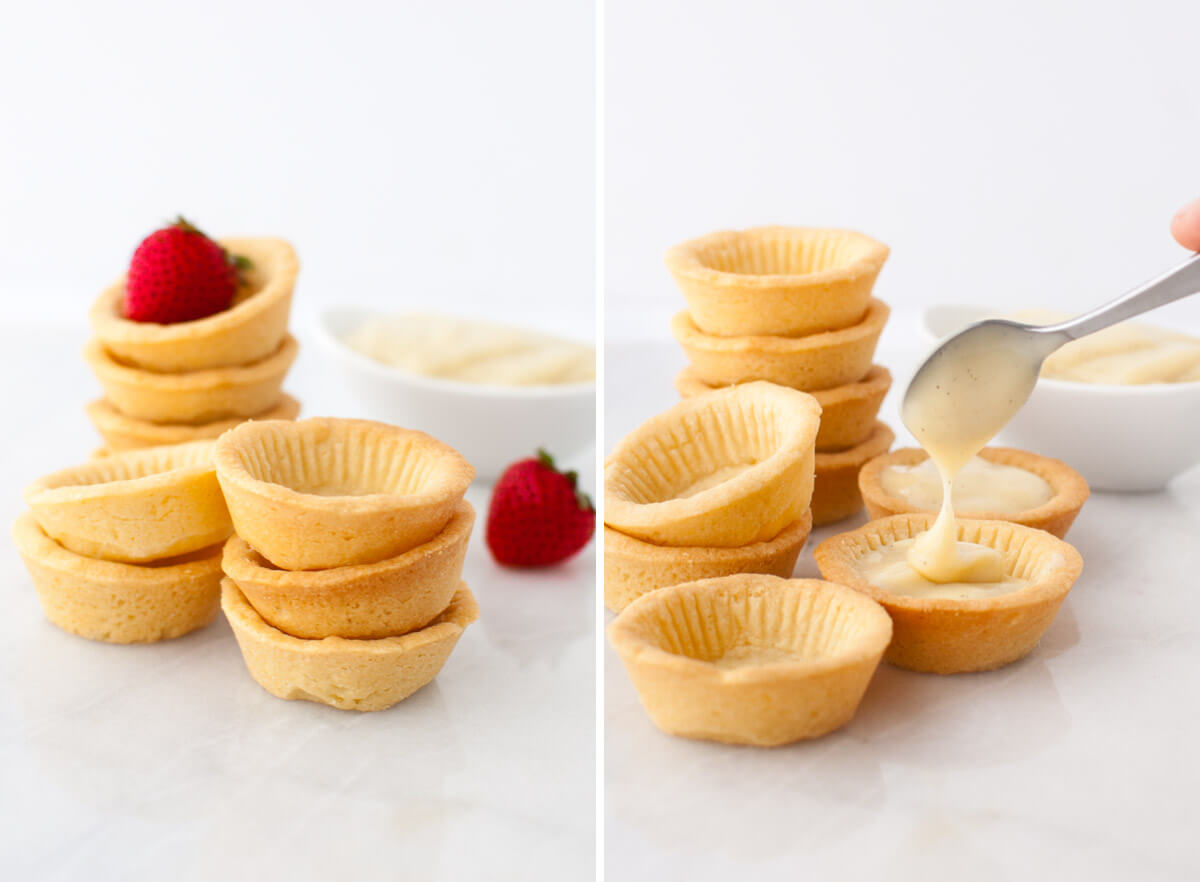 Tips for baking tartlet shells
My favorite part of the tartlets is the shell. It is more like a sugar cookie. My kids would actually eat them like cookies if I let them.
Baking the shells used to be a challenge for me because the dough would puff up too much while it baked and the shells would come out rather misshapen. No matter how much I chilled the dough and docked it, I would have the same problem. Trying to fit pieces of aluminum foil on top of the dough in a mini-muffin pan never worked well for me either.
Fortunately, I found the perfect solution from Naomi Robinson at Bakers Royale. She uses mini-muffin liners. You put the liners on top of the dough and then fill it with beans as a weight. The liners are already the perfect size and shape and they make for easy removal. It was one of those "why didn't I think of that" moments when I found her post.
It is also important to generously butter and flour the mini-muffin pan so the shells will release easily from the pan. I actually prefer to use a non-stick baking spray like Baker's Joy or PAM Baking Spray because it is much faster than greasing and flouring each well. It's easy to over spray so I just wipe up any excess with a paper towel.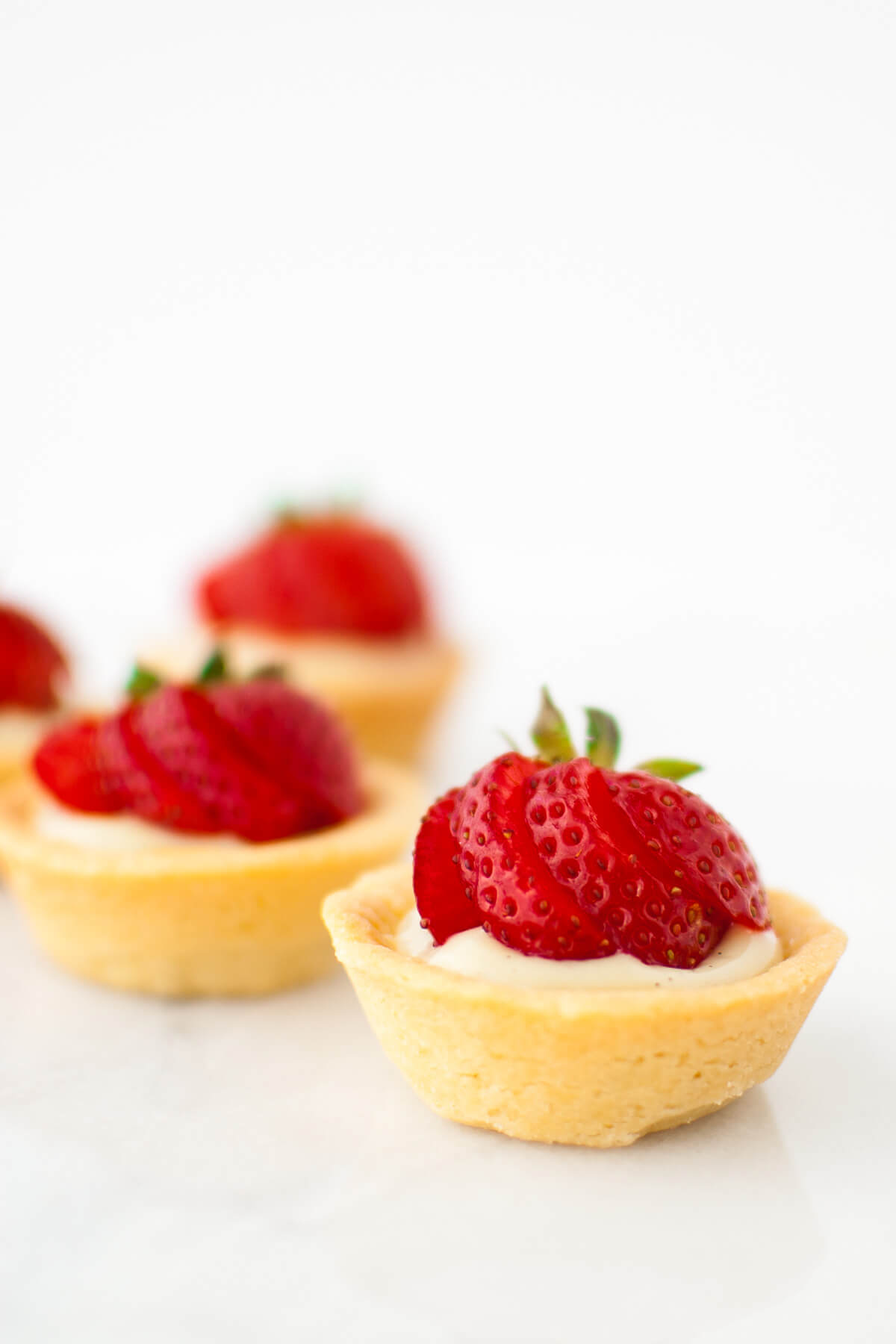 Can tartlets be made ahead of time?
You can make the tartlet shells and pastry cream a day ahead. Just store them separately until you need them. The strawberries or any cut fruit you're using should be prepared the same day you'll be using them. Once the tartlets are assembled, they should be eaten the same day (which is never a problem in our house).
---
Print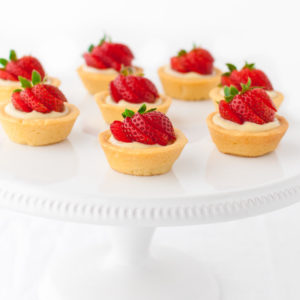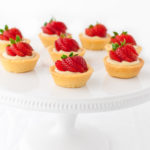 Strawberry Tartlets with Vanilla Pastry Cream
Author:

Nguyet Vo

Prep Time:

60 minutes

Cook Time:

30 minutes

Total Time:

1 hour 30 minutes

Yield:

24

tartlets

1

x

Category:

Dessert

Method:

Baking

Cuisine:

American, French
---
Description
Mini fruit tarts filled with vanilla pastry cream in a delicate cookie crust. Top with sliced strawberries or your choice of fresh fruit.
---
For the tartlet shells
1/2

cup

(1 stick) unsalted butter, room temperature

1/2

cup

sugar

1/2 tablespoon

pure vanilla extract

2

large egg yolks

1 1/3

cup

all-purpose flour

1/8 teaspoon

salt
Baking spray (such as Baker's Joy)
For the vanilla pastry cream
1

cup

whole milk

1/2

vanilla bean, split lengthwise, seeds scraped

1/4

cup

plus

1

tablespoon

sugar (divided)

3

large egg yolks

1 tablespoon

cornstarch

1 tablespoon

flour

1 teaspoon

butter
For serving
Sliced strawberries

1/2

cup

apricot jam, optional
---
Instructions
For the tartlet shells
Make dough. In the bowl of an electric mixer fitted with the paddle attachment, cream the butter and sugar until light and fluffy, 3 to 4 minutes. Add vanilla and egg yolks, one at a time, beating well after each addition. Add flour and salt; beat until dough just comes together.
Chill dough. Gather the dough together to form a ball and place it on a sheet of plastic wrap or wax paper. Place another sheet of sheet of plastic wrap or wax paper on top and flatten the ball to a 1/2 inch thick disk. Transfer the dough to the refrigerator and chill until firm, 45 minutes.
Prep oven and pan. When ready to bake the tartlet shells, preheat oven to 350 degrees F. Spray a 24-well mini-muffin pan with baking spray (this is very important).
Roll out dough. On a well floured surface, roll out dough to 1/8 inch thickness. Use a 2 1/2-inch diameter round cutter and cut out 24 rounds of dough, gathering scraps and re-rolling as necessary. Place a round of dough into each well of the prepared mini-muffin pan. Using your fingers, fit the dough to fit into the well; pleating the dough as necessary. If the dough becomes too soft to work with, chill it in the freezer for a few minutes until it is firm again. Using a small off-set spatula to lift the rounds of dough will also help.
Chill and prick. Place muffin pan in freezer to chill dough until firm, 10 minutes. Prick the dough a couple of times with a fork and then place a mini-cupcake liner on top of each well of dough and fill it with rice or beans.
Bake. Bake tartlet shells for 20 minutes, rotating the pan half way through. Remove the muffin liners and beans, and continue baking for another 4-5 minutes, or until lightly browned. Let tartlet shells cool in pan 5 minutes. Using the tip of a small paring knife to loosen the edges, gently remove the tartlet shells from the pan and allow to cool completely on baking rack.
For the vanilla pastry cream
Prep ice bath. Prepare an ice bath by filling a large bowl (large enough to fit the saucepan you will be using) about half full with water and ice. Set aside.
Scald milk. In a saucepan, whisk together milk, vanilla bean and seeds, and 1/4 cup sugar. Heat milk mixture over high heat until mixture just begins to boil. Remove from heat and set aside.
Prep eggs. In a separate bowl, whisk egg yolks with remaining 1 tablespoon sugar until thick and pale. Sprinkle in cornstarch and flour; continue whisking until well combined. Set aside.
Combine. Remove vanilla bean from milk mixture. Whisk half the hot milk into egg yolk mixture. Pour egg mixture into pan with remaining hot milk; slowly bring to a boil. Continue whisking until thick, about 5 minutes. Remove saucepan from heat, stir in butter and let cool slightly.
Cool. Gently set the saucepan in the ice bath, being careful to not let any water or ice get into the pan. Stir pastry cream occasionally until it is cool, about 30 minutes. Use pastry cream immediately or press plastic wrap directly onto the surface of the pastry cream and store in the refrigerator until ready to use.
To make the tartlets
Assemble. Spoon pastry cream into the tartlet shells and top with sliced strawberries. If desired, melt apricot jam in microwave and brush a small amount of jam onto fruit to give it a pretty shine.
---
Notes
For the purpose of pretty photos, I left the stems on the strawberries. However, I removed the stems before serving the tartlets.
For a variation, you can use blueberries, raspberries, kiwi, or mangoes instead of strawberries.
Recipe for vanilla pastry cream adapted from Martha Stewart.
Recipe for tartlet shells adapted from Martha Stewart Living.
Baking technique for tartlet shells from Bakers Royale.
Keywords: tartlet, mini tart, pastry cream, fruit tartlet, strawberry tartlet, how to make a tartlet
---