Prep Time:
30 mins
Cook Time:
10 mins
Total Time:
40 mins
Seared scallops in a rich butter sauce made with finger (caviar) limes, tarragon, white wine, and butter.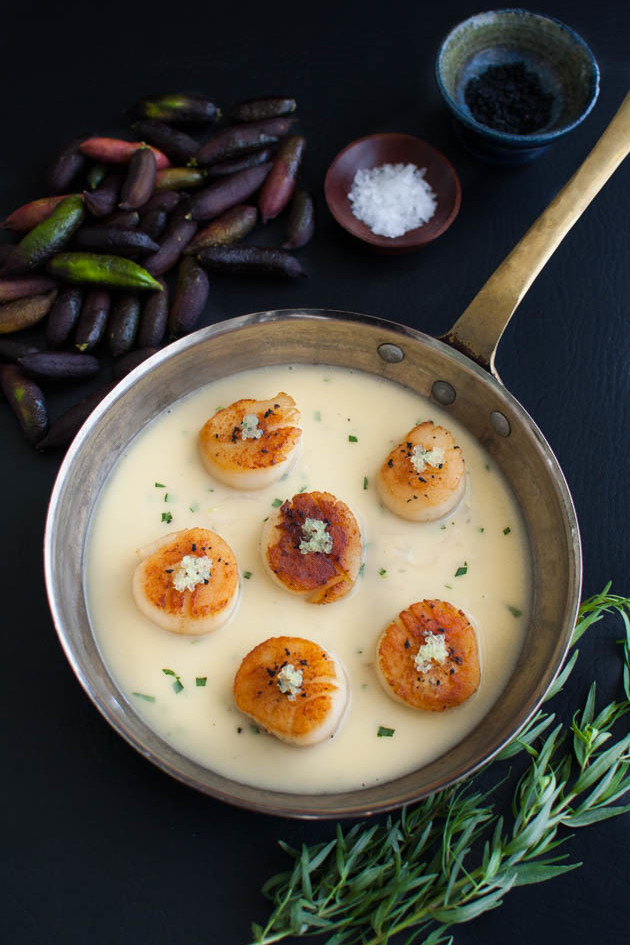 I may be going out on a limb with this recipe. After all, it involves an ingredient few people have ever heard of and the recipe title sounds like a lot of work. However, I think this recipe is so delicious it's worth the risk. Stay with me.
I recognize there are plenty of reasons why you might read the recipe and decide not to make this recipe –
1. Finger limes – These specialty citrus fruits, also known as caviar limes, are not easy to come by. There aren't a lot of growers who offer them and they can be kind of pricey.
2. Beurre blanc – This classic French sauce can be a pain to make and does require some patience to get the right consistency.
3. 16 tablespoons of butter – TWO whole sticks of buttah is, indeed, a lot of butter.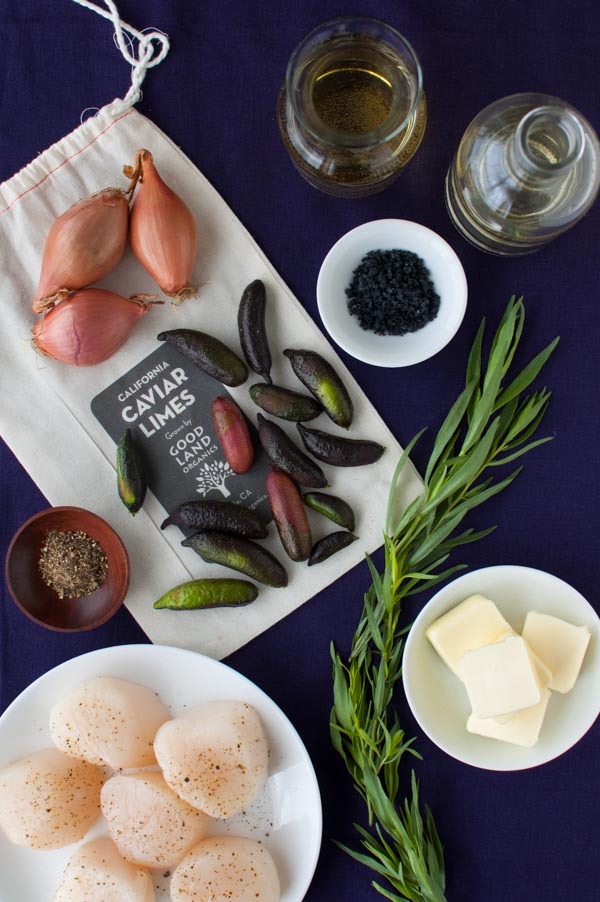 Now, let's tackle each of those reasons and talk about why you should definitely make this recipe –
1. Finger limes – Thanks to the internet, you can order finger limes on-line and have them delivered to your doorstep. I order mine from Good Land Organics. These fun little limes are about the size of your finger (hence, the name) and can range in color from dark green to burgundy. When you cut one open, the inside looks like a typical lime. However, when you squeeze it, out comes these tiny pearls that look like caviar (hence, their other name). The little pearls actually contain lime juice that is released when the pearls are popped. They add an amazing burst of flavor to any dish.
2. Beurre blanc – This sauce is decadence, pure and simple, but it is so good it will make you want to lick your plate. Although it can be difficult, careful attention to the heat and consistent whisking will ensure a smooth and stable sauce. If you have problems controlling the heat on your stove, try putting the saucepan on the heat just long enough to warm the sauce and then take it off the heat, repeating as necessary.
3. 16 tablespoons of butter – The butter holds the sauce together and adds flavor in a way other fats can't. Have balanced meals the next few days and let yourself indulge in the ecstasy of this sauce.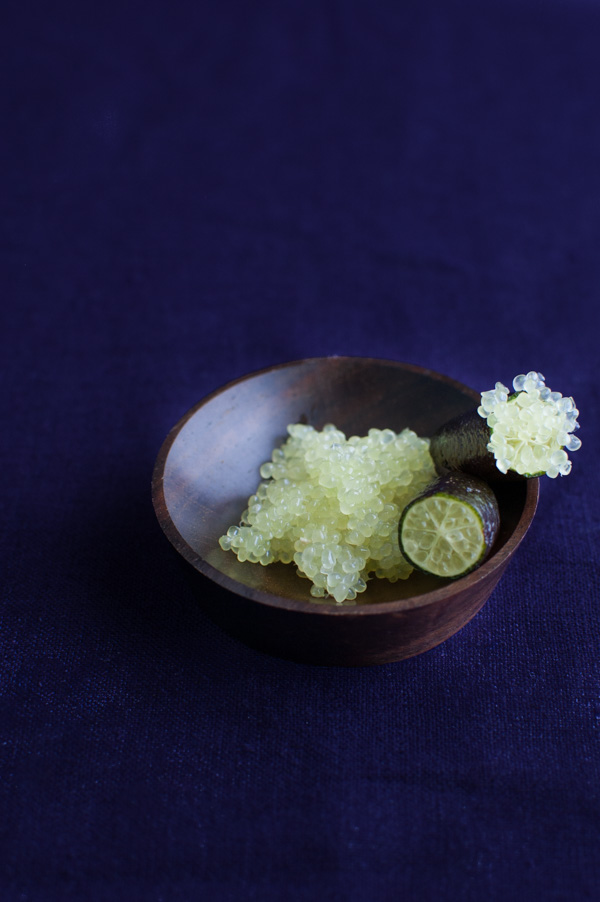 The best way to remove the pearls from a finger lime is to cut it in half crossways (not lengthways) and squeeze from the bottom towards the cut edge to gently push out the citrus pearls. If you also squeeze out some seeds in the process, just pick those out with the tip of a small paring knife and discard them.
If you end up with some extra sauce, you can refrigerate it and then use it like a flavored butter. The sauce won't retain its consistency when it is reheated but it will add wonderful flavor to everything from steamed vegetables to fish. I topped some roasted salmon with a couple of teaspoons of leftover sauce for a quick and easy dinner one night.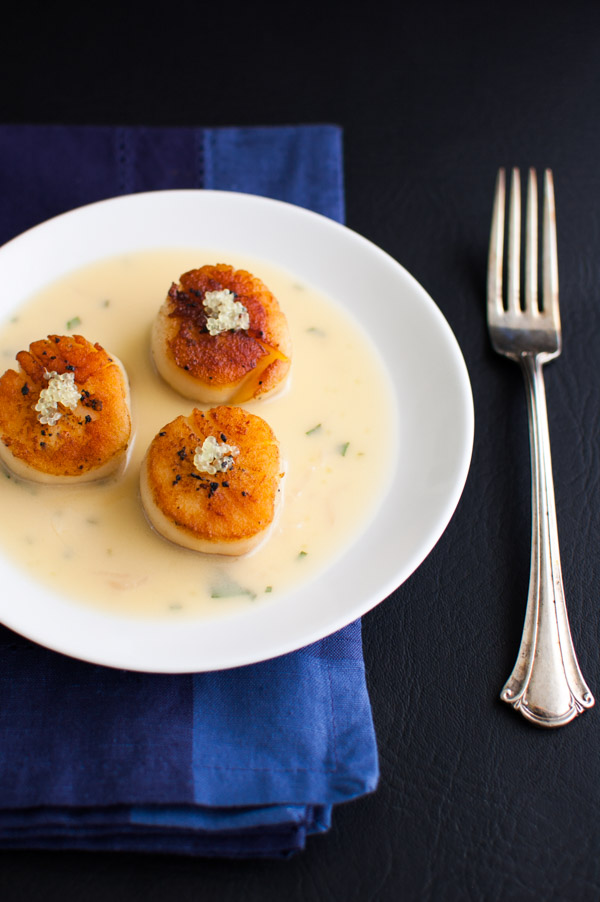 Now that I have a bag of finger limes sitting in my fridge, I am looking forward to experimenting with them. I am considering a recipe for mojitos and a lime curd. I'll let you know how they turn out.
---
Print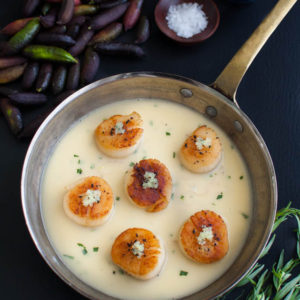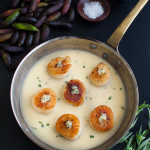 Seared Scallops with Finger Lime Beurre Blanc
Author:

Taming of the Spoon

Prep Time:

30 minutes

Cook Time:

10 minutes

Total Time:

40 minutes

Yield:

4

servings

1

x

Category:

Dinner

Method:

Stovetop

Cuisine:

American
---
Description
Seared scallops in a rich butter sauce made with finger (caviar) limes, tarragon, white wine, and butter.
---
For the beurre blanc
1 cup

dry white wine

2 tablespoons

white wine vinegar

1

large shallot, thinly sliced

16 tablespoons

butter, cut into

1/2

-inch cubes and kept chilled

1 teaspoon

minced fresh tarragon

4

finger limes, halved and pearls removed
Kosher salt and ground black pepper, to taste
For the scallops
Olive oil or grapeseed oil

12

large sea scallops
Kosher salt and ground black pepper, to taste
---
Instructions
For the beurre blanc
Boil wine, vinegar, and shallot in a medium saucepan over medium heat until reduced to 3 tablespoons, 10-15 minutes. Remove from heat and let cool slightly, about 30 seconds.
Turn on the heat to very, very low (just enough heat to keep the mixture warm but not hot). Place the saucepan over the heat. Add a few cold butter cubes to the reduced shallot-wine mixture and whisk until the butter is almost completely incorporated. Continue adding the butter a few cubes at a time and whisking until the mixture is the consistency of thick heavy cream. Stir in tarragon, half the lime pearls, and salt and pepper to taste. Set sauce aside.
For the scallops
Pat scallops dry on all sides with paper towels. Let scallops sit at room temperature for 5 minutes to allow the surface of the scallops to dry out (this will help the scallops get a nice sear).
Heat a heavy non-stick pan over medium-high heat. Add enough oil to coat the bottom of the pan, 1-2 tablespoons. Swirl the pan so that the bottom is evenly coated with oil. When oil starts to shimmer, add the scallops and sear scallops until underside is golden brown, about 2 minutes. Gently turn scallops over and sear the other side until golden brown and scallops are just cooked through, about 2 minutes more.
To serve
Divide scallops among 4 plates. Spoon sauce over scallops and top each scallop with some of the remaining lime pearls.
---
Notes
You may need to sear the scallops in batches depending on the size of your pan. Avoid overcrowding the pan which could cause the scallops to steam rather than brown. You should hear a nice sizzle.
Recipe adapted frrom Saveur.
Keywords: seared scallops, finger lime, caviar lime, butter sauce
---