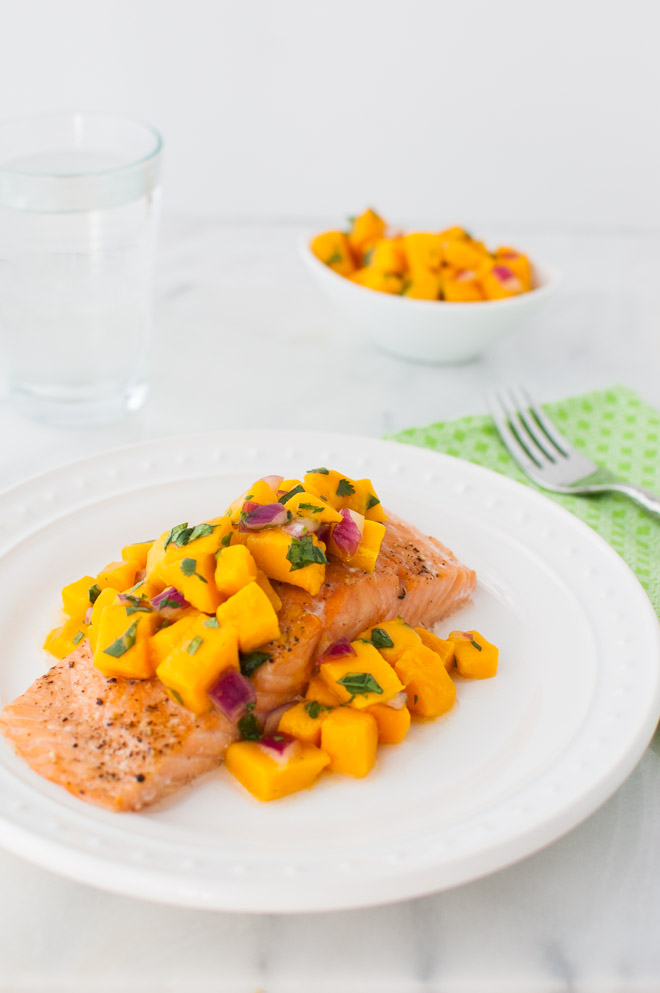 Mangos are just starting to show up in the grocery stores again. I look forward to them every year about this time. Growing up, my parents would buy them by the case when mangos were at the height of their season. This was usually around late June where we lived and I would eat 2-3 every day for several weeks. By August I was so sick of mangos, I would declare (every year) that I never wanted to see another one again. Of course, my declaration would only ever last until the next spring. Moderation was not something I practiced very well in my younger years. Fortunately, I have learned to savor the mangos more slowly now and enjoy them in different ways such as with this salsa.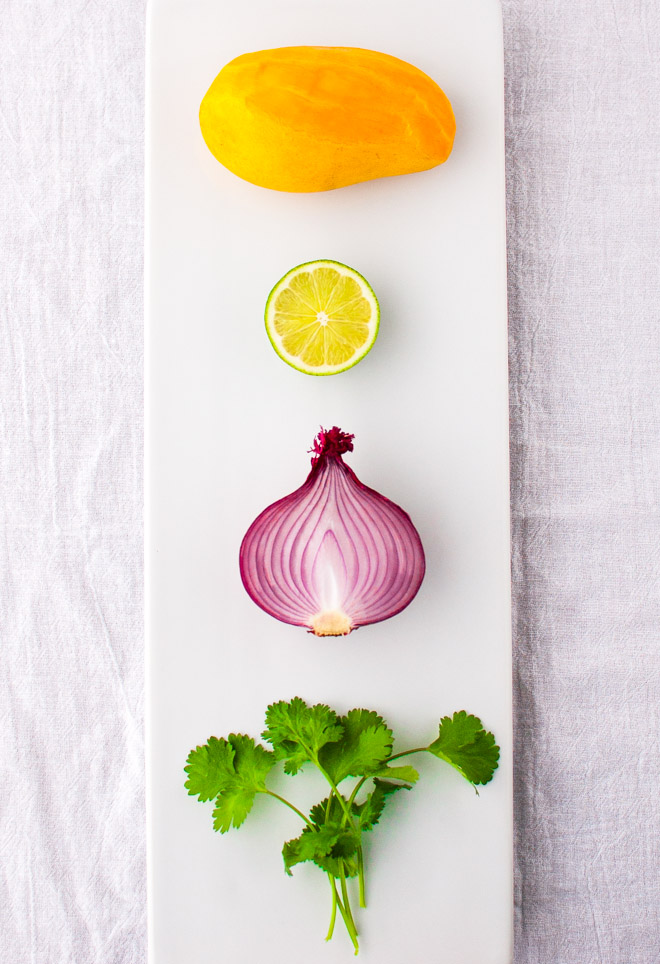 For this salsa, look for mangos that are ripe but still firm. I choose ripe mangos by smelling them. They should smell sweet. If they have no scent, they are underripe. If they smell sour or "off", they are overripe. If you choose a mango that ends up being too mushy or stringy, it is better to use it in smoothies or for cooking.
There are several techniques for dicing a mango. The popular technique of cutting the flesh from the seed, scoring the fruit with the peel still on, and then cutting the fruit from the peel has never worked very well for me. I carefully peel the skin off first and then cut the fleshy fruit from the seed (cutting parallel to the seed). I then lay the cut piece down with the flat side against the cutting board and slice first in one direction and then in the other to get a dice. This technique definitely requires a very sharp knife and a high level of comfort with your knife skills. Choose the technique that you are most comfortable with.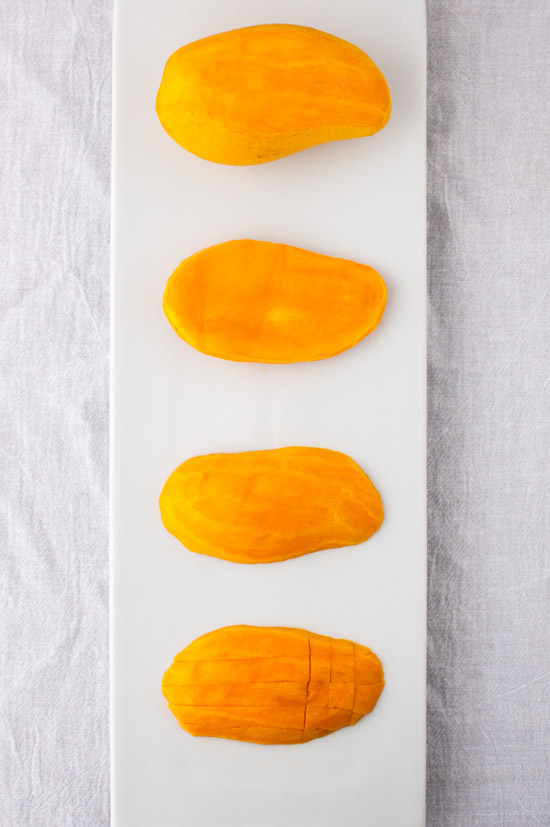 My favorite way to eat mangos is still straight up (usually standing at the kitchen counter eating as I peel and cut) but having roasted salmon with this mango salsa on top is a pretty close second.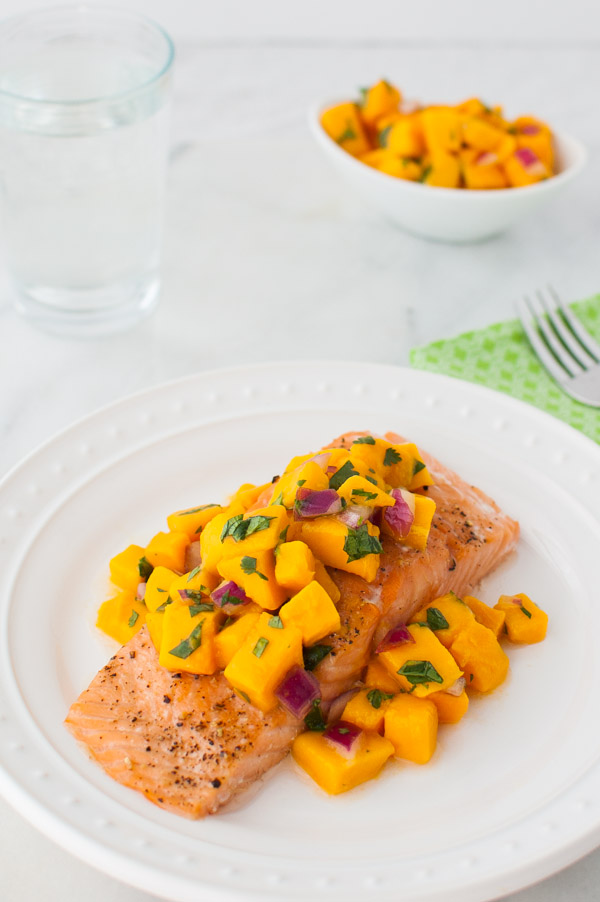 ---
Print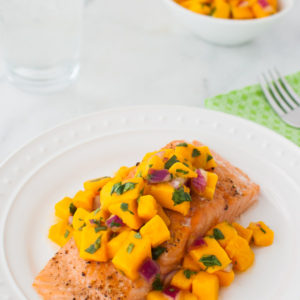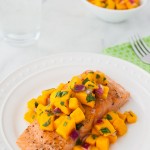 Roasted Salmon with Mango Salsa
Author:

Prep Time:

20 minutes

Cook Time:

20 minutes

Total Time:

40 minutes

Yield:

4

servings

1

x
---
For the salmon
1

to

1

-1/4 pounds salmon fillet or other mild white fish
Salt and pepper to taste
For the salsa
2 cups

diced mangos

2 tablespoons

red onion, finely chopped

2

tablspoons cilantro, chopped

2 teaspoons

fresh lime juice

1/4 teaspoon

salt, plus more to taste
---
Instructions
For the salmon
Preheat oven to 350 degrees. Season salmon fillet with salt and pepper and place on a foil lined rimmed baking sheet. Roast salmon in oven for 15-20 minutes or until salmon is cooked through.
For the salsa
Rinse chopped onion in a strainer and shake to remove excess water (this helps mellow the flavor of the raw onion).
Gently toss all the salsa ingredients in a bowl, and let stand for 15 minutes. Adjust salt to taste. Serve on top of salmon.
---
Notes
You can also replace some of the chopped mango with chopped fresh pineapple.
---