Chocolate and peanut butter may be the classic combination but I am proposing a new classic – chocolate and dulce de leche.  I am already a huge lover of sweetened condensed milk (as anyone who has seen me make Vietnamese coffee will tell you). Sweetened condensed milk that has been slowly heated until it is caramelized really has me swooning. So, when I saw this recipe for a molten dulce de leche cake I knew it had lots of potential. The original recipe calls for undercooking the cake to create the molten center. That idea didn't completely appeal to me so I decided to use a chocolate ganache center that would then melt into an oozing pool of chocolate when baked. It is the perfect complement to the caramel of the dulce de leche.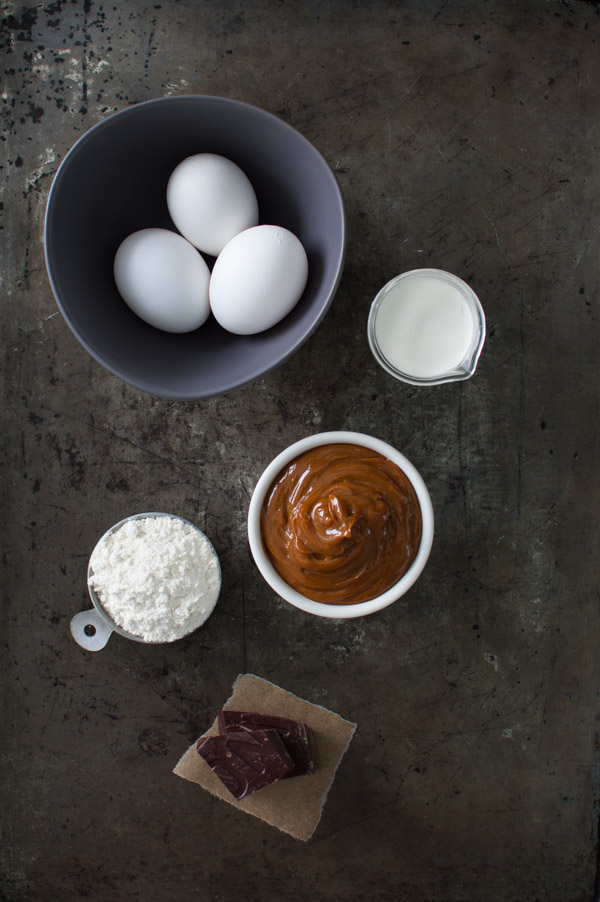 I have been dying to share this recipe with you guys for several weeks. The only thing stopping me was getting some decent photos. Photographing a hot molten cake with an oozing chocolate center while keeping the whipped cream from immediately sliding off the top is no small feat. It took 4 different baking attempts and hundreds of shots to finally get anything that was worth sharing. My younger daughter loved it though. I think she ate more than half of my failed attempts. Chocolate and dulce de leche may be her new favorite combination too.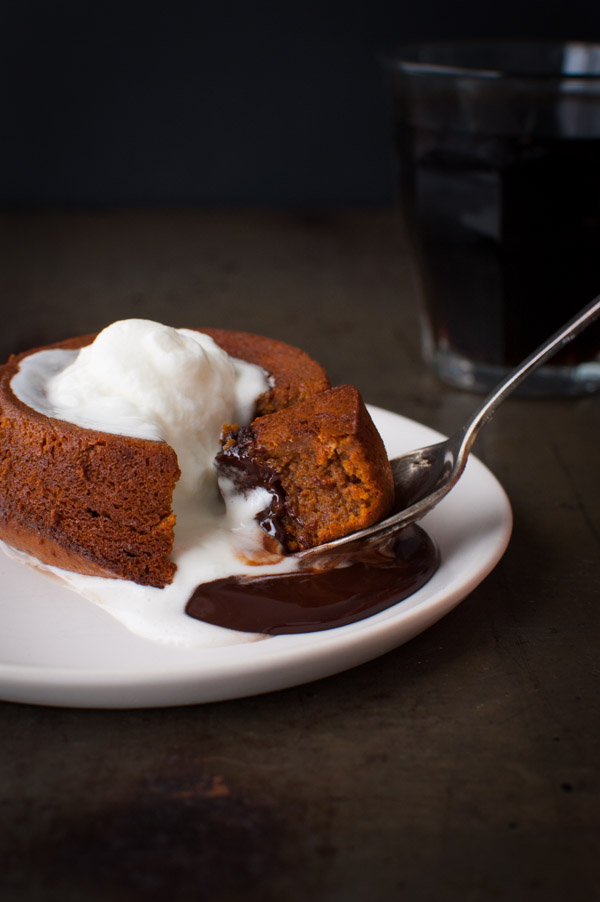 ---
Print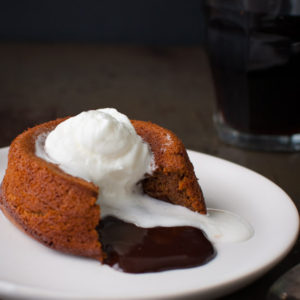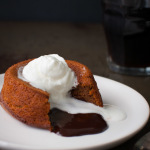 Molten Chocolate and Dulce de Leche Cake
Author:

Prep Time:

1 hour

Cook Time:

20 minutes

Total Time:

1 hour 20 minutes

Yield:

6

servings

1

x
---
For the chocolate ganache
1/2 cup

whipping cream

4 ounces

semi-sweet chocolate, chopped
For the dulce de leche cakes
Baking spray with flour (such as Baker's Joy)

2

large egg yolks

1

large egg

1 2/3 cups

canned or jarred dulce de leche

2 1/2 tablespoons

all-purpose flour
Sweetened whipped cream or vanilla ice-cream for serving
---
Instructions
For the chocolate ganache
In a small microwave-safe bowl, microwave cream on high for 1 minute or until hot. Add in chocolate. Let stand 2 minutes, then whisk until smooth. Transfer bowl to the refrigerator and chill chocolate ganache until firm enough to scoop, about 1 hour.
For the dulce de leche cakes
Preheat oven to 425 degrees. Spray 6 (4-ounce) ramekins with baking spray. Place the ramekins on a rimmed baking sheet.
Using an electric mixer, beat egg yolks and whole egg in a medium bowl on high speed until doubled in volume and eggs hold a slight ribbon, 2-3 minutes. Add dulce de leche; beat until well blended. Add flour and beat again until well blended. Divide batter among the prepared ramekins. Remove the ganache from the refrigerator. Spoon 1-2 rounded teaspoons of ganache into the center of the cake batter in the ramekins.
Bake cakes in oven until outsides are golden brown in color and the ganache is bubbling, 15-17 minutes.
Transfer sheet to a cooling rack. Carefully run a knife around edges of ramekins to loosen cakes; invert onto plates or into shallow bowls. Serve hot with sweetened whipped cream or ice cream.
---
---