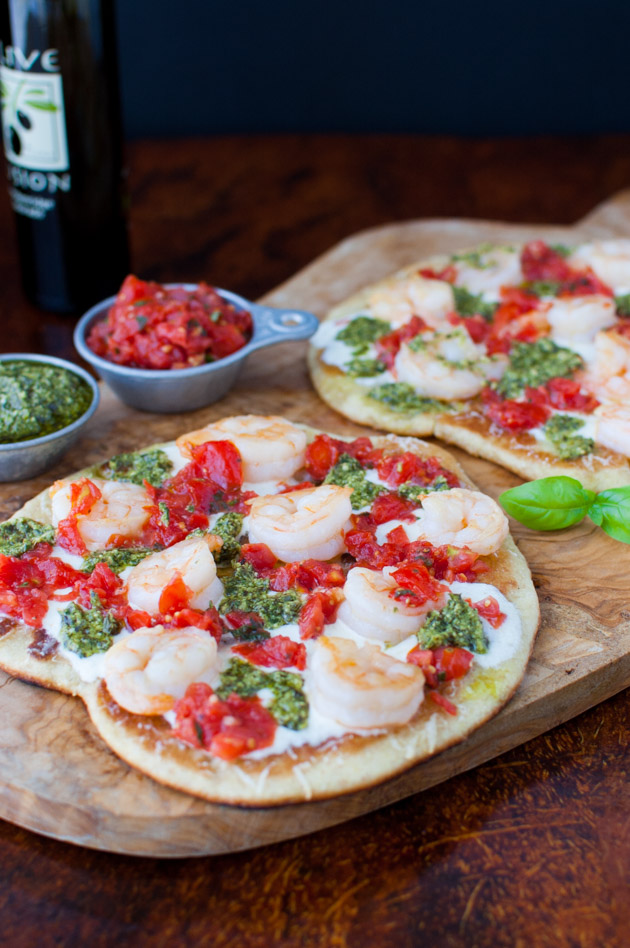 I have been obsessed with grilled pizzas lately. Ever since I discovered how to get the crispy char of a grilled crust without the worry of burning my forearms and fingers on a hot grill, I have been making a lot of grilled pizzas.
I make a double batch of the crust dough, pre-cook  the crusts, wrap them in plastic and aluminum foil and freeze them until needed. Then whenever I want an easy meal, I take whatever number of crusts I need from the freezer, thaw them, top them and pop them on the grill. Hot fresh pizza from the grill with less effort – gotta love it!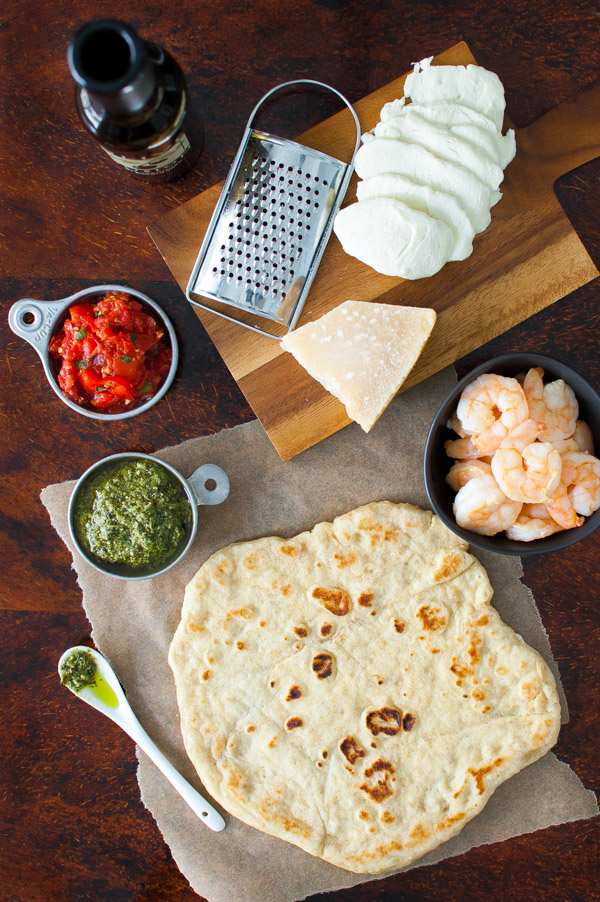 This combination of shrimp, chunky tomato sauce, pesto and cheese is one I discovered after more perusing of the Grilled Pizzas and Piadinas cookbook. It is a great cookbook with all kinds of creative combinations. I know seafood on pizza is a little unusual but it really works here and it has quickly become one of my favorites. The pesto and fresh tomato sauce are a great combination and complement the shrimp beautifully. The key is to not overload the pizza with toppings. Once you layer on the cheese, you just want to "dot" the remaining ingredients on top. That way each flavor stays distinct yet still works together with the other flavors.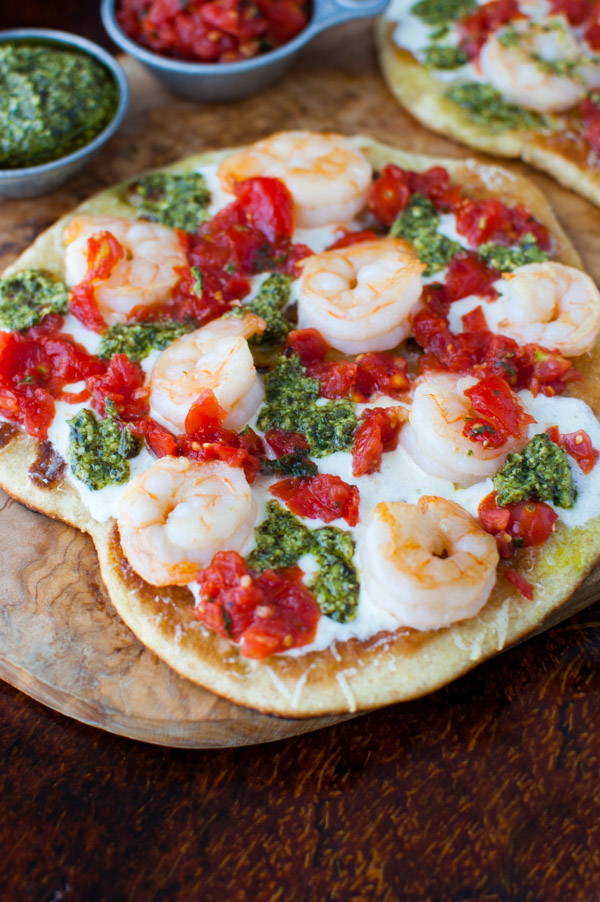 In fact, I am off to make some pizza right now. After yesterday's photo shoot, I have just enough ingredients left for one more pizza. It's going to be a goooood day.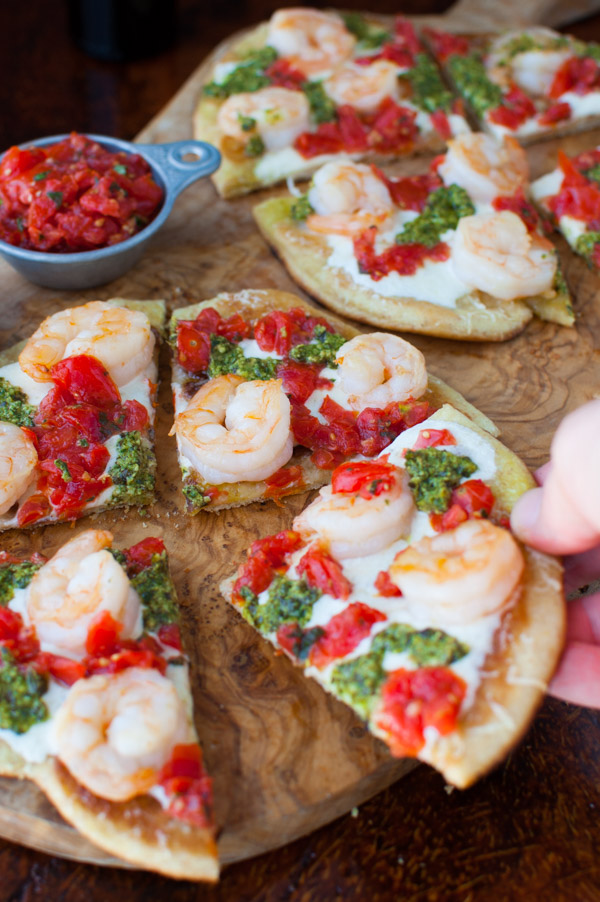 ---
Print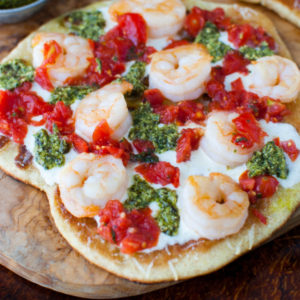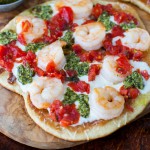 Grilled Pizza with Shrimp, Chunky Tomato Sauce, and Pesto
Author:

Prep Time:

3 hours 30 minutes

Cook Time:

15 minutes

Total Time:

3 hours 45 minutes

Yield:

4

servings

1

x
---
For the pizza dough
¾ cup

warm water (about

120

degrees)

1

packet (2 ¼ teaspoons) active dry yeast

½ teaspoon

sugar

1 ½ cups

unbleached all-purpose flour

¼ cup

whole wheat flour

1 teaspoon

kosher salt

2 tablespoons

cornmeal

2 tablespoons

extra virgin olive oil, plus 1 teaspoon for the bowl
For cooking the pizza crusts
Flour for rolling out the dough
Olive oil for coating the pan
For the chunky tomato sauce
1

small clove garlic

4

large basil leaves

12 ounces

cherry or San Marzano plum tomatoes (see Notes)

1

–

2

tablespoons tomato paste

1/2 teaspoon

kosher salt
Freshly ground black pepper
Pinch of sugar
For baking the pizzas
Olive oil
Asiago cheese
Fresh mozzarella, water drained and thinly sliced
Store bought pesto

3/4

–

1

pound shrimp, peeled and deveined
---
Instructions
For the pizza dough
In a glass measuring cup, add water, yeast and sugar. Stir until the yeast is dissolved. Let sit for 5 minutes. A thin layer of foam should appear on the top indicating the yeast is active. If a thin layer of foam does not appear then throw out the mixture and start again. Check that your water is not too hot or cold and that your yeast is not expired.
In the bowl of a stand mixer fitted with a dough hook, whisk the all-purpose flour, whole wheat flour, salt and cornmeal together. Add the yeast mixture and 2 tablespoons olive oil. Mix on slowest speed using the dough hook until ingredients come together. Then mix 2-3 minutes more on medium speed until dough begins to ball together. If the dough is sticky and not coming together, add another 2-4 tablespoons of flour and mix again.
Spread the remaining teaspoon of olive oil in a thin layer on the inside of a large bowl. Gather the pizza dough into a ball and place it in the oiled bowl. Turn the dough around so that it gets coated with the oil. Cover the dough with plastic wrap and let sit in a warm place until it doubles in size, about 2 hours.
After the rising time, move the bowl of dough to the refrigerator to chill for at least 1 hour (or overnight if possible) to firm up the dough and to enhance the flavor. This will also make it easier to roll out.
Cooking the pizza crusts
Take the chilled dough out of the refrigerator and punch it down. Divide the dough into four equal parts and shape each part into a ball.
Work with one ball of dough at a time. On a lightly floured surface, use a rolling pin to roll dough into an 8-inch flat circle. Heat a cast iron skillet over medium heat until hot. Brush olive oil on inside of the pan then gently transfer the rolled out dough to the hot pan. Cook for 1-2 minutes or until the underside is lightly browned. Then flip the crust over in the pan. Cook until the second side is lightly browned. Repeat with the remaining balls of dough.
At this point, you can proceed to the next step of making your pizza or you can allow the crusts to cool on a plate or wire rack. Then wrap the crusts in plastic and store in the refrigerator for 4-5 days or store in the freezer for up to 3 months. Bring the crusts to room temperature if they have been chilled.
For the chunky tomato sauce
Place the garlic and basil in the small bowl of a food processor and pulse until finely chopped. Add tomatoes and pulse until tomatoes are roughly chopped. Don't overdo it; the sauce is meant to be chunky.
Transfer tomato mixture to a small bowl. Stir in 1 tablespoon of tomato paste, salt, pepper and sugar. If the sauce seems watery, add second tablespoon of tomato paste.
Refrigerate the sauce for at least one hour to let the flavors develop.
For baking the pizzas
Preheat grill to high heat.
Sauté shrimp in a little bit of olive oil until they are just cooked through.
Brush olive oil on both sides of each pizza crust.
Top each pizza with freshly grated asiago cheese and slices of fresh mozzarella. Top with shrimp, tomato sauce, and pesto.
Using a spatula, transfer the pizzas to the grill placing them directly on the hot grates. Close lid and cook for 1-2 minutes until cheese is melted and underside of crust in nicely browned. Remove pizzas from grill, cut each pizza into quarters and serve hot.
---
Notes
The dough can sometimes be sticky when trying to transfer it from the mixer to the bowl. I find that putting olive oil or flour on my hands helps when transferring the dough. Once the dough has risen and has had a chance to sit for awhile, it becomes much easier to handle.
For the tomatoes, you can also use one (14.5 ounce) can of diced tomatoes. Be sure to drain the tomatoes well.
If you have watery tomatoes and the tomato sauce is holding a lot of liquid, transfer it to a strainer and let it sit in a bowl for several minutes. Re-adjust for salt and pepper.
Recipe adapted from the Grilled Pizzas and Piadinas cookbook.
---