Prep Time:
20 mins
Cook Time:
30 mins
Total Time:
50 mins
Sweet-spicy chicken meets crunchy-tart mango in this Asian marinated chicken with green mango and carrot salad.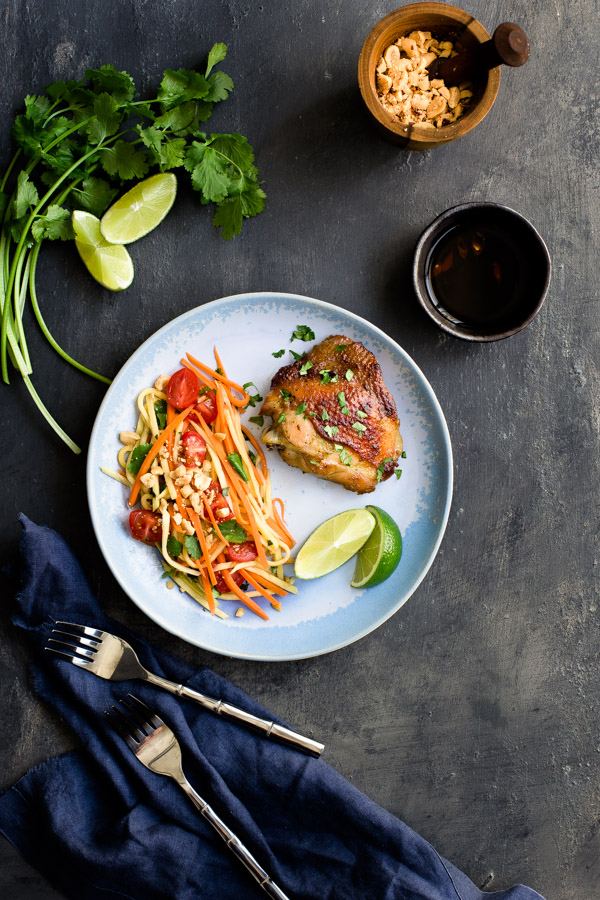 I have never been able to figure out why some blog posts are so much harder to produce than others. Even after three years of blogging, I still haven't found the magic formula that ensures each post will make it to publication smoothly.
Let's take today's post for instance. It has felt like a monumental effort. It is a delicious recipe for Asian marinated chicken with green mango and carrot salad. It's a recipe I totally love and was so excited to share. The weather forecast last week called for sunny skies which usually makes photographing recipes a little easier. So, I was on schedule for getting this post out last week.
Unfortunately, sometimes circumstances of life interfere with the best of plans. I tried to rush through a cooking and photo session while trying to finish some client work. The resulting photos were dismal at best. A second attempt with more time on Friday yielded much better results though still not as good as I would have wanted. Although I seriously considered a third attempt at photos, I decided I needed to move on. Once I had the photos and recipe in place, it was just a matter of writing the actual post content. Easy, right? Wrong. So. Very. Wrong.
A technician came to our house to upgrade our internet speed and, instead, broke our service, declared he couldn't fix it and left. And the service company can't send another tech until tomorrow. So, the nearby Starbucks is my temporary home office for today.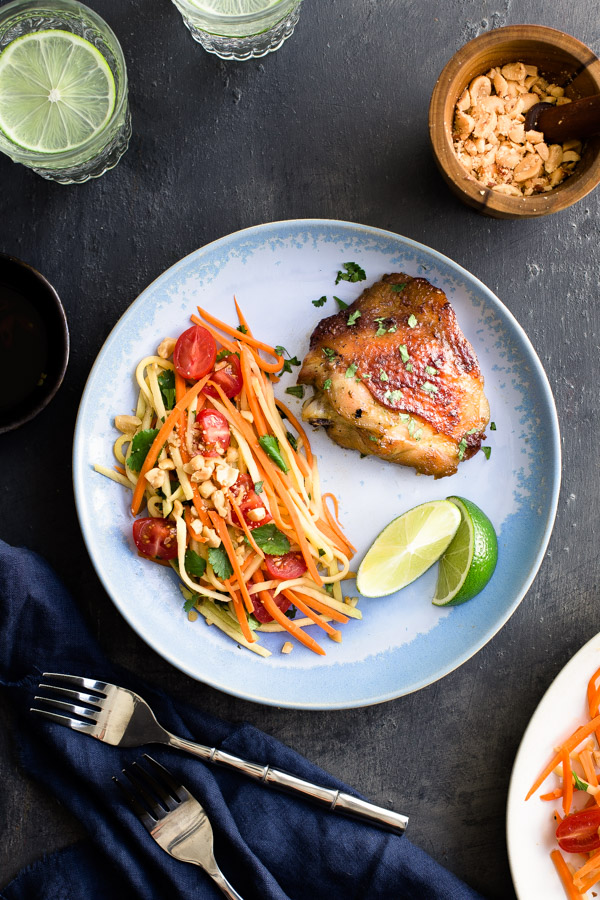 However, you should not let the crazy circumstances of this post deter you from making these Asian-inspired chicken thighs. They are so flavorful and the green mango salad is wonderfully light and refreshing. Mangos are just starting to show up in the grocery stores here which is a perfect time to find an unripe mango. You'll want to look for one that is really, really firm. It's the tartness of the unripe mango that gives the salad its distinctive flavor and balances the boldness of the dressing.
I had to use my mandoline to julienne cut the mango which I realize may not be feasible for everyone (or finding green mangos). I have read that you can substitute shredded cabbage for the green mango in this type of salad. The flavor would be slightly different but I think it would still be delicious.
For those who have not cooked with fish sauce, I want to provide fair warning. There is quite a bit of fish sauce in this recipe which some people may find overpowering. However, fish sauce is delicious when used with the right ingredients and there is really no good substitute for it.
---
Print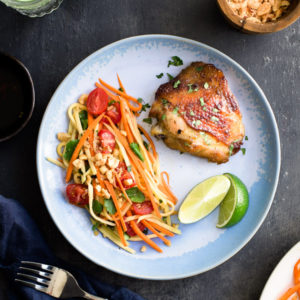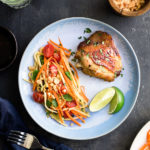 Asian Marinated Chicken with Green Mango and Carrot Salad
Author:

Prep Time:

20 minutes

Cook Time:

30 minutes

Total Time:

50 minutes (plus marinating time)

Yield:

4

–

6

servings

1

x

Category:

Dinner

Method:

Roasted

Cuisine:

Asian Inspired
---
Description
Sweet-spicy chicken meets crunchy-tart mango in this Asian marinated chicken with green mango and carrot salad.
---
For the chicken
1 1/2 tablespoons

chopped cilantro

5

scallions, chopped

6

garlic cloves

1

jalapeño, stemmed and chopped

1

shallot, chopped

1/2 cup

fish sauce
, divided

1/2 cup

light brown sugar

8

skin-on, bone-in chicken thighs

2 tablespoons

unsalted butter

2 tablespoons

canola oil
For the salad
2 tablespoons

light brown sugar

1/4 cup

fresh lime juice

1/4 cup

fish sauce

1/2 teaspoon

chili-garlic sauce
One large green mango, peeled and julienned (discard the seed)

1

large carrot, julienned

1/2 cup

cherry tomatoes, halved
Chopped cilantro, for garnish
Chopped scallions, for garnish
Chopped roasted salted peanuts, for garnish
---
Instructions
For the chicken
 Make marinade. In a blender, purée the cilantro, scallions, garlic, jalapeño, shallot, fish sauce and brown sugar until smooth.
Marinate chicken.Put the chicken in a large resealable plastic bag and pour in the marinade. Seal and refrigerate for at least 2 hours or up to 6 hours. Bring to room temperature 30 minutes before cooking.
Prep oven. Preheat the oven to 400 degrees F and line 
a large rimmed baking sheet with aluminum foil.
Brown chicken. In 
a large skillet, melt 1 tablespoon of the butter in 1 tablespoon of the oil. Add half of the chicken, skin side down, and 
cook over moderately high heat until the 
skin is brown, about 3 minutes. Reduce the heat to moderate if 
the chicken starts to brown too quickly. Transfer the chicken to the prepared baking sheet skin side up and repeat with the remaining butter, oil and chicken.
Roast chicken. Roast the chicken in oven until it is golden brown and cooked through, about 25 minutes. Let rest for 5 minutes.
For the salad
Make dressing. While the chicken is roasting, make the salad. In a small bowl, whisk together 
the brown sugar, lime juice, fish sauce, and chili-garlic sauce until the sugar is dissolved. Set aside.
Toss salad. In a large bowl, toss together the mango, carrot and tomatoes. Drizzle 3-4 tablespoons of the dressing over the salad and toss to coat. Taste and add additional dressing to taste. You may not use all the dressing.
Serve. Transfer the salad to a large platter or plates and top with the roast
ed chicken thighs. Garnish with chopped 
cilantro, sliced scallions and peanuts; serve immediately.
---
Keywords: chicken thighs, green mango salad
---